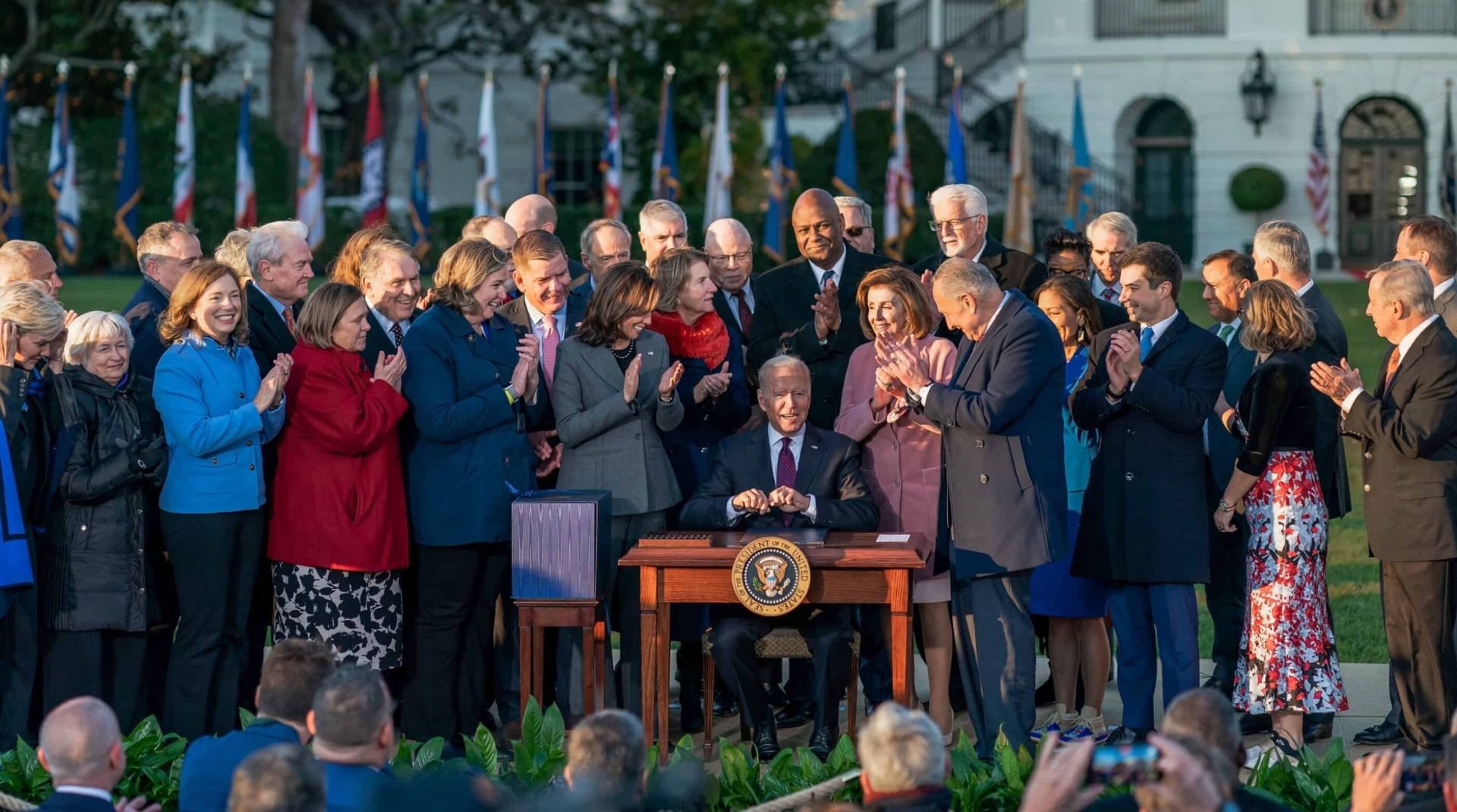 Surrounded by members of his cabinet, congressional leaders, and others, President Biden yesterday afternoon signed into law the $1.2 trillion Infrastructure Investment and Jobs Act—representing a much-needed victory for the president, whose approval rating, according to a new ABC News/Washington Post poll, sits at 41 percent.
The infrastructure measure, passed by Congress on November 5, had been whittled down from $2.3 trillion, largely to garner bipartisan support. In the end, the bill was endorsed by 19 Republican senators, as well as 13 GOP House members.
With the legislation's passage, $550 billion in new spending will be allocated over the next five years to improve U.S. infrastructure; support carbon-free power generation, including endangered nuclear plants; and bolster emerging technologies.
The signing event, held on the South Lawn of the White House, was attended by some 800 people, including Vice President Kamala Harris, Senate Majority Leader Chuck Schumer (D., N.Y.), Speaker of the House Nancy Pelosi (D., Calif.), Sen. Kyrsten Sinema (D., Ariz.), and Rep. Ron Portman (R., Ohio)—all of whom provided their own comments on the legislation prior to the president's remarks.
The president's pitch: "The bill I'm about to sign into law is proof that despite the cynics, Democrats and Republicans can come together and deliver results," Biden said. "We can do this. We can deliver real results for real people. . . . My message to the American people is this: America is moving again, and your life is going to change for the better. . . . Our infrastructure used to be rated the best in the world. Now, according to the World Economic Forum, we rank 13th in the world. Well, that's about to change. Things are going to turn around in a big way. For example, because of this law, next year will be the first year in 20 years that American infrastructure and investment will grow faster than China's."
What we're saying: Steven Nesbit, president of the American Nuclear Society, and Craig Piercy, executive director and chief executive officer, issued the following statement in response to the signing: "We applaud provisions in the bipartisan infrastructure deal (H.R. 3684), passed by Congress and signed by President Biden, which seek to assist our existing nuclear power plants and commercialize advanced nuclear reactor designs. This is a step toward realizing our clean energy future. The bill provides $6 billion in U.S. Department of Energy funding to support nuclear facilities that are under economic threat of premature closures because of flawed markets. The bill also appropriates $2.4 billion of vital funding for microreactors, small modular reactors, and advanced reactors and authorizes an additional $3.2 billion through 2027. With this support, the U.S. nuclear community—of utilities, suppliers, scientists, and engineers—stands ready to usher in a new generation of technology to decarbonize and keep resilient our electric grid."