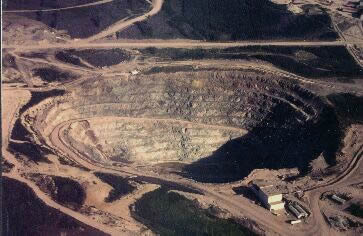 The Interior Department's U.S. Geological Survey (USGS) this week revealed its draft revised list of critical minerals—those deemed essential to economic and national security—and uranium is not on it.
The list was initially developed in 2018 in response to a December 2017 Trump administration executive order. Uranium was included as one of 35 minerals on that list.
According to a November 8 Federal Register notice from the USGS, "The Energy Act of 2020 explicitly excluded fuel minerals from the definition of a critical mineral, and the Mining and Mineral Policy Act of 1970 formally defined uranium as a mineral fuel, so uranium was not evaluated for inclusion on the 2021 draft list of critical minerals."
The inclusion of uranium on the Trump era list had been explained in a May 2018 Interior Department FR notice, which referenced "both fuel and non-fuel uses" for uranium.
Making the cut: Fifty mineral commodities are proposed for the 2021 critical minerals list: aluminum, antimony, arsenic, barite, beryllium, bismuth, cerium, cesium, chromium, cobalt, dysprosium, erbium, europium, fluorspar, gadolinium, gallium, germanium, graphite, hafnium, holmium, indium, iridium, lanthanum, lithium, lutetium, magnesium, manganese, neodymium, nickel, niobium, palladium, platinum, praseodymium, rhodium, rubidium, ruthenium, samarium, scandium, tantalum, tellurium, terbium, thulium, tin, titanium, tungsten, vanadium, ytterbium, yttrium, zinc, and zirconium.
Reaction: In a November 9 E&E News story, a spokesman for Sen. John Barrasso (R., Wyo.), the ranking member of the Senate Energy and Natural Resources Committee, said that the senator finds it "completely unacceptable" that the Biden administration has removed uranium from the list of critical minerals. "If the Biden administration is serious about reducing greenhouse gases," he said, "it must promote carbon-free nuclear power and the domestically sourced uranium that fuels it."
Scott Melbye, president of Uranium Producers of America, was also quoted in the piece. "I don't understand the move to remove uranium from the critical minerals list, especially at this time," Melbye said. "I frankly can't think of a more strategic or critical mineral."
Your turn: The USGS is requesting public input on the draft list. Comments can be submitted online at www.regulations.gov with a search for DOI-2021-24488, or by mail to Draft List of Critical Materials, MS-102, U.S. Geological Survey, 12201 Sunrise Valley Dr., Reston, VA 20192. The deadline is December 8.