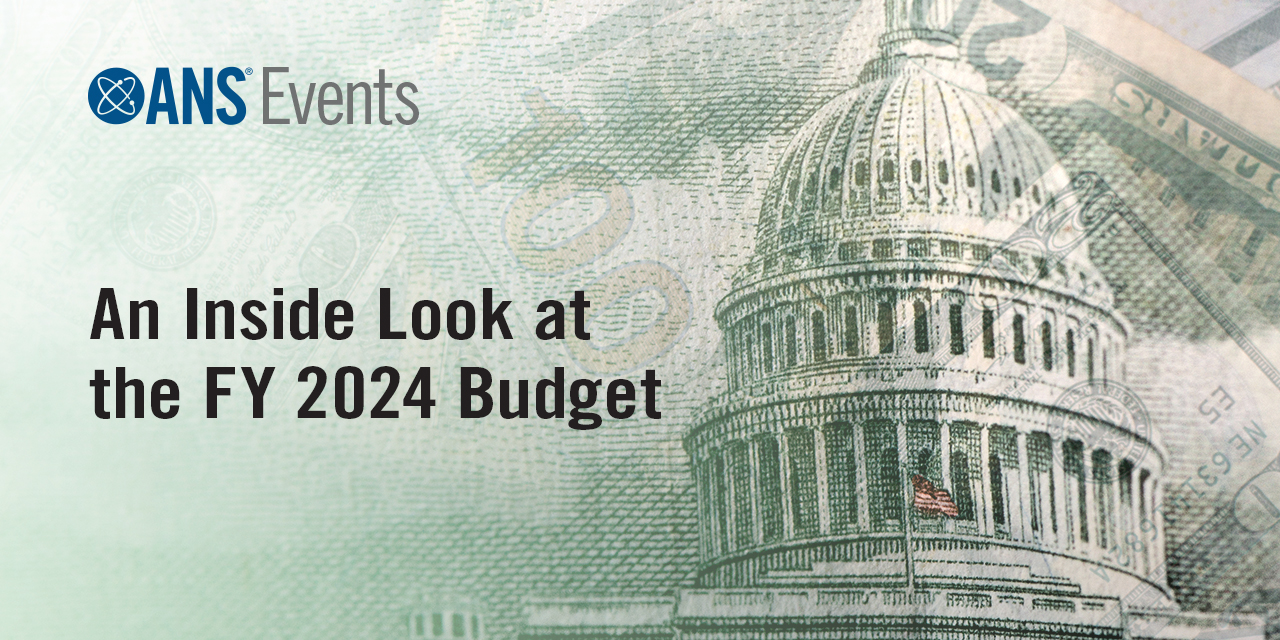 While President Biden's $6.9 trillion budget proposal for fiscal year 2024, submitted to Congress on March 9, was quickly pronounced "dead on arrival" by Sen. John Barrasso (R., Wyo.), it remains valuable as an indicator of the administration's funding priorities for the coming year, including its nuclear energy priorities.
Which is why ANS on Wednesday hosted "An Inside Look at the FY 2024 Budget," a members-only webinar moderated by ANS Executive Director/CEO Craig Piercy and featuring a team from the Department of Energy's Office of Nuclear Energy, including DOE-NE head Kathryn Huff.
"We all know, in this group, that this is a moment for nuclear energy to succeed worldwide," said Huff in her opening comments. "It is critically important for addressing our climate goals. The president's climate goals, of course, include a carbon-free electric grid by 2035 and a net-zero economy by 2050. The Department of Energy is really determined to be a part of that."
The White House is seeking $51.99 billion for the DOE's activities in FY 2024, a $6.2 billion—or 13.6 percent—increase from the FY 2023 enacted level. Within that total, $1.56 billion is earmarked for DOE-NE, a drop of $210.38 million, or 11.9 percent, from 2023.
The major takeaways: Budget proposal highlights, according to Huff, include the following:
$10 million in first-time funding for the Carbon-Free Power Project's (CFPP's) commercial demonstration of NuScale Power's small modular reactor technology. "Historically, this has always been placed in our budget by Congress, but by including it in our presidential budget request, we acknowledge that this is a program that we want to continue," Huff said. "We only ask for $10 million here, but of course, additional funds would enable us to fulfill the expectations of the cost-share predicted by that program."
$120 million to support the provision of high-assay low-enriched uranium (HALEU) for the DOE's advanced reactor research requirements, including first fuel cores for the two Advanced Reactor Demonstration Program demos. "This also includes support for the operations of the Piketon demo," Huff noted, "as well as continued operations that will support the downblending of materials, such as those materials at Idaho National Laboratory and Savannah River, where we can make HALEU from material that DOE already owns."
$22.3 million above the FY 2023 enacted total for university-based nuclear energy science and engineering support, including competitively awarded research and development, scholarships, and fellowships, as well as fuel services for university research reactors.
$13 million for international nuclear energy cooperation, including $10 million to help with the transition to carbon-free and geopolitically secure nuclear energy in Eastern and Central Europe and throughout the world. "I want you to note that we have increased our international nuclear energy cooperation significantly from what is often a $3 million program," Huff said. "Last year, we took it out of [the] program direction [line item], and this year we're supporting it being its own line item and increasing to $13 million to support our international engagements at a critical time in global dynamics around nuclear energy. Adding $10 million will enable us to expand what's possible in Eastern and Central Europe, as well as nations across the globe, including Africa, South America, Asia, and others."
$32.4 million more than the previous fiscal year for safety and security at INL, which houses "critical infrastructure for lots of programs and agencies," explained Huff. "Not only our office, but also NNSA [National Nuclear Security Administration] and NASA."
R&D goals: Huff focused much of her talk on "planned accomplishments" for DOE-NE's FY 2024 R&D program line items, including, among others, reactor concepts RD&D, fuel cycle R&D, nuclear energy enabling technologies, and infrastructure. According to Huff:
In addition to supporting the CFPP's demonstration of NuScale technology, DOE-NE plans to use the proposed reactor concepts RD&D funding of $98.2 million to conduct research in support of the existing commercial nuclear fleet. This would include an assessment of advanced automation at a nuclear power plant, research and design of thermal energy extraction and storage systems, and research and deployment of technology to improve the physical security posture at commercial plants. NE also plans to complete construction of the MARVEL test platform and initiate (nonnuclear) integrated microreactor system operation testing, as well as continue early-stage research on multiple future reactor technologies, such as fast reactors, gas reactors, and molten salt reactors.
Fuel cycle R&D's recommended $423.27 million would continue the advancement of accident tolerant fuel development for commercial U.S. reactors by the mid-2020s; continue fuel recycling technologies R&D and generate a limited quantity of HALEU materials from used EBR-II fuels; continue PIE testing to support qualification of TRISO fuel for use in demonstration and commercial high-temperature reactors; shift from producing first quantities of HALEU under the enrichment demonstration to producing at least 900 kilograms per year; and continue funding for communities, states, and tribes exploring the consent-based siting process and interim storage.
With a requested $96.28 million for nuclear energy enabling technologies, DOE-NE plans a number of activities, such as developing advanced sensors and instrumentation to enhance existing and novel instrumentation technologies; supporting advanced reactor control systems design for cybersecurity; refining economic analyses of integrated energy systems for nuclear energy applications, accounting for specific thermal quality and quantity requirements for each application; enabling and accelerating industry's advanced reactor deployment efforts through advanced multiscale and multiphysics modeling and simulation approaches; and completing development of initial light water reactor high-burnup and accident tolerant fuel modeling capabilities to support industry licensing needs, with full implementation and systematic assessment for impact of high-burnup on fuel reliability in FY 2025.
Infrastructure's $318.9 million would be directed toward maintaining INL nuclear facility availability, supporting irradiation, materials, and fuels examination; conducting infrastructure investments to improve reliability and availability of key nuclear facilities and capabilities, such as the Advanced Test Reactor, Transient Reactor Test Facility, and hot-cell capabilities at the Materials and Fuels Complex; continuing regulatory compliance activities, including INL Site Treatment Plan milestones for the treatment of legacy mixed low-level waste; and completing construction of the Sample Preparation Laboratory, initiating the transition to full operations.
What about the VTR? Following Huff's presentation, moderator Piercy led a question-and-answer session, drawing into the discussion other members of the DOE-NE leadership team. In response to a query regarding the status of the Versatile Test Reactor—absent from the FY 2024 budget request—Huff said, "We had a tough challenge recognizing the austerity of our predicted budget. I think the VTR will eventually be needed, and so I'll say as a policy endeavor, we're not giving up on the VTR and we've accomplished a number of things that should allow us to pick it back up."
DOE-NE's Sal Golub, deputy assistant secretary for the nuclear fuel cycle and supply chain, added, "Obviously, we recognize the critical capabilities a machine like the VTR would bring to innovation, both for the current fleet and the future advanced reactors. We're treating the project as on hold, recognizing that we had resource allocation considerations, and we're focusing on the near-term demonstrations. The fact that we issued a record of decision through the NEPA [National Environmental Policy Act] process that selected the preferred alternative to build the VTR allows us to resume that project at some point in the future, and that's hopefully what we'll do."