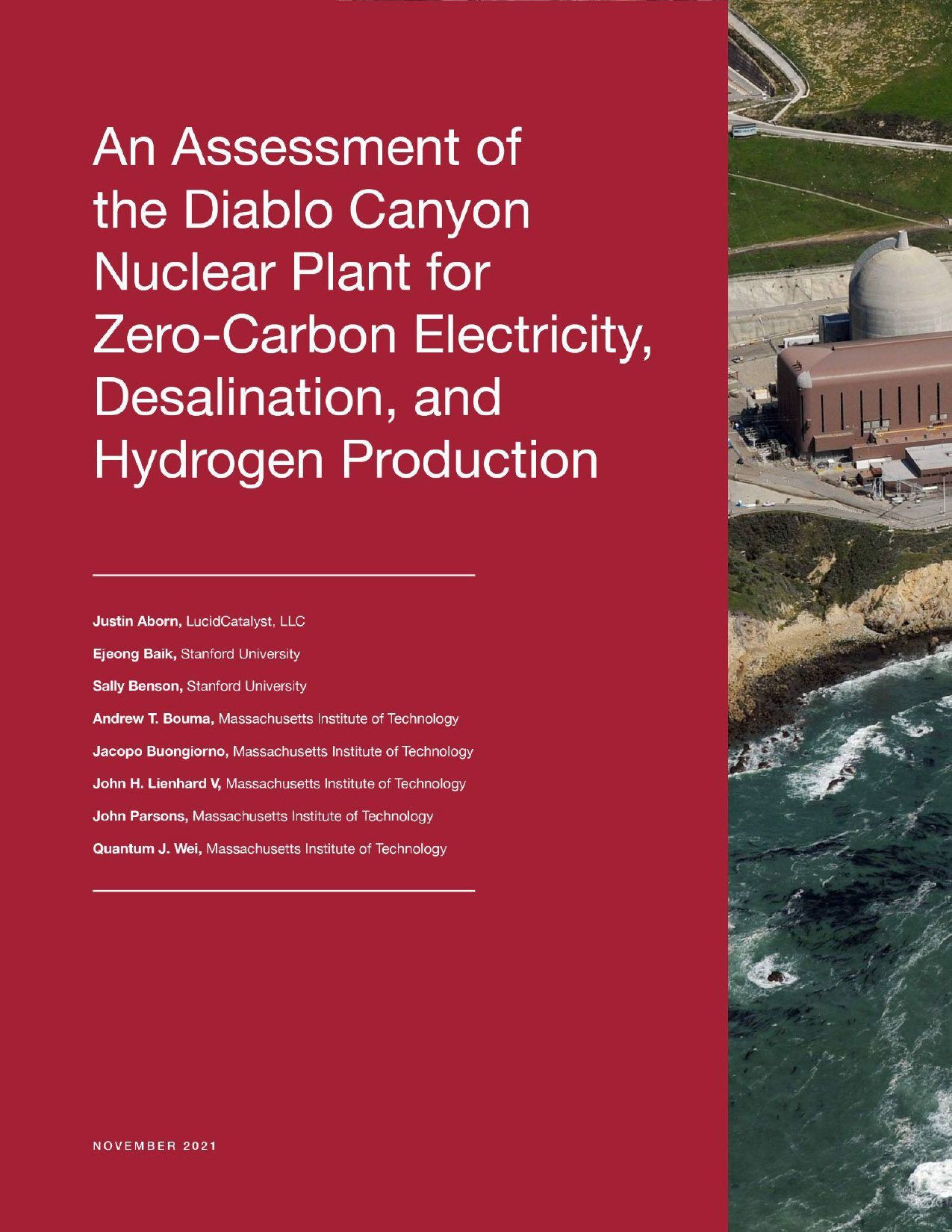 A new study by researchers from Stanford University and the Massachusetts Institute of Technology—An Assessment of the Diablo Canyon Nuclear Plant for Zero-Carbon Electricity, Desalination, and Hydrogen Production—makes a compelling case that the 2018 decision to shut down California's only operating nuclear power plants needs another look—and that revenue options could make reversing the decision not just feasible but economically attractive.
"Fast-forward three years and things have changed," said Jacopo Buongiorno, a professor of nuclear science and engineering at MIT and one of the authors of the report, during a November 8 webinar. Since the decision was made to shut down Diablo Canyon's twin pressurized water reactors in 2024 and 2025 when their current licenses expire, the state has passed bills calling for net zero carbon emissions by 2045 and for restrictions on land use that could effectively limit solar installation sprawl. Californian's have also experienced repeated grid reliability issues and prolonged drought conditions.
Promise and peril: The study team asserts that California has technical and economic options to keep Diablo Canyon's 2,240 MWe in operation, and that exercising those options would help California meet the increasing challenges of climate change by providing clean, reliable electricity, water, and hydrogen lowering energy systems costs.
"While this is not intended to be a definitive study, the conclusions from all these analyses in our opinion warrant further consideration on extending the life of the Diablo Canyon plant beyond 2025," Buongiorno said. "We seek here to start the debate, not to end the debate, but again, our analyses are pretty compelling in our opinion."
Steven Chu, a professor of physics at Stanford University and former energy secretary during the Obama administration, was not involved in the development of the report, but he was invited to deliver remarks during the webinar.
"There will be times when the wind doesn't blow and the sun doesn't shine and we will need some power that we can actually turn on—dispatch—at will," Chu said. "Countries that have turned off their nuclear power, with perhaps the hope that you would just go to more renewable energy, clean energy like solar and wind . . . that's not what happened. They built more fossil fuel plants."
By the numbers: If Diablo Canyon's closure was delayed by 10 years, to 2035, California's power sector carbon emissions would drop by more than 10 percent annually from 2017 levels and save a total of $2.6 billion in power system costs between 2025 and 2035, explained Ejeong Baik, a PhD candidate in the Department of Energy Resources Engineering at Stanford University and one of the report authors. If the reactor stayed in operation until 2045, a full 20-year license renewal term, it could save the state up to $21 billion in power system costs, while sparing 90,000 acres of land from energy production.
"We find that the continued operation of Diablo Canyon has the potential to significantly reduce California's use of natural gas for electricity production by approximately 10 terawatt hours per year," Baik said.
Polygeneration: The study team explored the use of Diablo Canyon's electricity for a co-located desalination plant and hydrogen plant to augment fresh water supplies and to produce clean hydrogen to meet growing state demand for zero-carbon fuels.
Operating Diablo Canyon as a "polygeneration" facility—an integrated energy system producing electricity, desalinated water, and clean hydrogen—could provide multiple services to California, including grid reliability.
"In this scenario Diablo Canyon would operate at full power, and the power output of the planet would be triaged effectively," Buongiorno said. "We estimate that when it's done properly, this sort of triaging of electricity to three different product streams could actually increase the value of Diablo Canyon in terms of dollars per megawatt hour by over 50 percent."
The study team was assisted on hydrogen and polygeneration research by Justin Aborn of LucidCatalyst, who explained that under a polygeneration approach, "The analysis divided up the electricity produced by Diablo Canyon in approximately 60 percent being sold as electricity or ancillary services, 20 percent being sold as water, and 20 percent being sold as hydrogen." The study team forecasted revenue from the sale of the commodities of about $70/MWh, compared to a projected cost of $54/MWh.
The report modeled using 500 MWe of Diablo Canyon's electrical output and a small fraction of its steam for high-temperature electrolysis to generate 109 million kg of hydrogen per year—a plant that is much bigger than the pilot projects of about 1–3 MWe being undertaken now through the Department of Energy's H2@Scale program.
The most realistic option: Buongiorno acknowledged that the construction of a desalination plant and a hydrogen plant, with associated infrastructure, would take time.
"The most realistic option is that, at least in the near term, the plant is simply allowed to continue to be a power generator for the grid. And in order for that to happen at the federal level, the only approval that really has to take place is for the U.S. Nuclear Regulatory Commission to extend the license of the plant."
Before the 2018 decision to shut down the plant, PG&E had already applied for a 20-year license renewal, and Buongiorno suggested that if the process were restarted, it could take less than the 22 months that is typical for a license renewal proceeding.
"As part of [the discontinued relicensing proceeding PG&E] already made some major retrofits like the replacement of steam generators and the reactor pressure vessel," Buongiorno added.
Intake solution: The report acknowledges "the many and considerable challenges to maintaining Diablo Canyon and repurposing it," including the state's regulation for power plant water intake, which, according to the report, "is the primary technical reason for the impending shutdown of Diablo Canyon, as the cost of meeting this requirement was thought to be prohibitive. . . As a feasible alternative, this study proposes—and examines in depth—the use of mechanical brush-cleaned wedgewire screens, which will be substantially less costly."
As Buongiorno put it, "We think, bottom line, there is a solution to the intake problem and it's a solution that is affordable, effective, and consistent with California regulations."
Rethinking ownership: Given that PG&E has professed no interest in continuing to operate Diablo Canyon, the report's authors suggest some alternatives, while making "no assumptions as to the identity or status of any future owner or operator of the plant."
Five possibilities are listed: (1) sale to another utility company, "presumably one with extensive nuclear operating experience"; (2) ownership by PG&E with operations contracted to another utility or third party; (3) sale or transfer to an existing or newly created non-profit public authority that would contract for operation to a third party; (4) sale or transfer to a joint-powers authority, a form of municipal ownership; (5) sale or transfer to an nonprofit electric cooperative.
John Parsons, of MIT, an author of the report, took part in a media Q&A with his coauthors, and he suggested that the California Public Utilities Commission, not PG&E, has the final call.
"The state definitely has the authority to keep the plant open, assuming a number of other conditions like a Nuclear Regulatory Commission license," Parsons said. "We tried . . . to lay out the benefits of taking action and then to leave it to the various political organizations and state institutions and companies to respond and pursue as they feel it's appropriate."