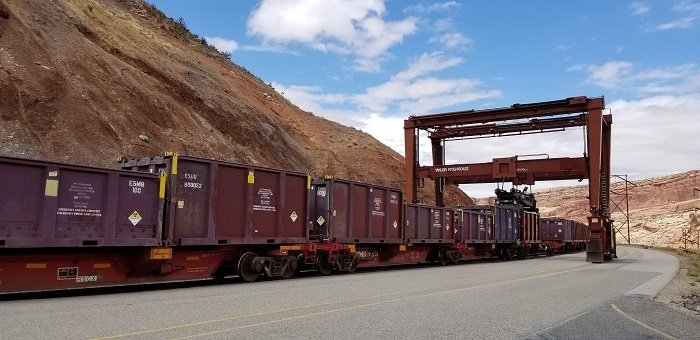 The Department of Energy's Office of Environmental Management (EM) announced that it has accomplished another of its 2021 priorities by permanently disposing of a cumulative 12 million tons of uranium mill tailings from the Moab Site in Utah. The announcement, made on October 26, follows last week's report by EM that it has shipped more than 1 million tons of tailings for disposal in fiscal year 2021, which ended on September 30, the largest annual amount since FY 2012.
EM's Moab Uranium Mill Tailings Remedial Action (UMTRA) Project, which began in 2009, is charged with moving an estimated 16 million tons of contaminated soil and debris from along the Colorado River just outside of Moab, Utah, to an engineered disposal cell in Crescent Junction, Utah, 30 miles north. The material resulted from legacy uranium milling operations.
As the Moab Project nears completion, local, state, and federal stakeholders are planning for the site's future after remediation is complete, EM said.
He said it: "We're excited to celebrate another milestone for the Moab UMTRA Project," said Russell McCallister, federal cleanup director for the Moab Project. "The cleanup continues to move at an accelerated rate, and we're getting closer to completion every day, thanks to the dedication of our project staff, agency partners, and community members."
McCallister added that the cleanup project has focused on safety, exceeding 1,800 workdays without a lost-time injury or illness.
The process: In preparation for disposal, the tailings are conditioned in drying beds to reach the optimal moisture content for disposal and to avoid shipping excess water. Excavators load the tailings into steel containers for transport.
When the tailings arrive at the Crescent Junction site, they are removed from the containers, loaded into dump trucks, and driven to the disposal area, where a bulldozer spreads them in layers for compaction. After placement has reached the design thickness, they are capped with a multilayered cover composed of native soils and rock.