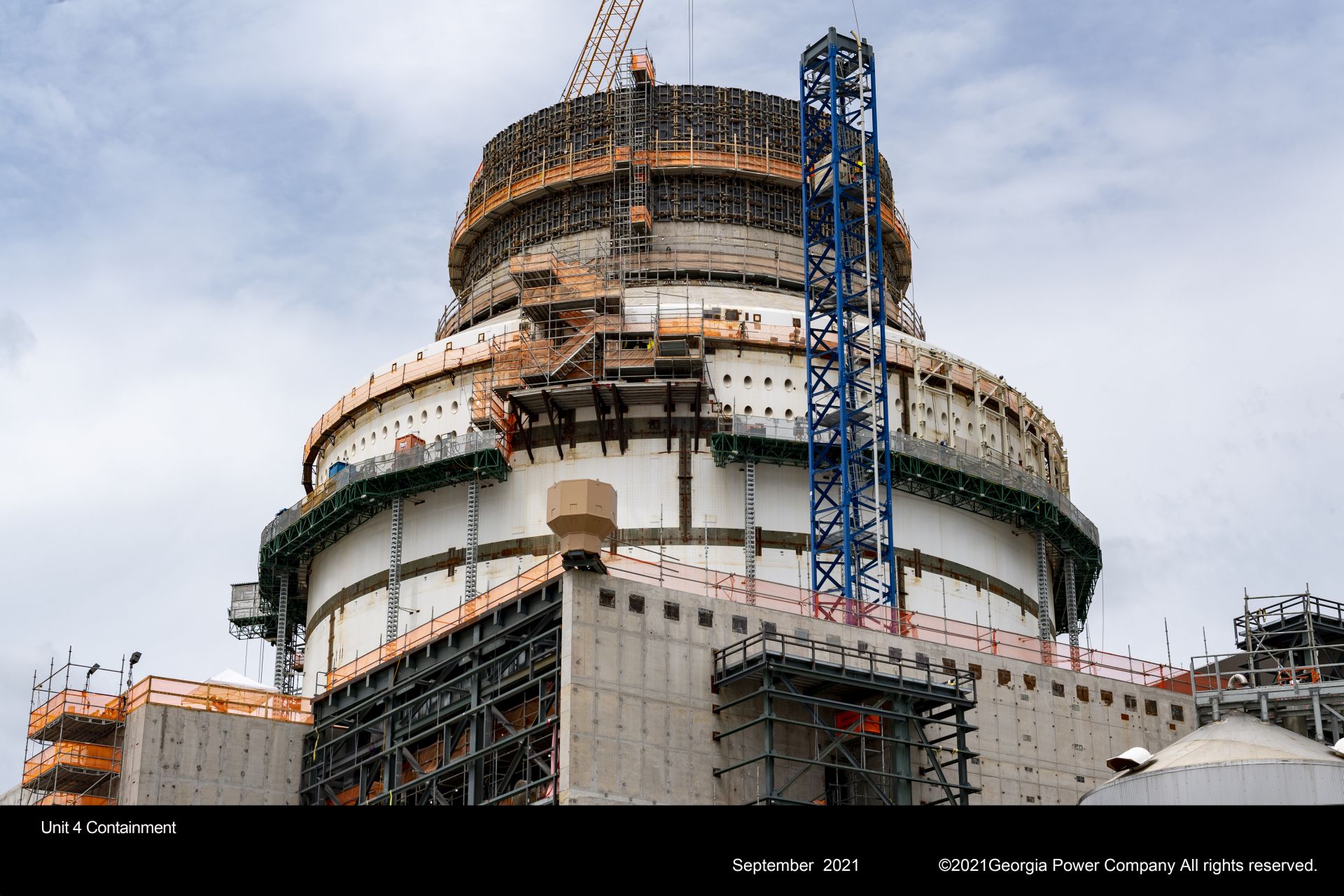 In what has become for nuclear advocates an all-too-familiar refrain, Georgia Power has made another revision to the Vogtle nuclear expansion project schedule. The company now predicts a Unit 3 in-service date in the third quarter of 2022 and a Unit 4 in-service date in the second quarter of 2023, representing a three-month shift for each unit.
The schedule change, announced last Thursday by Georgia Power, is primarily due to the need for additional time to address continued construction challenges and to allow for the comprehensive testing necessary to fully meet quality and safety standards.
The company noted that Unit 3's fuel load could occur as early as the first quarter of 2022 but added that a fuel load date as late as May 2022 should still support a third-quarter 2022 in-service date.
What they're saying: "As we've said from the beginning of this project, we are going to build these units the right way, without compromising safety and quality to achieve a schedule deadline," said Chris Womack, chairman, president, and chief executive officer of Georgia Power. "We have endured and overcome some extraordinary circumstances building the first new nuclear units in the U.S. in more than 30 years. Despite these challenges, progress at the site has been steady and evident."
Background: In December 2017, the Georgia Public Service Commission, in its "Order on the 17th Semi-Annual Vogtle Construction Monitoring Report," approved November 2021 and November 2022 as the target in-service dates for Vogtle-3 and -4, respectively. In March of this year, however, in a filing with the Securities and Exchange Commission, Georgia Power said that commercial operation at Unit 3 could be delayed by a month or more beyond November 2021.
That prediction became somewhat more specific in April, when Southern Company's CEO, Tom Fanning, in a first-quarter earnings call offered a Unit 3 commercial start date of late December 2021. That date was revised the following month, when Georgia Power announced that the startup of Unit 3 would be delayed to January 2022. And this summer, the company revised the schedule for the new reactors yet again, pushing back the Vogtle-3 date to the second quarter of 2022 and the Vogtle-4 date to the first quarter of 2023.