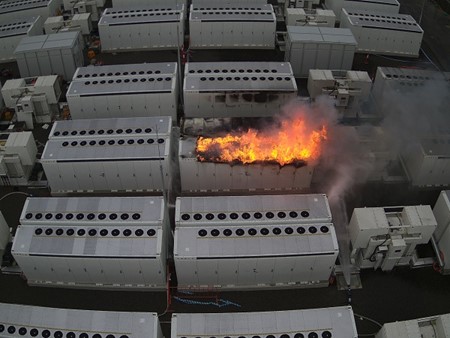 Australia's two large lithium-ion storage batteries are getting attention for all the wrong reasons. Hornsdale Power Reserve, a 150-MW battery collocated with a wind farm in South Australia, is being charged in federal court with failing to deliver on promises to respond to grid demands, and of being technically unable to deliver under the terms it was being paid to meet. Proceedings were filed September 22, just before the testing of a second Tesla-manufactured "Big Battery" resumed after a two-month delay following a fire in July.
A report from Vice.com's Motherboard digs into the story of Hornsdale, which was the biggest lithium-ion battery in the world when it started operating in 2017 in the South Australian desert three hours north of the city of Adelaide, collocated with the Hornsdale Wind Farm, a 316-MW outlay of 99 wind turbines. Both ventures are operated by Neoen, a French renewable energy firm. In theory, pairing wind output with battery storage lets an operator capture excess wind energy and store it for release to the grid when needed to ensure stability and prevent blackouts. That selling point is now the subject of a federal proceeding.
The suit: The Australian Energy Regulator (AER) alleges that Hornsdale Power Reserve was not capable of providing contingency frequency control ancillary services in accordance with its service offers and the dispatch instructions it received from the Australian Energy Market Operator (AEMO). The case considers the four months between July and November 2019, when Hornsdale was being paid to push power to the grid during frequency disturbances—a service that AER says "allegedly it could not in fact provide." The AER cites an incident in October 2019, when the nearby Queensland Kogan Creek coal-fired power station tripped, and Hornsdale was asked to provide grid backup, but did not provide the level of grid support requested.
"It is vital that generators do what they say they can do if we're going to keep the lights on through the market's transition to variable renewable generation," said Clare Savage, chair of AER, in a press release. "AEMO relies on accurate information and compliance with offers and dispatch instructions to ensure it can effectively stabilize frequency deviations."
Victorian: The start-up of another Tesla-made lithium-ion battery twice the size of Hornsdale—the 300-MW Victorian Big Battery near Melbourne, Australia—was delayed for two months after firefighters were called in on July 30 to fight a blaze that destroyed two of the site's 212 Tesla Megapacks. Energization testing is restarting on September 29, after investigations concluded that the fire was caused by short circuits in two distinct locations likely initiated by a coolant leak outside the battery compartment.
Time to reconsider nuclear? Australia brought battery storage to Hornsdale to moderate the surprises that wind energy and fossil plants can throw at the grid. Neoen says its battery installations can help the grid by "firming" renewables.
Firm nuclear power has not been an option in Australia—the country that is currently the world's third largest supplier of uranium and the only G20 country that has federally banned nuclear power. However, the recent announcement of Australia's plans to build at least eight nuclear submarines using U.S. and U.K. technology have some seeing an opportunity to reopen discussions on deploying firm, flexible nuclear power on Australia's power grid.