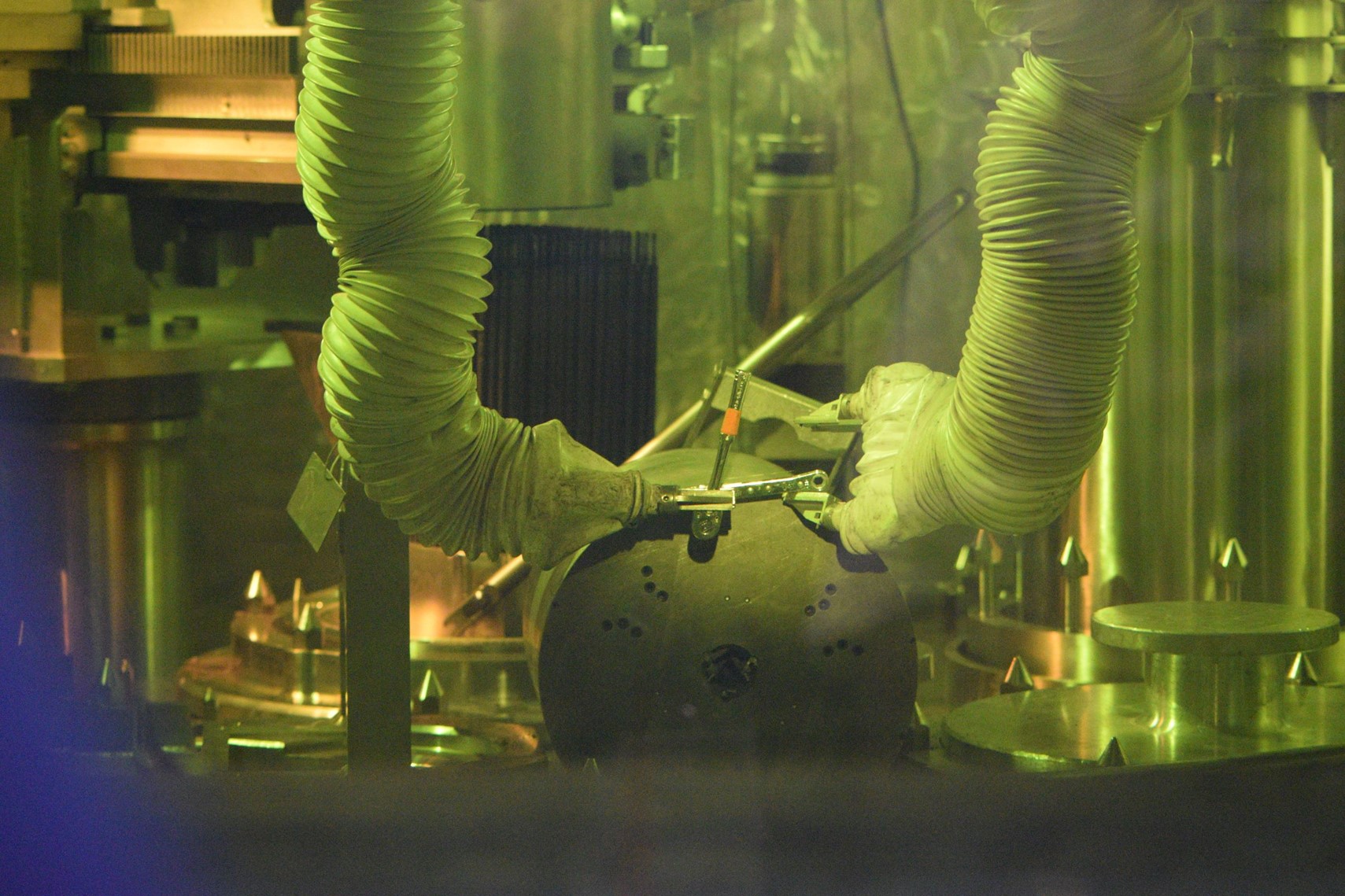 Using basic hand tools and remote manipulators, operators at Savannah River Nuclear Solutions (SRNS) were able to reduce radiation exposure to workers performing cutter head maintenance in the Savannah River Site's Tritium Extraction Facility (TEF).
According to SRNS, the innovative procedure proved to be an excellent example of real-world application of As Low As Reasonably Achievable (ALARA) principles of time, distance, and shielding.
The challenge: Part of the Breaching Tool Robot, cutter heads are used to remove the top of tritium-producing burnable absorber rods (TPBARs), allowing tritium to be extracted from the rods when they are heated in a furnace during the extraction process. Ultimately, the tritium is loaded into containers, called reservoirs, and shipped to the Department of Defense, where they are installed in nuclear weapons.
"TPBARs come from an active reactor and are radioactive upon arrival at SRS," said Joey Huckabee, SRNS TEF facility manager. "Consequently, each time the cutter head is used on a TPBAR, it builds up a dose rate, complicating the refurbishing process. The cutter head requires refurbishing after a number of uses to ensure proper operation and to remove grit buildup caused by the cutting process."
The idea: Previously, cutter head refurbishments were completed inside TEF's Hot Maintenance, where personnel conduct maintenance on equipment exposed to radiation. To reduce exposure levels, an experienced crane operator proposed doing the initial cutter head disassembly remotely inside the Target Rod Prep (TRP) module, an enclosed space that protects workers from radiation.
According to SRNS, the idea worked brilliantly, resulting in a 27 percent total dose reduction to workers and 22 percent reduction in the time required to refurbish the cutter head.
After remotely lifting the cutter head out of the TRP module and placing it in Hot Maintenance, mechanics, engineering, and radiation protection personnel entered. Wearing personal protective equipment, they completely disassembled, inspected, cleaned, greased, and reassembled it. They tested the refurbished cutter head to ensure that it operated properly before returning it to service.
Jason Armstrong, manager of the National Nuclear Security Administration's Savannah River Field Office, said, "While the NNSA's tritium extraction mission already implements a multitude of safety procedures, we are committed to continually evaluating and refining our practices."