A statement from Steven P. Nesbit, president of the American Nuclear Society, and Lonnie R. Stephenson, international president of the International Brotherhood of Electrical Workers.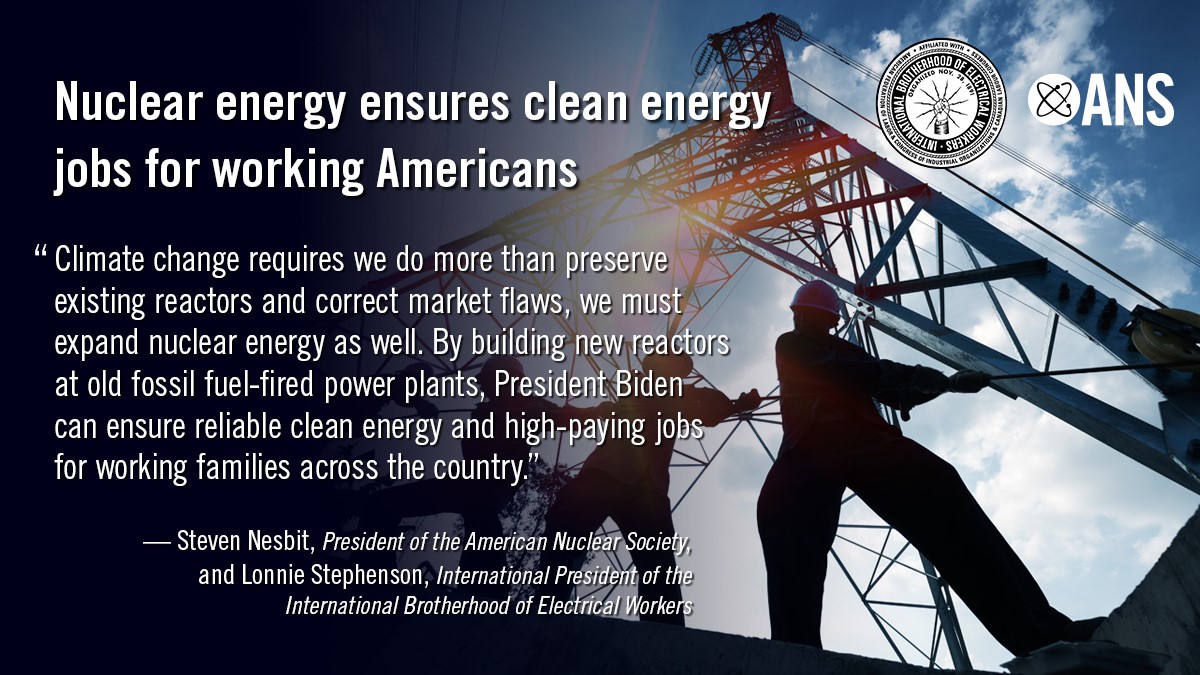 America's electric utility workers and nuclear engineers are ready to work together to help rapidly decarbonize and electrify the economy. We welcome provisions in the bipartisan infrastructure bill that aim to prevent premature closures of our nuclear power plants. Through measures such as production tax credits, President Biden can safeguard America's largest carbon-free energy source by recognizing the clean-air contributions of nuclear energy.
However, climate change requires that we do more than preserve existing reactors and correct market flaws. We must expand nuclear energy as well. By building new reactors at old fossil fuel–fired power plant sites, President Biden can ensure reliable clean energy and high-paying jobs for working families across the country.
Nuclear energy is the resilient bedrock of our power grid, supplying around 20 percent of America's electricity and 52 percent of our carbon-free electricity.
Thanks to nuclear power's unique capabilities, it complements renewables and carbon capture by shoring up the power grid's reliability without increasing emissions. Fuel-secured reactors produce dispatchable, carbon-free baseload power 24/7, which is essential for keeping the lights on during winter storms, heat waves, and hurricanes.
The inclusion of nuclear alongside renewables and carbon capture will be necessary if we're to decarbonize our economy rapidly and cost-effectively.
Any attempt at decarbonizing America's power grid by 2035 and our economy by 2050 using renewables alone would require the development of massive amounts of land for hosting solar panels and wind turbines. Princeton University's "Net-Zero America" study estimates that if the U.S. wants a carbon-free economy by 2050 using the least amount of land, we must build 250 large nuclear plants, or several thousand stackable small modular reactors at shuttered and retiring fossil fuel–fired power plants.
In this scenario, wind and solar would still contribute 44 percent of U.S. electricity generation, while 50 percent would come from emissions-free nuclear and gas-fired generation fitted with carbon-capture technology. The redevelopment of fossil fuel plants into energy-dense advanced reactors or SMRs would help prevent up to 200 million acres across the United States—twice the size of California—from unnecessary development.
Retiring coal plants are ideal locations for SMRs because of their existing grid connections, available water resources, and proximity to where Americans live and work. Factory-built, prefabricated SMRs can come online faster to supplement renewables than any other dispatchable clean energy source.
By siting reactors at shuttered power plants, the Biden administration can make smart use of the existing power grid to meet the future clean energy needs of America's heartland and cities. This includes supplying electricity for charging the growing fleet of electric vehicles and industrial process heat for manufacturing hydrogen, fuels, fertilizers, steel, and plastics and other chemicals.
Above all, nuclear energy is a job-creating powerhouse. A typical nuclear plant provides a livelihood for more than 1,000 employees and contractors. The nuclear energy industry employs more workers per megawatt of electricity than any other energy source. Among all energy sources, nuclear power plants also have the highest labor union membership rates.
The redevelopment of fossil fuel plants into nuclear plants would tap into the power industry's existing networks and supply chains to recruit, train, and provide a qualified workforce for nuclear projects.
In a decarbonizing economy, nuclear energy offers a new career path for the U.S. electric power generation sector's 210,000 fossil fuel workers. Fossil fuel plant electrical engineers and plant operators can be quickly trained to work at a nuclear power plant. This retraining will meet an immediate need by helping the U.S. nuclear energy industry replace 27,000 retiring employees over the next few years.
Employment in the nuclear energy industry means higher earnings, decades-long job security, and a pathway to the middle class. Workers at U.S. nuclear power plants receive the highest median wage within the power sector at $47 an hour, according to research by Obama-era energy secretary Ernest Moniz's Energy Futures Initiative.
A college degree is not required for these high-paying nuclear energy jobs. While nuclear and electrical engineers require a bachelor's degree, many of the other jobs at a nuclear power plant, including reactor operators, technicians, supervisors, mechanics, and security officers, require no more than a high school diploma.
The U.S. nuclear energy workforce is also one of the most diverse, with women constituting 36 percent of its workforce and employees from a racial minority background representing 34 percent, compared to a national industry average of 22 percent. This is great progress, but more can be done.
Through nuclear energy, President Biden can keep his promise to deliver high-paying, clean-energy jobs for all Americans.
Steven P. Nesbit is president of the American Nuclear Society, and Lonnie R. Stephenson is international president of the International Brotherhood of Electrical Workers.