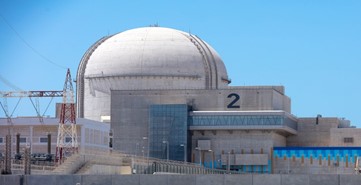 The Emirates Nuclear Energy Corporation has announced the startup of Unit 2 at the Barakah nuclear power plant, located in the Al Dhafra region of Abu Dhabi, the United Arab Emirates' capital city.
The milestone, ENEC noted in its August 27 announcement, was achieved approximately one year after the startup of the plant's Unit 1 reactor and within five months of Unit 1's entering commercial operation.
ENEC completed the construction of Unit 2, a 1,345-MWe APR-1400 pressurized water reactor, in July 2020. Hot functional testing of the unit was completed in August 2018, followed by structural integrity testing and integrated leak rate testing in March 2019.
In a statement on the Unit 2 startup, the UAE's Federal Authority for Nuclear Regulation said that Nawah Energy Company, ENEC's operating and maintenance subsidiary, "has met all regulatory requirements to initiate this phase," adding that the startup "follows extensive oversight, including regular inspection, to ensure the safety and security of the nuclear power plant." FANR issued the operating license for Barakah-2 in March of this year.
Two up, two to go: "With the startup of Unit 2, we are now almost halfway to achieving our goal of supplying up to a quarter of our nation's electricity needs and enabling sustainable growth, and in parallel, achieving UAE climate change targets," said Mohamed Ibrahim Al Hammadi, ENEC's chief executive officer.
Ali Al Hammadi, Nawah's CEO, commented, "It is another momentous occasion for the Barakah plant, and we congratulate our talented team for completing the safe and successful startup of Unit 2. Preparations will now continue as we work safely and steadily toward grid connection and eventually the start of commercial operations for the second unit of the Barakah plant. We remain committed to ensuring nuclear operational excellence across all four units, and we thank our partners in the UAE and across the globe for their continuous support in helping us achieve these milestones to the highest operating standards."
Background: The UAE and South Korea began a nuclear partnership in 2009, when Korea Electric Power Corporation was awarded the prime contract to design, build, and help operate a four-unit plant at the Barakah site. In 2016, ENEC and Kepco signed an agreement for a long-term partnership to become joint owners of Nawah Energy and Barakah One Company, ENEC's subsidiary in charge of the project's financial and commercial activities, with ENEC owning 82 percent of the two companies and Kepco holding an 18 percent ownership stake.
Construction of Units 3 and 4 are in the final stages, according to ENEC, with the reactors 94 percent and 89 percent complete, respectively.