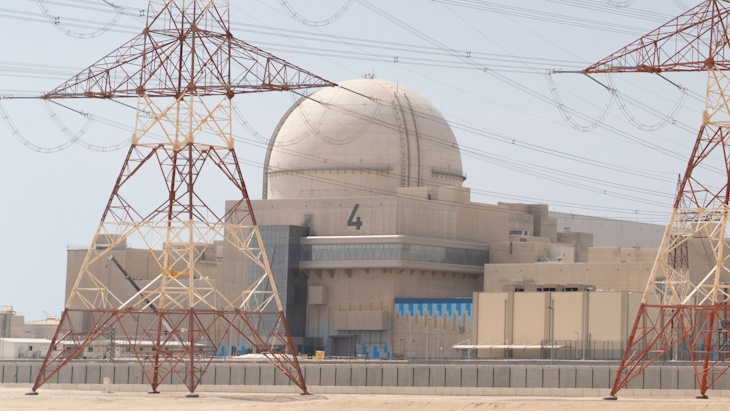 The Emirates Nuclear Energy Corporation (ENEC) announced on June 8 that Barakah-4, the fourth and final Korean-designed APR-1400 reactor to be built at the United Arab Emirates' Barakah nuclear power plant, has commenced the testing necessary to demonstrate its readiness for an operating license from the UAE's Federal Authority for Nuclear Regulation.
Barakah's three commercially operating units, delivered into service in three consecutive years, are generating more than 30 terawatt-hours of zero-emission electricity year-round, according to ENEC's announcement. Over the winter, the plant met up to 48 percent of Abu Dhabi's electricity requirements, the company added.
Once operational, Unit 4 is expected to raise the facility's total clean electricity generation capacity to 5.6 GW.
Official words: "In the UAE's 'Year of Sustainability,' we are demonstrating how nuclear energy can have a real, rapid, and transformative impact on decarbonizing the power sector," said Mohamed Ibrahim Al Hammadi, ENEC's managing director and chief executive officer. "With Unit 4 now moving toward becoming operational, we will soon meet our mission to generate 25 percent of the nation's electricity. Barakah offers a clear success story as we head toward COP28 in Dubai, where attendees will be looking for solutions to the climate crisis and are increasingly recognizing the critical role proven nuclear energy technology will play. The success of the three commercially operational reactors reflects the dedication and skill of all our teams involved in the program. As we embark on the last leg of this first phase of our program to deliver the last of our four commercially operational nuclear reactors, we continue to inspire a new generation of climate change champions, while accelerating the UAE's decarbonization towards the goal of net-zero emissions by 2050."
In case you missed it: Barakah-3 began commercial operation this past February, joining Units 1 and 2, which started their operational lives in April 2021 and March 2022, respectively. The projected commercial start for Unit 4 is 2024.
Background: The UAE began a nuclear partnership with South Korea in 2009 when Kepco was awarded the prime contract to design, build, and help operate four pressurized water reactors at Barakah, located in the Al Dhafra region of Abu Dhabi. In 2016, ENEC and Kepco signed a joint venture agreement for a long-term partnership to become joint owners of Nawah Energy Company and Barakah One Company, with ENEC owning 82 percent of the two firms and Kepco holding an 18 percent ownership stake. Nawah was formed to operate and maintain the plant, while Barakah One was created to manage the commercial interests of the project, secure project finance from institutional and commercial lenders, and receive funds for the electricity generated from Units 1–4.