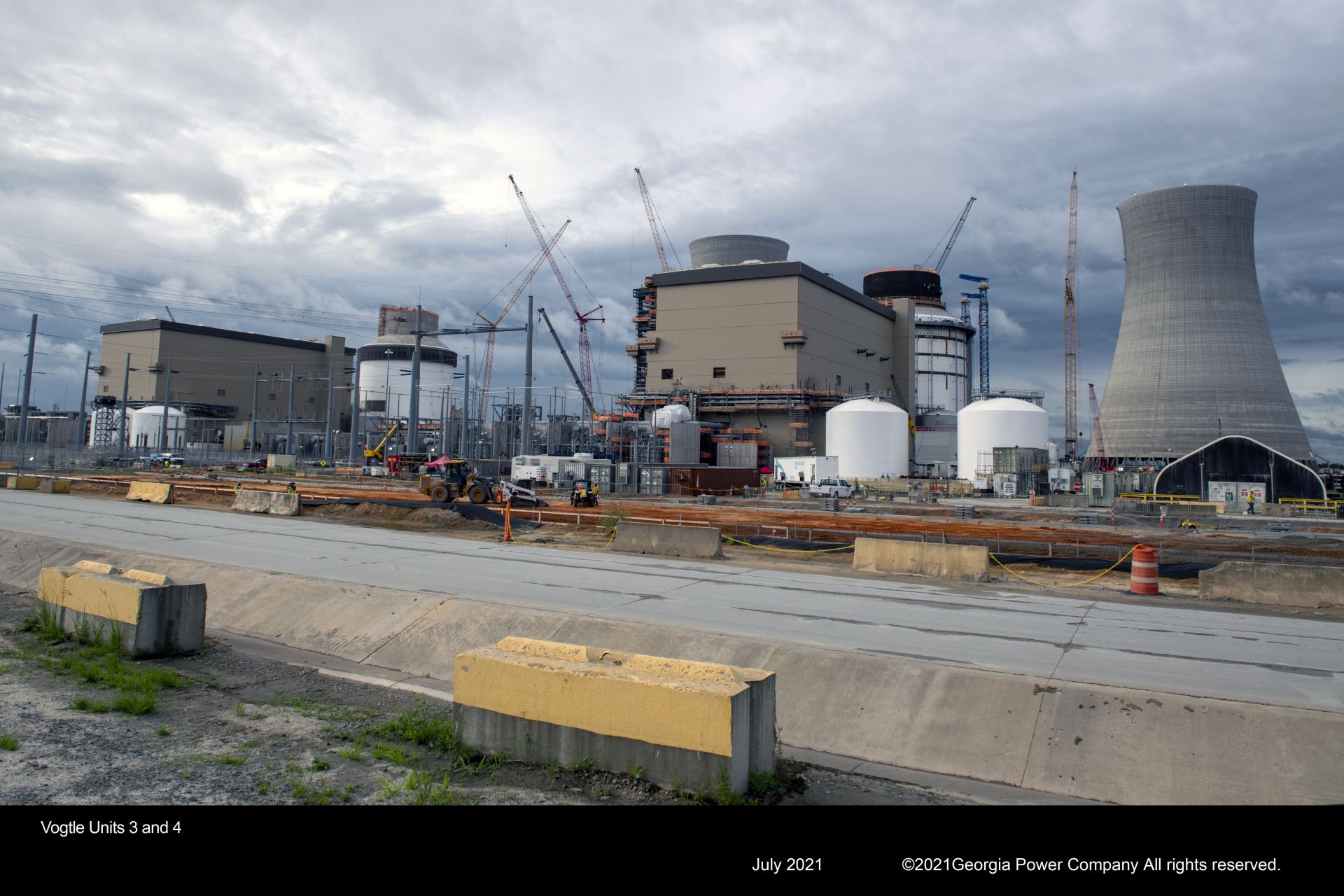 Georgia Power yesterday announced that due to 'productivity challenges' and the need for 'additional time for testing and quality assurance,' it has revised the schedule for the Vogtle-3 and -4 nuclear expansion project. The new schedule pushes back the Unit 3 in-service date to the second quarter of 2022 and the Unit 4 date to the first quarter of 2023—a three-to-four-month shift for each unit.
The Southern Company subsidiary also said that it has revised the total project capital cost forecast to reflect the new schedule, resulting in a $460 million increase to the company.
The official statement: "[The Vogtle project] remains a critical investment for the state to provide low-cost, reliable, and emissions-free electricity for the state of Georgia for 60 to 80 years," said Chris Womack, Georgia Power's chairman, president, and chief executive officer. "This is too important to our customers, our state, and our nation for us not to get it right, and we will."
According to Womack, the project has "endured extraordinary circumstances during construction," including, most recently, the COVID-19 pandemic. "Through these challenges," he said, "we have learned a great deal. Unit 3 hot functional testing has now been successfully completed with no significant issues identified, which is a critical step toward completion."
Context: In December 2017, the Georgia Public Service Commission, in its "Order on the 17th Semi-Annual Vogtle Construction Monitoring Report," approved November 2021 and November 2022 as the target in-service dates for Vogtle-3 and -4, respectively. In a filing with the Securities and Exchange Commission in March of this year, however, Georgia Power said that commercial operation at Unit 3 could be delayed by a month or more beyond November 2021. "While [Vogtle plant operator] Southern Nuclear continues to target a November 2021 in-service date for Unit 3, the schedule is challenged and . . . a delay is likely," Georgia Power stated.
That prediction became somewhat more specific in April, when Southern Company's chief executive officer, Tom Fanning, in a first-quarter earnings call offered a Unit 3 startup target date of late December 2021. That date was revised again the following month, when Georgia Power announced at a Georgia Public Service Commission hearing that the startup of Unit 3 would be delayed to January 2022.
And in early June, in testimony filed with the Georgia Public Service Commission, Don Grace, vice president of engineering for the Vogtle Monitoring Group, expressed the view that Unit 3 was unlikely to enter commercial operation before the summer of 2022, with Unit 4 not coming on line until the following summer. The Vogtle Monitoring Group has been conducting independent reviews of the Vogtle project since April 2018.