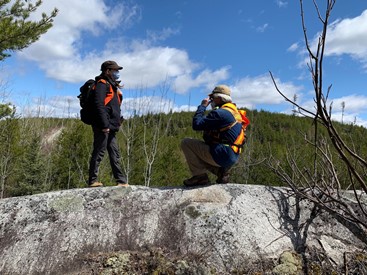 Canada's Nuclear Waste Management Organization is studying the geology of the Ignace, Ontario, area to confirm its suitability as a site for a deep geologic repository for spent nuclear fuel and high-level radioactive waste. Ignace is one of two areas the NWMO is investigating as possible host sites for a repository, with South Bruce, Ontario, being the second area.
Providing an update to the Ignace Community Nuclear Liaison Committee in June, Maria Sanchez-Rico Castejon, the NWMO geologist leading the fieldwork activities, said that downhole testing of a fourth borehole was underway, and that drilling of the fifth borehole started in May. A sixth and final borehole prior to site selection is slated to start later this year. Drilling of Ignace's first borehole began in late 2017.
The batholith: The borehole drilling is occurring in a rock formation known as the Revell batholith, a body of plutonic rock that was previously identified by the NWMO as being potentially suitable for hosting a repository. Depending on the rock characteristics, a repository would be built at a depth of about 500 meters, with an underground footprint of about 1,480 acres.
A not-for-profit organization tasked with finding a long-term solution to storing Canada's spent nuclear fuel, the NWMO plans to select a repository site in 2023. The organization said it will proceed in an area only with the consent of the community.
Mapping: According to the NWMO, geological mapping in the Ignace area will be completed soon, and field preparations for the installation of shallow groundwater wells are underway. Geological mapping involves physically going out into the field and recording geological information from the rocks that outcrop at the surface. Installing shallow groundwater wells will help further the understanding of the groundwater system in the area.
Later this year, the NWMO is to install additional microseismic monitoring stations in the region to collect information about the small magnitude earthquakes that naturally occur.
Detailed studies: Earlier in June, the NWMO published a series of reports documenting Ignace's regional geology, including an updated bedrock geology map for the Revell batholith and surrounding areas. Using the updated map, along with data from geophysical surveys, the NWMO was able to generate a 3D image of the batholith and surrounding rock.
To better understand potential pathways for groundwater flow, a team of NWMO geoscientists also completed a detailed lineament (or geological feature) interpretation for the bedrock area using the available geophysical and remote sensing data.
She said it: "All the work that we are doing will help us understand the geology so that both the NWMO and the community are informed when assessing the suitability of Ignace as a possible site for a deep geological repository," said Sanchez-Rico Castejon. "With the resumption of activities, it was a great opportunity to give the latest updates to the community."