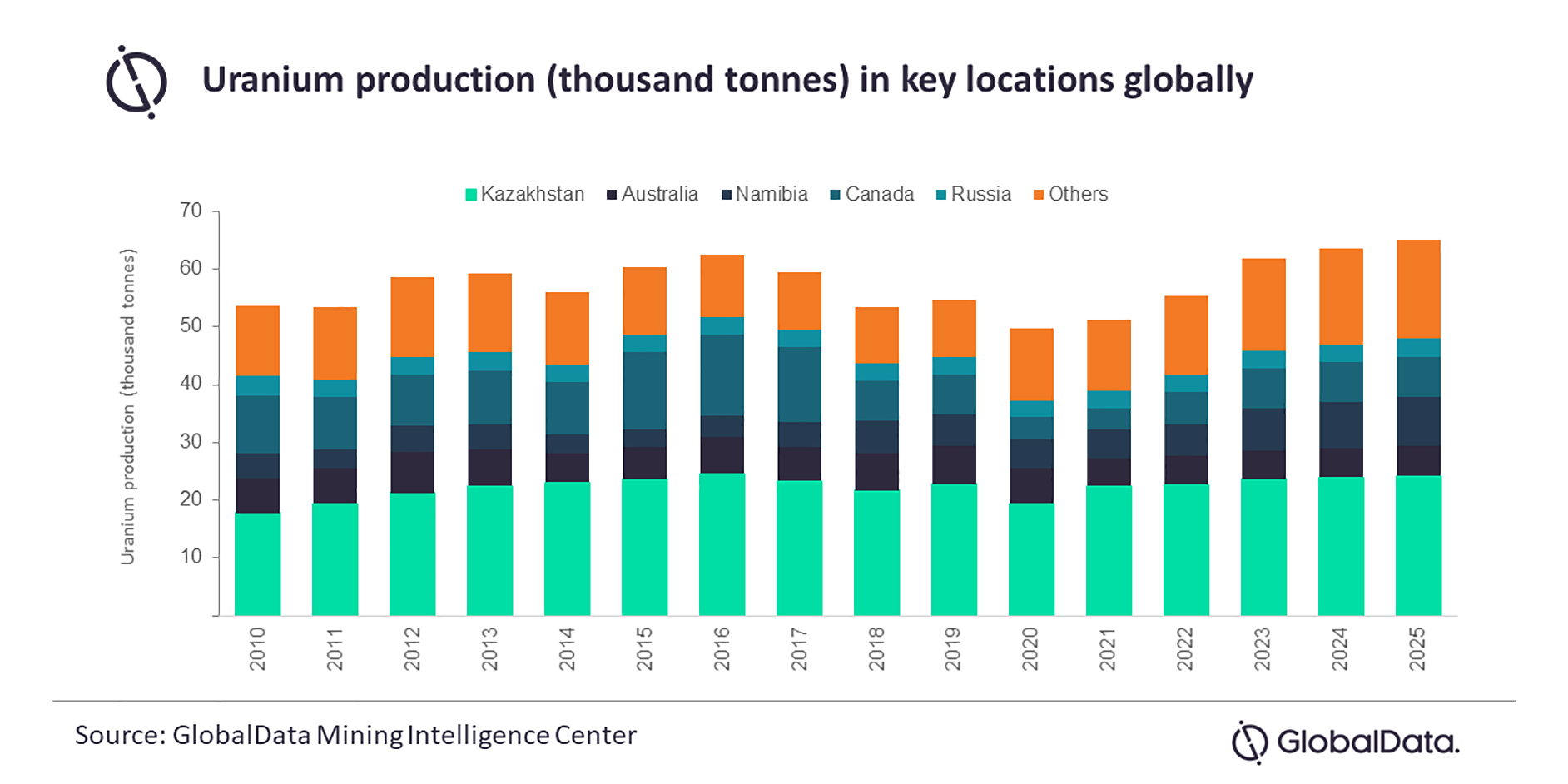 The global production of uranium should increase by 3.1 percent to reach 51.2 metric kilotons this year, due to the return of production at Canada's Cigar Lake and other mines where work was suspended in 2020, according to GlobalData, a U.K.-based data analytics firm.
An increase in output from Kazakhstan (+15.5 percent) and Russia (+5.2 percent) will contribute significantly to overall growth, according to the company. Production will continue to decline in Australia (-21.2 percent), however, as a result of Energy Resources of Australia's January closure of the Northern Territory's Ranger mine after four decades of operation.
The slump: "Global uranium production has been limited in recent years, mainly due to a sluggish market," said Vinneth Bajaj, associate project manager at GlobalData, on June 7. "This was further impacted by the COVID-19 pandemic from early 2020. In fact, global production of uranium fell by 9.2 percent to 49.7 kt in 2020. The most significant declines were observed in Canada, 43.9 percent, and Kazakhstan, 14.6 percent. Globally, almost 60 percent of uranium originates from these two countries."
The major culprits: Production at Cameco's Cigar Lake, which accounts for 12–13 percent of global production, was suspended in March 2020 to contain the coronavirus outbreak. The suspension remained in place until September 2020 and was reimposed in mid-December due to increasing risks from the pandemic. Also, in April 2020, Kazakhstan reduced activities for nearly four months at all of its uranium mines.
The bump: "Global uranium production is expected to grow at a compound annual growth rate of 6.2 percent over the forecast period of 2021–2025 to reach 65.2 kt in 2025," Bajaj said. "Kazakhstan, which holds some of the world's largest uranium deposits, is expected to remain the world's largest supplier for the next few years. With potential open-pit uranium mines, Namibia is also expected to remain a prominent supplier of uranium to the global markets. Furthermore, the restart of Cigar Lake in April 2021 is expected to provide a much-needed boost to Canada's uranium supply."