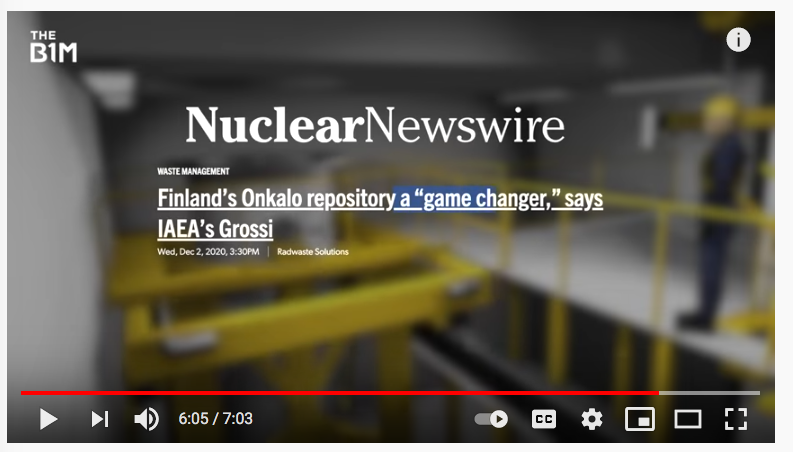 A new video, Finland Might Have Solved Nuclear Power's Biggest Problem, debuted on YouTube this morning and has been seen already by a large number of viewers. The video takes a look at Finland's efforts to lessen its reliance on foreign energy and meet its goal of carbon neutrality by 2035 with nuclear power, as well as to provide a solution to the problem of spent nuclear fuel.
Highlighted in the seven-minute video are TVO's Olkiluoto-3, the 1,600-MWe EPR scheduled to start commercial operation next year, and Posiva Oy's Onkalo, the deep geologic spent fuel repository currently under construction near the Olkiluoto plant.
Video audio: "Finland has been constructing the largest nuclear reactor in Europe alongside a facility that could solve the problem of what to do with spent nuclear fuel," the narrator states. "If all of its planned projects come to fruition, then, by the end of the decade, [Finland] will be second only to France in terms of the percentage of energy drawn from nuclear systems."
Brought to you by: The video was produced by The B1M, self-described as "the world's largest and most subscribed-to video channel for construction, with over 1 million YouTube subscribers and 18 million viewers each month."
As of this writing, the video had about 250,000 views.
A Nuclear Newswire plug: We are happy to report that the video shows on screen (see photo above) the headline of a news story from Nuclear Newswire, cited along with Reuters, S&P Global Platts, and World Nuclear News in the video.