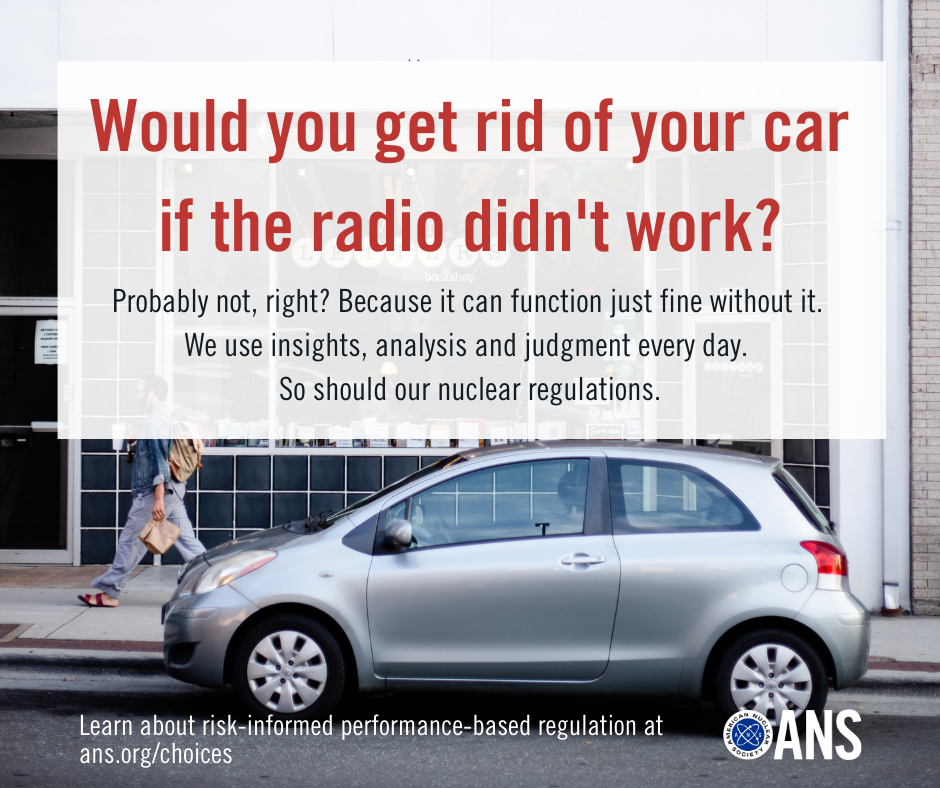 The nuclear industry has embraced the risk-informed and performance-based (RIPB) decision-making process over the past two decades. Still, it remains a complex concept to explain in lay terms.
With that in mind, the American Nuclear Society will be kicking off an RIPB awareness social media campaign as part of Nuclear Science Week 2020, which begins today and runs through Friday. The campaign will link decision making to everyday events in a person's life and feature a series of images and seemingly easy questions requiring a choice to be made. For example, ANS asks, "Would you get rid of your car if the radio didn't work?" or "Would you toss a lamp if the shade was dirty?"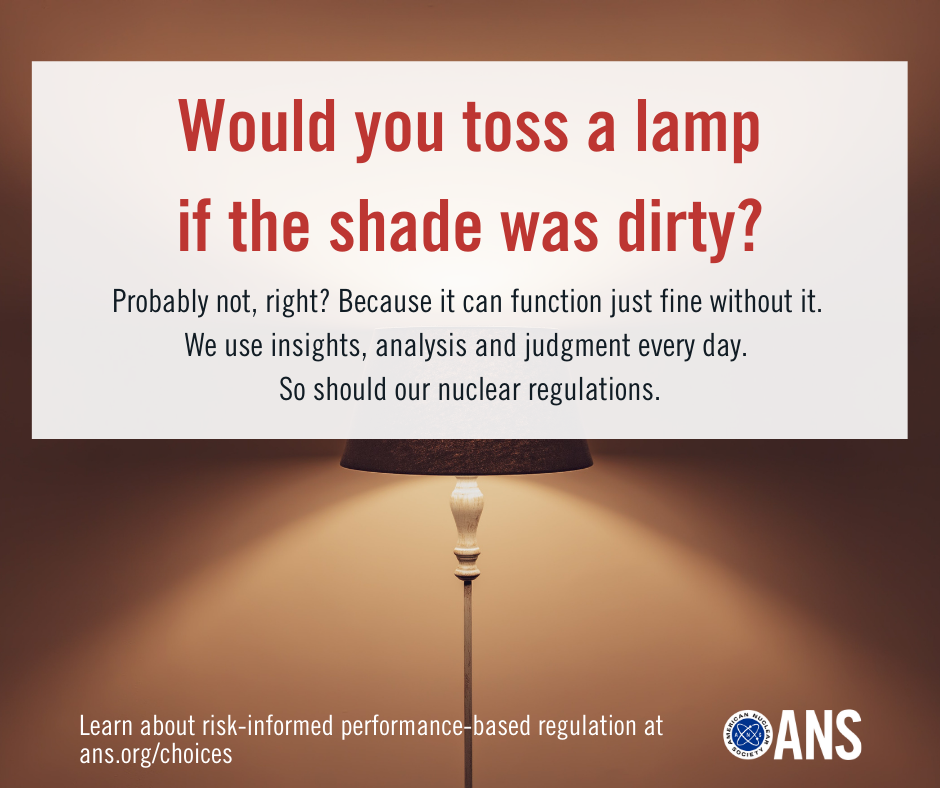 The images and text show how people use insights, analysis, and judgement every day to make choices. The theme ties back to the new section of the ANS website dedicated to RIPB, which includes information about RIPB regulations and international policy initiatives, and links to ANS Position Statement 46, "Risk-informed and performance-based regulations for nuclear power plants," and to the ANS RIPB Principles and Policy Committee. The site also explains the efforts undertaken by the Nuclear Regulatory Commission to implement RIPB regulations in its requirements.
Other ANS-affiliated events taking place for Nuclear Science Week include the following:
ANS is hosting a Halloween Trivia Night on Tuesday at 6 p.m. (eastern). Nonmembers are encouraged to participate. Register here for the event.
On Wednesday, the ANS Young Members Group is hosting a free webinar for K-12 teachers on developing curricula to teach about nuclear science, engineering, and technology. The webinar begins at 3 p.m. (eastern).
ANS and Discovery Education will be sharing Navigating Nuclear's interactive digital curriculum and resources, including a virtual field trip of Idaho National Laboratory, at a free webinar, "Inspire Curiosity: Nuclear Science and Innovation," on Wednesday at 5:30 p.m. (eastern). The INL-hosted webinar will also discuss how INL works to change the world's energy future and is targeted toward educators, college and career advisers, and policymakers.
Be sure to check ANS social media all week long for updates on RIPB awareness.