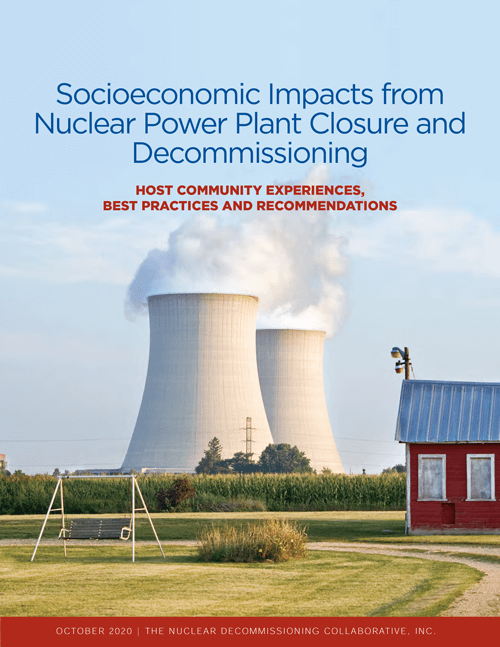 Communities that host nuclear power plants face "swift and severe" economic and social impacts following a plant's closure, according to a report by the Nuclear Decommissioning Collaborative that was released on October 12. The free, 61-page report, Socioeconomic Impacts from Nuclear Power Plant Closure and Decommissioning, examines the effects of nuclear power plant closures on surrounding host communities, along with the barriers to planning and mitigation, and offers recommendations to nuclear closure communities across the nation.
According to the report, a typical nuclear power plant may operate in a relatively rural area and contribute upward of $400 million annually to the local and regional economics. That loss of revenue can have a severe impact on local public services such as schools and emergency responders. In addition to the economic benefits of operating nuclear power plants, the report points out that plant employees and their families strengthen host communities through their participation in local cultural, civic, and volunteer opportunities.
Quote: Jim Hamilton, founder and executive director of the Nuclear Decommissioning Collaborative, said, "These communities continue to face real losses and ongoing hardship. While there is increased attention being paid to the plight of these communities, economic development planning remains a challenge, and many struggle finding the capacity to begin their recovery."
Key findings: For communities facing plant closures, a number of factors continue to hamper recovery efforts, according to the report. These factors include the following:
Chronic resource limitations continue to hinder community efforts to plan for, and mitigate, socioeconomic impacts from closure.
Plant closure and decommissioning present a steep learning curve with no clear roles for community engagement, peer-to-peer dialogue, and community collaboration at a national level.
The long-term presence of spent nuclear fuel hinders economic development and presents an enduring barrier to economic recovery.
The lack of a coordinated federal framework with limited focus on socioeconomic impacts hinders assistance to host communities and increases inefficiencies.
Recovery planning in the event of closure is best undertaken while the nuclear power plant is still operational.