Roughly six years ago, I wrote an article for ANS Nuclear Cafe entitled "The Hook-Ons," which covered small nuclear plants that were added (or "hooked") onto existing or purpose-built cooperative fossil fired plants.  That idea continues to receive attention today as we think about converting various fossil powered things to nuclear.  I say "things" because these might be power plants, chemical plants, factories, or anything else.  In recalling this article recently though, I thought about another aspect of those days of wide nuclear enthusiasm and construction - what about add-ons?  Let's take a look.
INDIAN POINT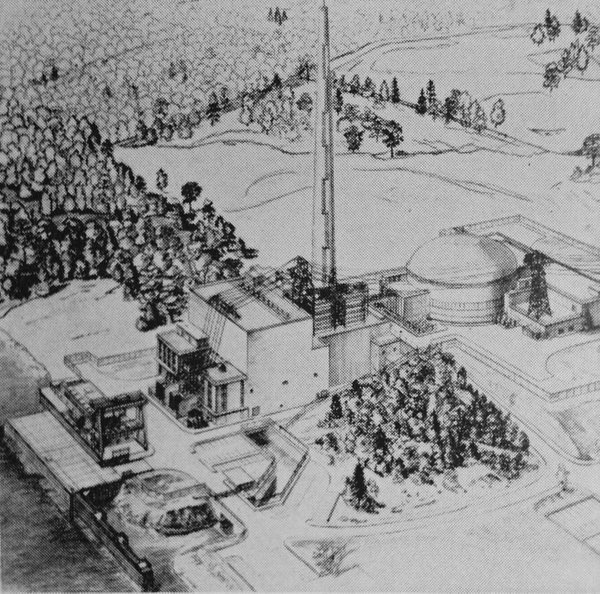 Indian Point was one of the true pioneers of nuclear energy in this country, at least in a commercial sense.  Designed during a period in which a number of nuclear plants were coupled with fossil power, Indian Point adopted an arrangement where the nuclear steam supply system (in the containment at the right of the artist's concept shown above) provided steam to a large fossil fired superheater; this superheated steam was then used to generate electricity.  The superheater is under the tall stack; the boxy turbine building is next to that, on the river side.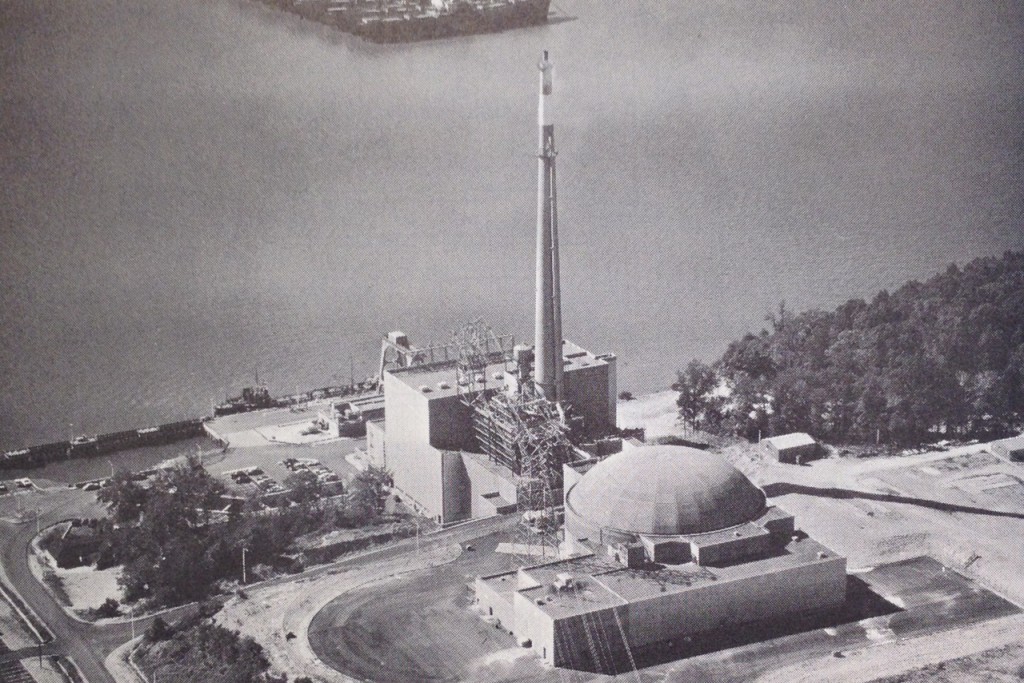 As completed, Indian Point pretty much duplicated the artwork seen earlier.  The superheating of steam for conventional PWR (as this was) or BWR nuclear plants was abandoned after the early years, so that few of this general class were ever constructed.  Another novel feature of this plant was that its first core was a thorium-uranium converter core (stainless steel clad.)  This principle was abandoned; the second core, "Core B" was a conventional slightly enriched uranium core (and was supplied by Westinghouse, not the original supplier and maker of the NSSS, Babcock & Wilcox.)
Indian Point was ordered in 1955 and first stated up on August 2, 1962.  The plant entered its first refueling shutdown in October 1965; the very next month, Consolidated Edison announced that it would build another nuclear unit at the same site.  Interestingly, it would be an add-on to the original plant and would share some systems.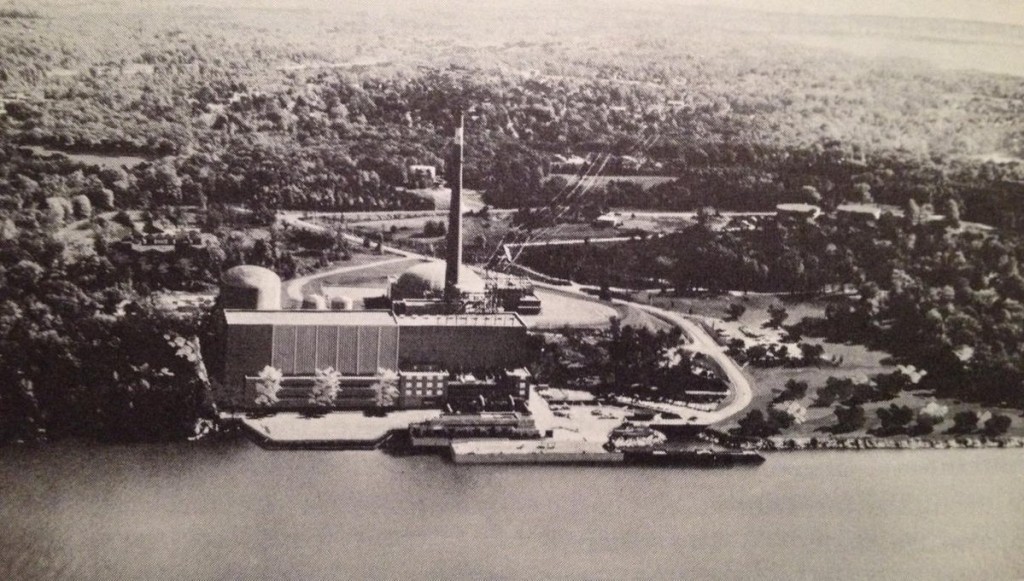 Indian Point Unit 2 is seen above in an artist's concept illustration which blends an accurate drawing of the unit onto a photograph of the original plant; the joining of the new unit to the old is plainly apparent.  This plant was designed and would be built by United Engineers and Constructors, although during this project (and that to build another unit, Unit 3, nearby but not added on) the functions of UE&C were shifted to a specially formed Westinghouse subsidiary, WEDCO.
DRESDEN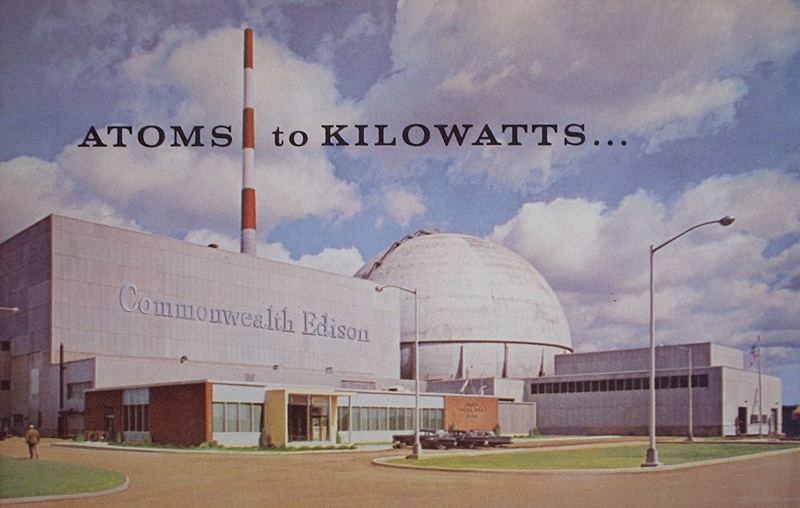 Dresden Nuclear Generating Station was another one of the earliest range of plants, entering commercial service on August 1, 1960.  This plant was originally owned and operated by Commonwealth Edison, but had R&D and development funding from several other utility and industry firms.  It was the first operating nuclear plant in the United States that was wholly privately funded.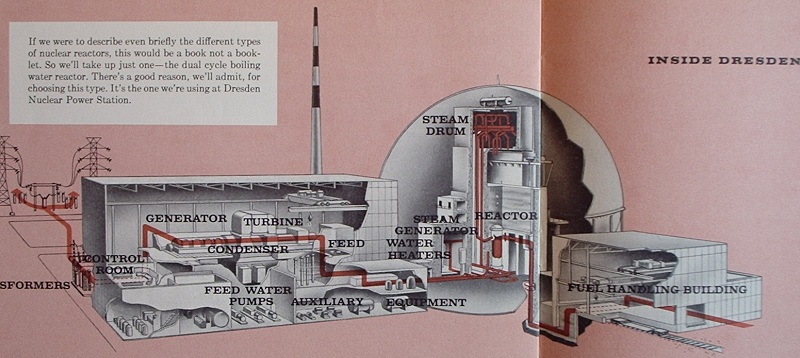 Designed and built before General Electric had fully decided on just which variety of boiling water reactor on which it would concentrate, Dresden incorporated an unusual-for-today dual cycle boiling water reactor.  Steam from the reactor, with water entrained, entered the steam drum high above the reactor.  Steam from this drum went to the HP inlet of the steam turbine.  Meanwhile, the very hot water separated out of that steam in the drum ran down pipes into four steam generators; this water provided the heat to generate lower pressure steam which was fed into the same turbine generator further along.  Pumps drove the water back into the reactor.  This was GE's first idea on how to make a boiling water reactor intrinsically load follow, since the return water coming back from the steam generators would cool upon an increase in steam demand, adding reactivity.  Commercially, only this plant and Garagliano in Italy (a slightly less powerful near-twin) used the dual-cycle concept.
But.. I digress.  Soon enough, ComEd decided it needed more power and ordered a twin-unit nuclear plant to be built added on to the original unit.  It was decided, in a manner somewhat similar to that at Indian Point, to built the new plant with turbine building adjoining the old.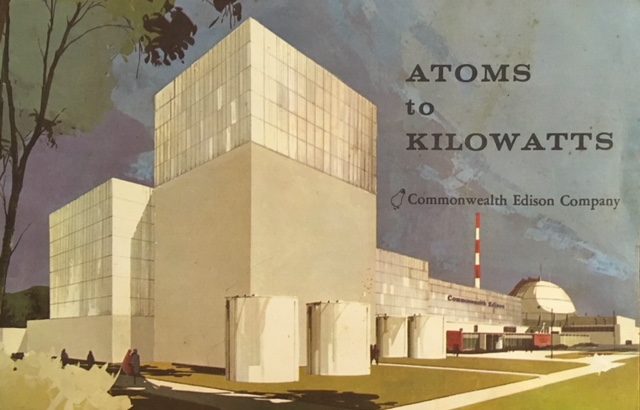 I was quite fortunate recently to pick up the brochure you see above, which is a revised version of the one I've already showed with the same title.  This shows a fairly fanciful rendition of what the two new units added on would appear like.  The new units' reactor building (both reactors together) was to be alongside the turbine building, not at its end; the reactors would be direct cycle BWR's with integral moisture separation.  Indeed, in just a few short years GE had decided on a definitive production form for its reactor and attendant pressure suppression containment.  Engineers on this add-on were Sargent & Lundy, with UE&C acting as constructor.
So, we see now that in some early cases when nuclear plants were expanded, the new units weren't just neighbors as we're seeing down at Plant Vogtle; they were really much closer family members!
Illustrations from Will Davis' library of promotional materials, brochures and press materials unless noted in the captions or text.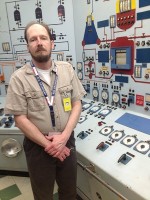 Will Davis is a member of the Board of Directors for the N/S Savannah Association, Inc. He has been a contributing author for Fuel Cycle Week, and he used to write his own popular blog Atomic Power Review. Davis is also a consultant and writer for the American Nuclear Society, and serves on the ANS Communications Committee and the Book Publishing Committee. He is a former U.S. Navy reactor operator and served on SSBN-641, USS Simon Bolivar.  His popular Twitter account, @atomicnews is mostly devoted to nuclear energy.  He collects all kinds of nuclear energy related ephemera and books and is more or less buried under it, which he reports not minding at all.