During March's Women's History Month, I honor Leona Woods by telling #herstory.
American Physicist Dr. Leona Woods is best known for her work on the now famous Manhattan Project and Chicago Pile-1.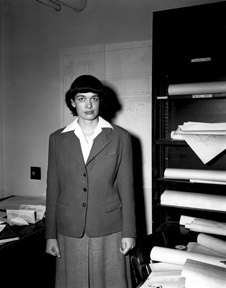 Born in La Grange, Illinois in August 1919, she graduated from Lyons Township High School at the early age of 14 (when most are entering high school), and earned a Bachelor of Science degree in chemistry from the University of Chicago in 1938. Still not satisfied with being young and smart, Dr. Woods decided to further her education and pursued a Ph.D. in chemistry. Warned off of graduate school by professors because she was female, Dr. Woods ignored the naysayers and eventually worked on her thesis under the tutelage of Robert Mullikan, future Nobel laureate recipient.
But as a graduate student, Dr. Woods soon found herself isolated. She was the youngest and last of Mullikan's pre-WWII students, the rest of whom had decided to join the war effort. Dr. Woods still had a few friends to count on though, like Herbert Anderson.  She and Anderson would often go for a swim in Chicago's Lake Michigan and during these rendezvous, Herbert learned of her passion and aptitude for vacuum technology (as one does during lake swims). These conversations led to Dr. Woods being hired to join a small research group, under some guy named Enrico Fermi, as both the youngest member and only female physicist.
In the renowned Fermi research group, Leona assisted with the construction of Chicago Pile-1. Using her super vacuum skills, Dr. Woods created a boron trifluoride counter which was used to detect neutron activity, a crucial step in determining if a nuclear chain reaction had occurred. When Chicago Pile-1 reached criticality for the first time, Dr. Woods was the only female present. Her detector confirmed a sustained chain reaction, which was a fundamental concept necessary for the proof-of-concept of the atomic bomb.
Shortly after, the Fermi research group moved down the road to Argonne National Laboratory. Around this time, Leona finally caught up to her contemporaries and got married to John Marshall, who conveniently also worked for Fermi. She soon became pregnant, and upon telling boss Fermi about the impending joy, they both agreed to keep it a secret so that Leona could keep working in the reactor building. Leona hid her pregnancy by wearing baggy clothes until it was too awkward to do even that. Her first child, Peter, was born miraculously healthy, and unbelievably Dr. Woods was back in the lab a few days later. Dr. Woods and husband John continued their work for the Manhattan Project by being heavily involved in the running of the first reactor at the Hanford site, which required 24/7 shift-work in order to produce weapons-grade plutonium for use in the atomic bomb.  In 1949, the Marshall family expanded when Dr. Woods gave birth to her second child, a health baby boy named John.
After the death of Enrico Fermi in 1954, Dr. Woods and her husband John Marshall split ways.  She was traveling the country as a professor or fellow at a few small facilities such as Princeton, Brookhaven National Lab, NYU, and University of Colorado. In 1966, she reconnected with another Fermi research group member and Nobel laureate (notice a pattern?), Willard Libby. After their marriage, she moved to California where Libby lived and became a professor at UCLA. It was during her tenure at UCLA that Dr. Woods became interested in, and created the methodology for, the use of radioactive dating in tree rings to study changes in the temperature and rainfall patterns from hundreds of years before written records existed. This work was one of the first to seriously study climate change.
Dr. Leona Woods passed away in 1986 at the young age of 67. In her lifetime, she went from child science prodigy to young phenom working on the top secret Manhattan project, and eventually became an advocate for the peaceful use of nuclear energy as a way to study climate change.
Further Reading:
https://en.wikipedia.org/wiki/Leona_Woods

https://www.atomicheritage.org/profile/leona-marshall-libby

https://www.womenshistory.org/education-resources/biographies/leona-libby

http://www.badassoftheweek.com/index.cgi?id=132987716098
---