Reports out of China emerged earlier this week that Sanmen Unit 1, the first Westinghouse AP1000 unit expected to start up, had "been commissioned."  These reports quoted an official speaking at a professional conference.
According to reports, Zheng Mingguang, president of the Shanghai Nuclear Engineering and Research Institute, was quoted as saying that the first unit of the Sanmen nuclear plant "had been commissioned on Saturday" (July 1st) and that it was awaiting government permission to connect to the grid.  While this statement seems accurate, it is in fact a bit misleading.
A look at the website of SNPTC (State Nuclear Power Technology Company) reveals that what has occurred is what we in the West would call the completion of hot functional tests of the plant.  This means that the plant is at the stage where it is now ready to load nuclear fuel and begin startup physics testing.  Actual startup and power production is (probably) months off yet, but this milestone is significant in what has become a considerably protracted affair.
Given all this, though, the plant still is expected to connect to the grid this year -- and it's not alone.  The lead unit of the second AP1000 project, which is the Shandong Haiyang NPP, will also connect to the grid this year if all goes well, according to SNPTC (who is the Engineering - Procurement - Construction contractor for both of these nuclear plants.)
One project which hinges on the actual startup of AP1000 units is that being considered by India, at Andhra Pradesh.  Indian law requires that there be a "functional prototype" plant in operation, and in this case that means the project will have to wait for Sanmen Unit 1 in China to start up.  Quite positive for the Indian project were the revelations following Indian Prime Minister Modi's trip to the U.S. that Export-Import bank financing was still in place for the project, and that a constructor for the project would be found inside India (as Westinghouse will exit the construction of nuclear plants as a part of its bankruptcy proceedings).  Andhra Pradesh could eventually be a six-unit site, if original plans are completed, and would be a major sale for Westinghouse -- a bright light in what is otherwise a dark time for this one-time industry originator and leader.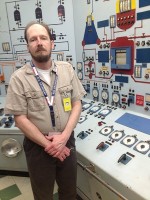 Will Davis is a member of the Board of Directors for the N/S Savannah Association, Inc. He is a consultant to the Global America Business Institute, a contributing author for Fuel Cycle Week, and he writes his own popular blog Atomic Power Review. Davis is also a consultant and writer for the American Nuclear Society, and serves on the ANS Communications Committee and the Book Publishing Committee. He is a former U.S. Navy reactor operator and served on SSBN-641, USS Simon Bolivar.