Among my circle of friends, I'm known as someone who enjoys great food and wine.  And for those who will be participating in the ANS Winter Meeting, there are some great possibilities.
Savor a Top Chef's cuisine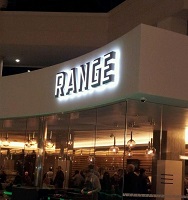 Fans of Top Chef, the Bravo TV show, may want to check out the D.C. restaurants of three Top Chef contestants. Chief among them is Chef Bryan Voltaggio, who was runner-up in Top Chef Masters. His new restaurant, Range, (5335 Wisconsin Ave., NW) in Friendship Heights (on the Metro Red Line) offers everything from a formal dinner to pizza and sushi. You'll need a reservation for dinner well in advance, but you can often just walk in for lunch.
Chef Mike Isabella's Graffiato features moderately priced Italian-inspired (by way of New Jersey) cuisine. Located in Chinatown (707 6th St., NW), it is loud and lively. You'll need a reservation. Isabella's newest venture, Kapnos, is building a huge reputation for its modern take on Greek food. If you have a yen for roast suckling pig, roasted goat, crispy roast chicken, and amazing moussaka, this is your place-2201 14th St, NW.
Chef Spike Mendelsohn offers casual cuisine via three restaurants in a single block on Capitol Hill. His Good Stuff Eatery is known for great burgers and sandwiches. We, the Pizza is, well, all about pizza. And Bernaise serves up steak and frites. 303, 305, and 315 Pennsylvania Ave., SE respectively.
Dine with U.S. Presidents ... or at some of their favorite places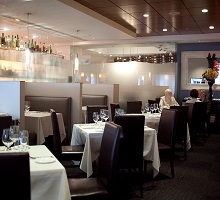 Whatever your political preference, it's always fun to dine at restaurants that attract Presidents, First Ladies, and other D.C. celebrities. You know the food will be great. When the Obamas came to town, one of their first date nights was at Equinox (818 Connecticut Ave., NW), which is known for its excellent regional and seasonal cuisine. Owners Todd and Ellen Gray are well known for their work in feeding the hungry, so a dinner at Equinox also fuels their good works.
Rashika West End (1190 New Hampshire Ave., NW) and its sister restaurant, Rashika (633 D St., NW), serve such exquisite Indian food that they have repeatedly attracted the Clintons and Obamas. Don't miss the Palak Chaat! You're never had spinach this fabulous.
There are so many other presidential restaurants. Here are some that you shouldn't miss. At her euphonious Restaurant Nora, D.C.'s first certified organic restaurant, Chef Nora Pouillon serves  delectable, healthy cuisine (2132 Florida Ave.). The Blue Duck Tavern in the Park Hyatt Hotel (1201 24th St., NW) is home to amazing, high-end comfort food. If you have a yen for great barbecue-and several U.S. presidents do-don't miss Kenny's BBQ Smokehouse on Capitol Hill (732 Maryland Ave., NE). Finally, there's the D.C. classic, Ben's Chili Bowl (1213 U St., NW), which is known for its half smokes with chili, burgers with chili, and just plain chili. Presidents and celebrities drop in at Ben's. Bill Cosby dines there often enough that the half smokes are named for him.
D.C. classic restaurants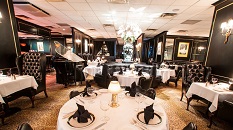 If you love great beef and a retro atmosphere (think Mad Men's Don Draper), check out The Prime Rib (2020 K St., NW). This is steakhouse fare, where beef is the star, although the crab cakes are pretty terrific too. You'll enjoy an excellent, albeit pricey, meal in a quiet, comfortable environment.
November is oyster season, and the Old Ebbitt Grill (675 15th St., NW) is the place to find them. At least six different kinds of bivalves are available night and day along with great lobster ... and many other great choices.
If you love great Northern Italian food and people watching, then Café Milano is the place for you. Located in Georgetown (3251 Prospect St., NW), you'll see many from D.C.'s political class peppered with a few celebrities. And you'll dine on great veal, pasta, grilled meat and fish. If you stay long into the evening, you'll enjoy what The Washington Post describes as "a fashion-themed late-night hangout for the young, the rich, and the beautiful."
JFK once described Washington as "a city of Southern efficiency and Northern charm." Vidalia (1990 M St., NW) has efficiency, charm, and fabulous Southern haute cuisine-the city's best bread basket, shrimp and grits, crab cakes, quail, and amazing pecan and lemon chess pies. This is an expensive dinner, but worth every cent. If you'd like a bargain, go for lunch and order from the $20 three-course tasting menu.
______________________

Mimi Limbach is managing partner at Potomac Communications Group.  She will be recognized with the American Nuclear Society's Distinguished Service Award at the 2013 ANS Winter Meeting, taking place November 10-14 in Washington, D.C.