This is the story about how ANS members fulfilled the mission set forth in the position statement:  to inform the public and media about the nonproliferation benefits of the MOX fuel program. It's also the story of how ANS student members answered the Call to Action and contributed to the success of this event for the Society.
The Chattanooga ANS Local Section and the Chattanooga State Community College ANS Student Section both committed to supporting the September 11 hearing as a priority outreach project. ANS Public Information Committee Chair Dave Pointer e-mailed nearly 700 ANS national and student members within a 5-state radius and asked them to come to the hearing to represent the Society, to explain why MOX fuel use makes sense, and to make a stand for nuclear in an area where nuclear opponents had monopolized the public discussion about nuclear.
ANS members showed up.
LOTS of ANS members showed up.
MOST of the ANS members who showed up were students.
ANS members who couldn't show up replied to the e-mail to say they couldn't come, but wanted to pass along their encouragement and their belief that this was the right thing to do.
We can take pride in how well the Society was represented in Chattanooga.
The students took pride in representing the Society and the profession-and did so very well.
Chattanooga was a communications victory for ANS across the board: a great turnout for nuclear professionals and students and a great event for explaining the benefits of MOX fuel technologies.
Defying expectations
The presence of so many young people supporting the ANS position on MOX fuel made a definite impression upon attendees. The most common question I was asked by non-ANS participants was, "How many Chattanooga State students are here today?" One gentleman who opposed MOX fuel prefaced his remarks by saying that he once taught at Chattanooga State and was thrilled to see so many students attending the hearing.
Chattanooga ANS Local Section Chair Samuel Snyder wrote following the hearing:
One thing that struck me last night was the average age of those who attended the meeting in support of the nuclear science and technology industry. When you take last night's "pro-nuclear" group as a whole, I would say that the average age was in the 20s.

A good number of students were willing to get up in front of the group and provide public comments in favor of the ANS-backed proposal for the disposition of surplus plutonium. The comments were very civil from the "pro" side, and mainly civil from the "anti" side, though my biased opinion is that the "pro" side did a much better job of presenting facts and providing sound arguments for their position.
It's good to have friends...
This was the first public hearing experience for most of the participants. Recently, Chattanooga has seen a lot of anti-nuclear activity, including opponents who stage protests dressed as zombies.
In asking ANS members to attend this hearing, we were asking nuclear professionals to venture outside of their comfort zone in terms of making public comments on an issue that might not really be their area of expertise-and oh, by the way, you might also need to wade through a crowd of zombies who will be heckling you. No worries!
That's what friends (and professional membership societies) are for-to watch your back when you're surrounded by zombies. Being the only science-informed person in the room can sometimes be uncomfortable and even intimidating. There is strength in numbers, and so coming together on a vitally important issue strengthens our association by strengthening our professional and personal bonds.
...Especially social media friends
The social media promotion of this event contributed to its success. The ANS Social Media Group is an amazing collection of people with wildly different perspectives and backgrounds who share one thing: the conviction that the nuclear community needs to improve how we communicate if nuclear energy's promise is to be realized.
Individually and collectively, they have shed much blood, sweat, and tears in their efforts-and they are willing to lend a hand so that your blood, sweat, and tears might be spared.
#MOXChat was the twitter hashtag for the Chattanooga hearing. The live-tweeting provided a minute-by-minute rundown of the comments and observations by nuclear professionals across the country who followed this on twitter. Unfortunately, the tweets have expired on Twitter.
A roundup of social media coverage of #MOXChat is at the end of this article. Many thanks to everyone who supported this event via social media. Your observations and advice were invaluable, and many of the students brought printouts of your entries to the hearing as prep material.
A special tip of the ANS Nuclear Cafe cap to Steve Skutnik, who did it all at this hearing: made public comments, live-tweeted the hearing, live-blogged the hearing here at the ANS Nuclear Cafe, blogged pre- and post-hearing at his Neutron Economy blog, and helped prep students in his capacity as UT-K assistant professor. Thanks, Steve!
The power of  showing up
We asked ANS members to come to the hearing and comment on behalf of ANS-but we also asked those who could not comment to show up and support their friends and colleagues. They did-and they applauded every comment. Some who couldn't stay for the hearing showed up to meet with the students and answer questions that they had about MOX fuel and reactor operations.
Everyone there contributed to the success of this event-just by showing up.
Having fun is contagious
The disposition of excess weapons-grade plutonium is a serious issue. The ANS student members took seriously the responsibility of speaking on behalf of the ANS position and the need to counter some of the more implausible assertions by the nuclear opponents who attended.
Taking the responsibility seriously, however, doesn't mean being humorless. Sometimes we err too much on the side of serious and need to remember that positive experiences build upon themselves: having fun at an event makes it more likely that you'll do something similar in the future.
Besides, we're hilarious! Why try to fight it?
Sometimes a little #MOXSnark needs to be vented due to the wild claims made by nuclear opponents.
And sometimes brilliant ideas-like ANS Man, or a YouTube show featuring Sarcastic Science Guy in a Turquoise Shirt, or setting future public comments to cheering cadences-are born of these shared experiences.
All I will say is this:  My understanding of  plutonium dispersion factors has been forever transformed. Or, as Steve Skutnik live-tweeted, #youprobablyhadtobethere.
You know, in Chattanooga.
WHERE ANS ACHIEVED TOTAL DOMINATION*!
*in a technically credible, knowledgable, and thoroughly polite and eloquent manner, while adhering to the highest standards of safety (no zombies were harmed in the writing of this post).
Social media roundup
Rod Adams, Atomic Insights:
Plutonium Power for the People
Meredith Angwin, Yes Vermont Yankee:
Meeting Success Story in Chattanooga
Show Up for Nuclear in Chattanooga
Steve Skutnik, Neutron Economy:
Wading into the Zombie Nuclear Horde
Mixing it up over MOX - a wrapup from Chattanooga
Dan Yurman, Idaho Samizdat:
Mix it Up about MOX in Chattanooga
Calling Out Red Herrings about MOX Fuel for TVA
US Areva:
Can you Talk MOX? 10 Things You Need to Know about MOX Nuclear Fuel
Center for Nuclear Science and Technology Information
ANS was able to support this important effort thanks to funding provided through its Center for Nuclear Science and Technology Information.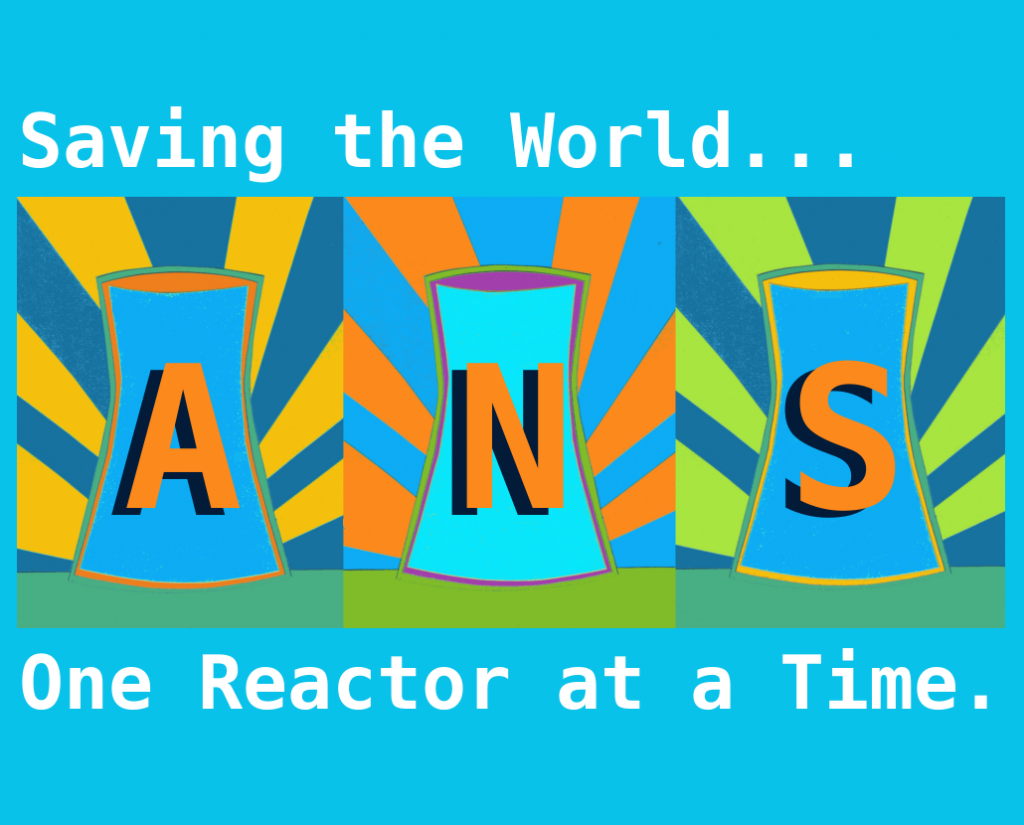 ___________________________________
 Laura Scheele is the Communications and Public Policy Manager for the American Nuclear Society's Communications and Outreach Department.