I recently joined the latest social media phenomenon-"Pinterest"-after some good old-fashioned peer pressure from my pals. Basically it is an online scrapbook, where you can collect images from all over the Internet and organize or "pin" them under categories like "recipes to try" or "ideas for the garden" on your personal page. There is very little text and not much user-to-user interaction. You just browse thousands of images of party dresses, wedding ideas, art, or whatever you or other users have uploaded to the site. Essentially it's a whole lot of eye candy.
This new forum is largely dominated by women, and has an overwhelming number of users, to the extent that there is currently a waiting list to join. Upon recognizing that this website is basically the "visual-Google-for-women," I decided to do a little experiment to find out what nuclear-related images were on the site. Since every image has to be "pinned" from the web, I figured that whatever images I found on this site would be a pretty good visual representation of how women feel about nuclear power at this exact moment in time.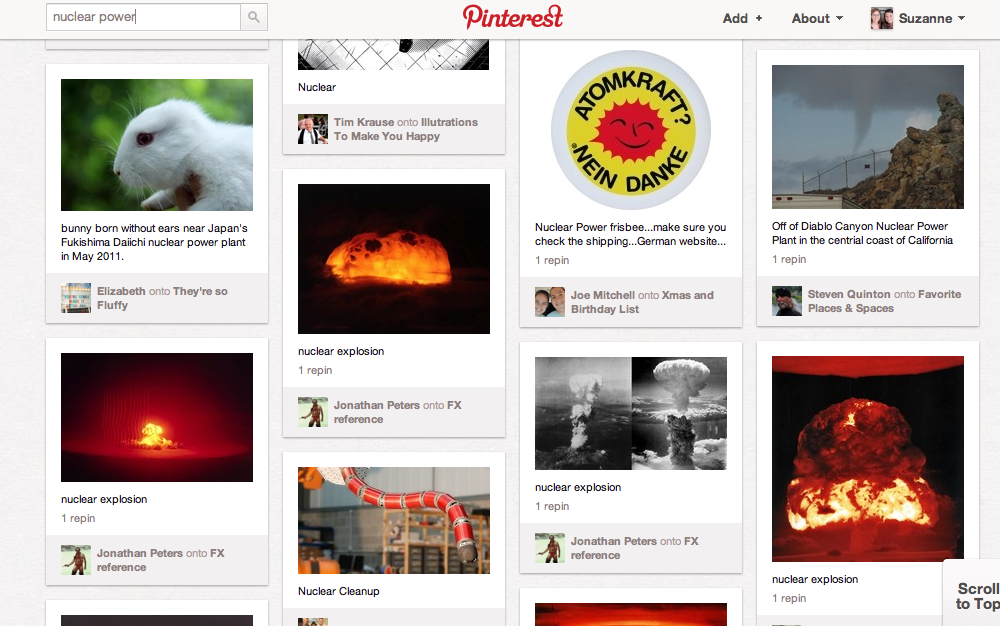 Well, what I found wasn't pretty. In fact, it was downright bad:  Earless bunnies of Fukushima, atomic bomb explosion after atomic bomb explosion, and not a single image of a nuclear power plant. Not one. The closest thing I found that was even remotely positive regarding nuclear energy was this image: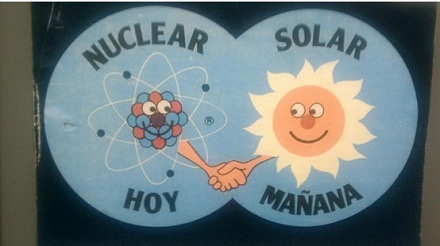 For those who can't read Spanish it says, "Nuclear Today, Solar Tomorrow."  But hey, at least they are smiling and shaking hands.
So my next step, which I thought was going to bring up thousands of results, was to search for wind power. Surprisingly, only two images of wind turbines resulted, and I thought to myself, "Okay, maybe this just isn't a forum where energy is a topic that people are thinking about." But before I could rest assured, I did a quick search for "solar power" and stumbled into the archetypal female brain for all things solar energy. Put simply, women like solar energy. A lot. In fact, "solar power" yellow is a very popular color right now. You might even say that solar is en vogue with the ladies.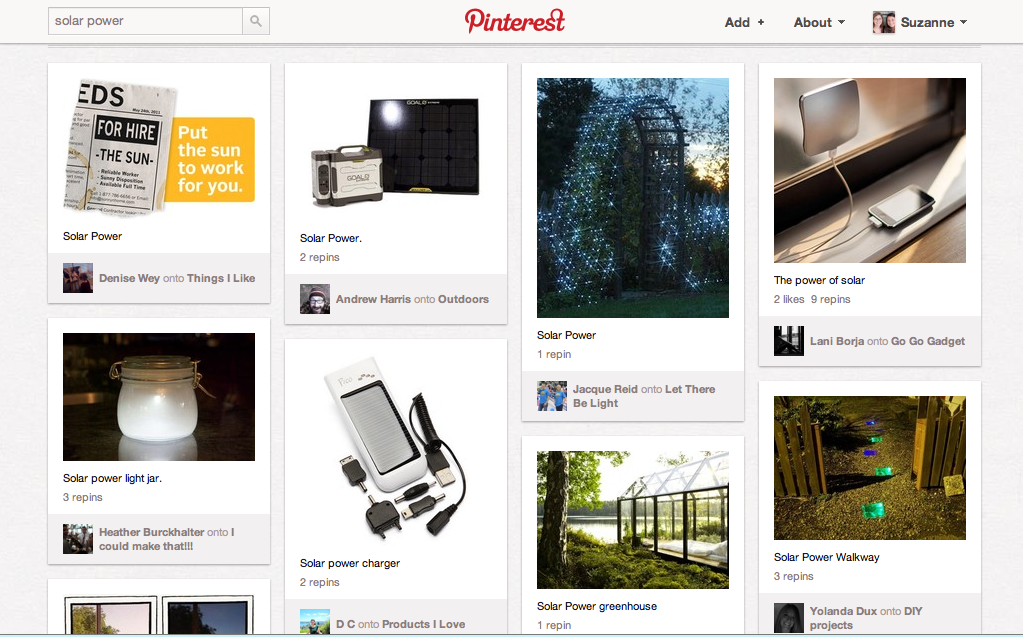 The common thread among all of the "solar power" search results is that they are small consumer items that you can use in your everyday life. They are all relatively inexpensive, cute, and easy to use. I get the distinct feeling that women's experiences with "solar" products inform their broader beliefs about solar power. But what else are women thinking about energy issues?
According to the 2009 "Woman's Survey on Energy and the Environment" by Women in Public Policy, the single largest concern among women is moving toward clean energy sources, trumping cost, reliability, and jobs. Women are the primary decision makers about household energy use, which is good, but they collectively have a lot of misconceptions about energy, which is not so good. Fifty-four percent of women think that nuclear energy releases CO2 and is a primary cause of climate change. Only 12 percent of women surveyed know that coal is the largest source of electrical generation in the United States. Basically, a lot of the ladies making decisions about energy at home do not have all the facts.
So, what can we do to solve this problem? First of all, we need to focus our outreach efforts specifically toward women. When we present information, we should take the time to gear it toward the specific concerns of our audience that we know to be reducing environmental impact. And we must make it visually appealing. Basically, make it pretty. Make it fun. If we can learn anything from Pinterest.com, it's that ladies really like resources that are pretty, user friendly, and interactive. The best way to increase public support and overall use of nuclear energy is to appeal to women.
______________
Suzy Hobbs Baker is the executive director of PopAtomic Studios, a non-profit organization dedicated to using the power of visual and liberal arts to enrich the discussion on nuclear energy. Hobbs Baker is an ANS member and a frequent contributor to ANS Nuclear Cafe