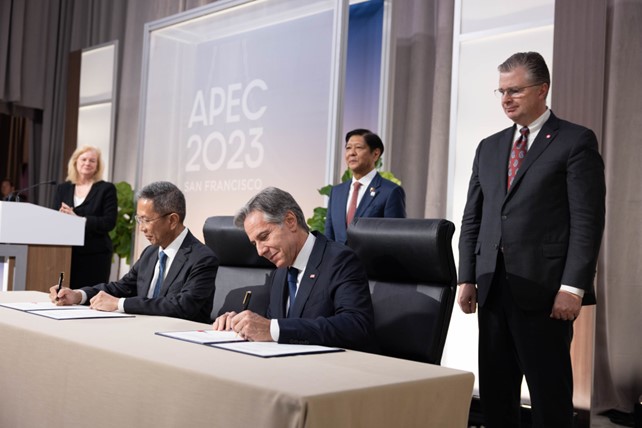 The United States and the Philippines last week signed a civil nuclear cooperation agreement—known in policy wonk jargon as a 123 Agreement.
The moniker is derived from section 123 of the Atomic Energy Act, which requires such agreements in order to transfer U.S. nuclear equipment and material to other countries for peaceful uses.
Antony Blinken, U.S. secretary of state, and Raphael Lotilla, Philippine energy secretary, inked the pact on November 16 at the Asia-Pacific Economic Cooperation (APEC) summit in San Francisco.
123 Agreements provide the legal framework for cooperation and establish nonproliferation criteria that both parties must uphold, such as observing specific standards for covered items used in civil nuclear energy programs, including International Atomic Energy Agency safeguards; physical protection of covered items; and limitations on enriching, reprocessing, and transferring specific items without the other party's consent.
According to a State Department media note, the U.S.-Philippines agreement "marks the successful culmination of the negotiation process launched by Vice President Kamala Harris during her historic trip to the Philippines in November 2022."
Signers' language: In remarks at the signing ceremony, Blinken termed the Philippines' climate goals "ambitious," adding, "As peak energy demands are expected to nearly quadruple in the Philippines by 2040, nuclear power can consistently produce enough energy to meet communities' critical needs without emitting more greenhouse gases. In a nation of more than 7,000 islands, small modular reactors—some just the size of a city bus—can generate energy locally and conveniently. Nuclear energy will also create inclusive economic opportunities for American and Filipino businesses alike, and good-quality, high-paying jobs in both of our countries. All of these are reasons why today we are signing this 123 Agreement—to create a framework for our civil nuclear cooperation."
Lotilla commented, "Under the leadership of President Ferdinand Marcos Jr., the negotiation of the present agreement with the U.S. was made possible, its predecessor agreement having expired in 1998. Every step of the way, the agreement recognizes adherence to standards set by the International Atomic Energy Agency. Beyond nuclear power applications to combat climate change, the new agreement facilitates bilateral cooperation in a wide array of other peaceful uses of atomic energy, all supportive of various sustainable development goals, including plant breeding, livestock production, insect pest control, soil and crop management, water use efficiency, plastic waste disposal, food safety, health, and medicine."
Marcos also attended the signing, saying he envisions nuclear becoming a part of the Philippines' energy mix by 2032 and that the country "would be more than happy to pursue this path with the United States as one of our partners."
In case you missed it: Also at last week's APEC conference, Ultra Safe Nuclear signed a cooperative agreement with the Manila Electric Company (Meralco)—the Philippines' largest electric distribution utility—to study the potential deployment of one or more of the company's high-temperature, gas-cooled microreactors in the Philippines. The agreement, signed November 15, builds on a partnership between the two companies that was announced in August.