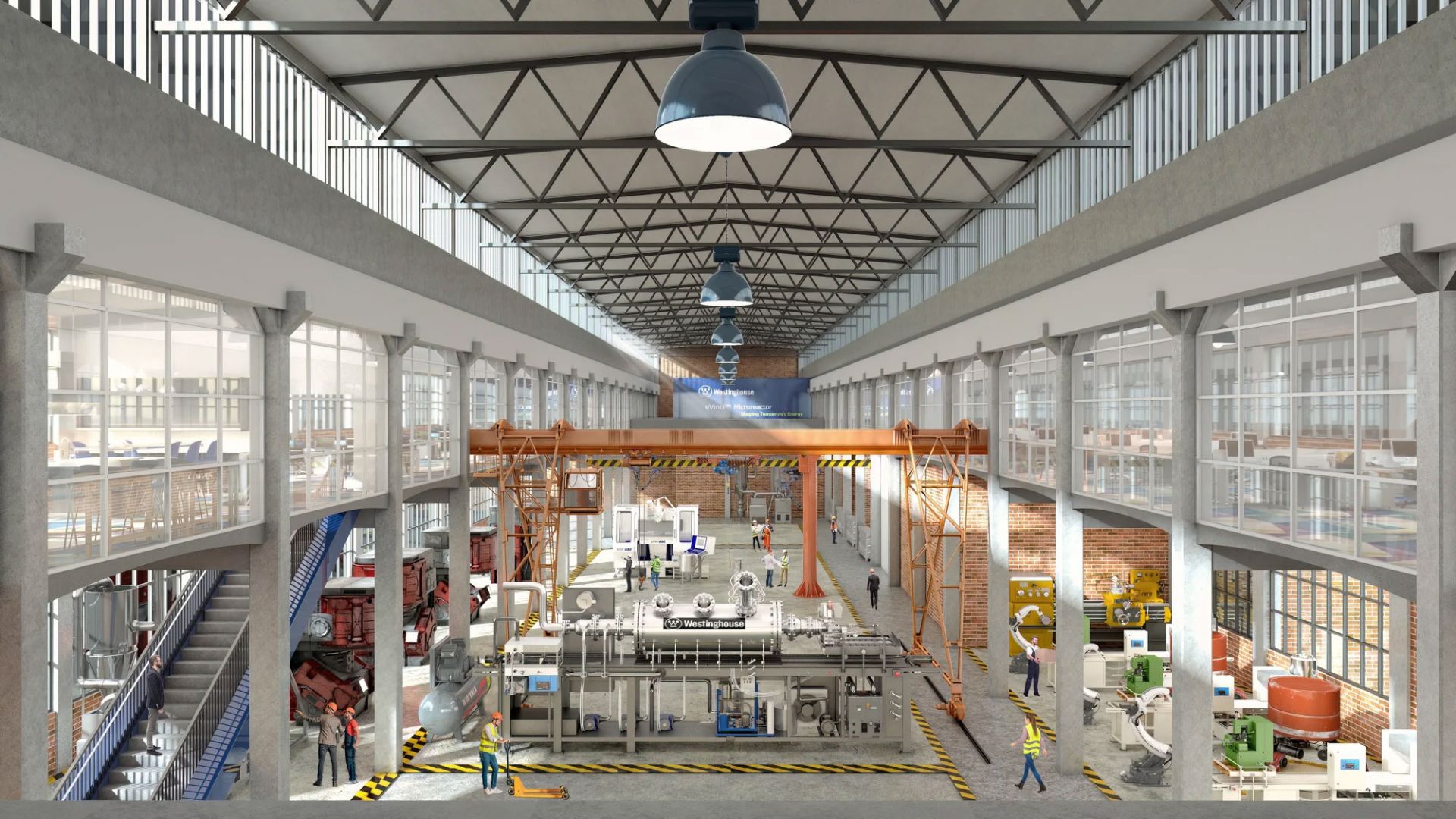 To help speed up commercialization of its eVinci microreactor, Westinghouse Electric Company this week launched a new design and manufacturing facility for the project near downtown Pittsburgh, Pa. Located in the borough of Etna, the 87,000-square-foot eVinci "accelerator hub" will be home to engineering and licensing operations, testing, prototype trials, business development, and sales, Westinghouse said in an October 24 announcement, adding that the facility will include manufacturing space for producing the "innovative heat pipes that are central to the eVinci technology."
The Etna location, according to the company, was chosen in part for its proximity to universities that have partnered with Westinghouse on the eVinci technology, including Carnegie Mellon, Penn State–New Kensington, and the University of Pittsburgh.
Construction on the space began earlier this year and is scheduled for completion in the first quarter of 2024.
Government support: In its announcement, Westinghouse noted support for the project from the state of Pennsylvania through economic development grants as part of a state initiative to build innovation and grow jobs, and from the U.S. Department of Energy, through its Office of Nuclear Energy and Advanced Research Projects Agency–Energy.
Official words: "Today's announcement is just the latest in a long line of Westinghouse innovations—each one a result of the Commonwealth of Pennsylvania's legacy as an energy leader," stated Gov. Josh Shapiro at the launch event. "I believe Pennsylvania should play a central role in efforts to connect the dots and invest in clean sources of energy, and that's why my administration's energy policy ensures we have a diverse and reliable portfolio of energy resources that fosters innovation, protects our communities and our planet, and creates jobs. Together, we can usher in a new chapter of innovation and energy leadership here in Pennsylvania."
Westinghouse president and chief executive officer Patrick Fragman said that with backing from the state and federal governments, his company is "making big strides to deploy at speed and at scale" and is "targeting to have multiple eVinci microreactors in operation throughout the world by the end of this decade."
Kathryn Huff, DOE assistant secretary for nuclear energy said, "We are in a race to bring advanced nuclear technology to market as swiftly as possible to help tackle climate change and meet diverse community needs. We need this kind of approach that brings the right people together to hash out real-world solutions and deliver on the promise of advanced reactors."
The tech: Westinghouse has described the eVinci microreactor as "essentially a small battery for decentralized generation markets and for microgrids, such as remote communities, remote industrial mines, and critical infrastructure." Key features include the following:
■ Transportable energy generator.
■ Fully factory built, fueled, and assembled.
■ 1 MWe–5 MWe combined heat and power.
■ 40-year design life, with a three-plus year refueling interval.
■ Target of less than 30 days on-site installation.
■ Autonomous operation.
■ Power demand load following capability.
■ Minimal moving parts.
■ Near-zero emergency planning zone with small site footprint.
In case you missed it: Westinghouse last Thursday signed memorandums of understanding with key Bulgarian suppliers to support the upcoming AP1000 nuclear projects at the Kozloduy nuclear power plant in northern Bulgaria, as well as other projects throughout the region.
The MOUs outline the potential for manufacturing key components, including instrumentation and control systems and radiation monitoring systems, as well as for providing various engineering, consulting, and construction services. Suppliers include OSKAR-EL, Glavbolgarstroy, ENPRO Consult, EnergoService, and EQE Bulgaria.
"I am proud that a U.S. company, Westinghouse, can partner with the [Bulgarian] ministry of energy and Parliament on this important project," said U.S. ambassador to Bulgaria Kenneth Merten. "This MOU signing paves the way for growth in the nuclear sector, economic growth in Bulgaria, and clean no-carbon energy."