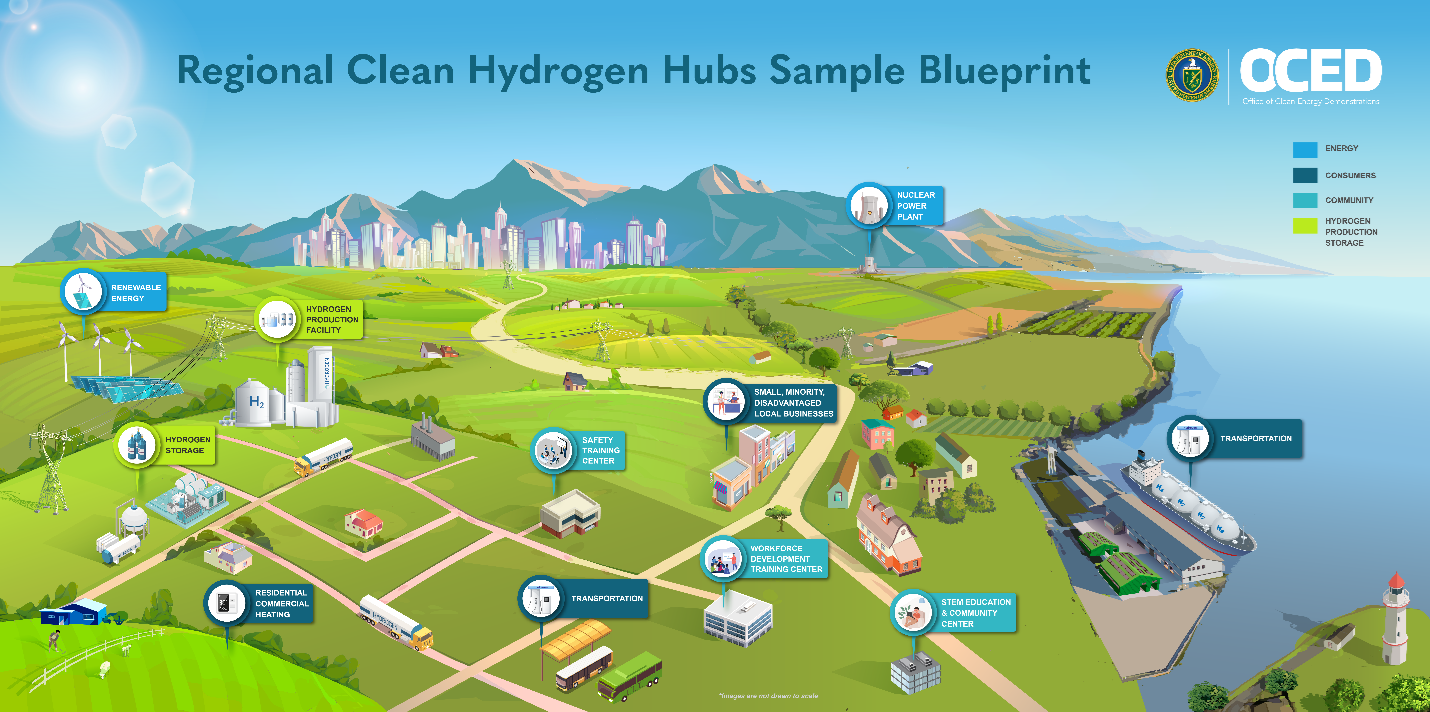 The Department of Energy announced $7 billion on October 13 to launch seven regional Clean Hydrogen Hubs (H2Hubs) across the country and accelerate the commercial-scale deployment of clean hydrogen. Two of the seven hubs will feature hydrogen production using electricity—and possibly steam—from nuclear power. The federal government's multibillion-dollar investment will be matched and exceeded by more than $40 billion from the awardees, for a total investment in clean energy and job creation near $50 billion.
H2Hubs background: Clean hydrogen is an energy carrier and storehouse that can be produced from electrolysis using carbon-free energy sources, including nuclear power, and can be applied to some of the most energy-intensive sectors of the economy, such as chemical and industrial processes and heavy-duty transportation.
Funded by the 2021 Bipartisan Infrastructure Law, the H2Hubs program will be managed by the DOE's Office of Clean Energy Demonstrations to "kickstart a national network of clean hydrogen producers, consumers, and connective infrastructure while supporting the production, storage, delivery, and end-use of clean hydrogen," according to the DOE.
The seven hubs just announced are expected to collectively produce three million metric tons of hydrogen annually by 2030. That's about one-third of the nation's current annual production using carbon-intensive process of steam-methane reforming. That clean hydrogen could be used to lower emissions from hard-to-decarbonize industrial sectors that represent 30 percent of total U.S. carbon emissions, according to the DOE.
"Unlocking the full potential of hydrogen—a versatile fuel that can be made from almost any energy resource in virtually every part of the country—is crucial to achieving President Biden's goal of American industry powered by American clean energy, ensuring less volatility and more affordable energy options for American families and businesses," said secretary of energy Jennifer Granholm.
Supply and demand: The H2Hubs program was opened to applications in September 2022, and full applications were due April 2023. Between six and 10 awards were envisioned, with at least one of those hubs using nuclear energy. After more than 80 concept papers were submitted, 33 were encouraged to submit a full application. Information about all seven hubs chosen for award negotiations is available here.
To support the H2Hubs from the demand side, the DOE issued a separate request for proposals in September 2023, soliciting a U.S. entity to run a demand-side initiative intended to ensure that both producers and end users of H2Hubs have the market certainty needed to unlock critical private investment during the early years of clean hydrogen production.
"MachH2" and "MACH2"—there's a difference: The two awards that would include nuclear energy in their hydrogen generation portfolio have distractingly similar names, but the proposals have distinctly different aims.
The Midwest Alliance for Clean Hydrogen (MachH2) in Illinois, Indiana, and Michigan, is located in an industrial and transportation corridor. MachH2 plans to support "strategic hydrogen uses," including steel and glass production, power generation, refining, heavy-duty transportation, and sustainable aviation fuel. The decarbonization of these sectors will reduce carbon emissions by approximately 3.9 million metric tons per year—equivalent to removing emissions from more than 867,000 gasoline powered cars annually—which will improve air quality through avoided criteria pollutant emissions. This H2Hub plans to produce hydrogen using renewable energy, natural gas, and low-cost nuclear energy. T It will get up to $1 billion and anticipates creating 13,600 direct jobs—12,100 construction jobs and 1,500 permanent jobs.
"This is a historic day for MachH2 and the entire Midwest," said Dorothy Davidson, chief executive officer of MachH2, in an October 13 announcement. "Our hub and the region bring an unparalleled supply of clean energy, significant regional hydrogen demand, heavy industry, and an ideal location at the crossroads of America—all of which was recognized by the DOE's selection of MachH2."
MachH2 is made up of more than 70 public and private entities, including nuclear utility Constellation; Argonne National Laboratory; Bloomenergy, the Electric Power Research Institute; Holtec; Idaho National Laboratory; and flagship universities in Illinois, Indiana, Kentucky, Michigan, Minnesota, Missouri, and Wisconsin.
The Mid-Atlantic Clean Hydrogen Hub (MACH2) in Pennsylvania, Delaware, and New Jersey will repurpose historic oil infrastructure and using existing rights-of-way as it develops hydrogen production facilities from "renewable and nuclear electricity" using "established and innovative" electrolyzer technologies. MACH2 will get up to $750 million in federal funding and anticipates creating 20,800 direct jobs—14,400 construction jobs and 6,400 permanent jobs.
It aims to expand hydrogen application to industries including heavy transportation (trucks, buses, garbage trucks, and street sweepers), manufacturing and industrial process improvements, and combined heat and power applications. Along with hydrogen production, MACH2 plans to expand hydrogen distribution infrastructure, upgrade bus mechanic depots, and develop fueling stations to facilitate hydrogen distribution to end users.
MACH2 participants include nuclear utility PSEG, Bloomenergy, Holtec, the University of Delaware, and regional transportation agencies.
Other projects: Prospective H2Hubs were evaluated by technical merit and impact, including but not limited to the ability of the proposed hub to deploy infrastructure and produce at least 50–100 metric tons of clean hydrogen per day and reduce greenhouse gas emissions. Other criteria included financial and market viability; workplan; management team and project partners; and the Community Benefits Plan, including an assessment of community and labor engagement, quality job creation and workforce development, diversity equity inclusion and accessibility, and the Justice40 Initiative.
The five other selected H2Hubs illustrate the DOE's efforts to include diverse regions of the country and diverse hydrogen end uses:
Appalachian Hydrogen Hub (Appalachian Regional Clean Hydrogen Hub [ARCH2]; West Virginia, Ohio, Pennsylvania), focuses on bringing job opportunities to coal communities while using the region's natural gas to produce hydrogen and permanently store the carbon emissions associated with that natural gas. (Award: Up to $925 million)
California Hydrogen Hub (Alliance for Renewable Clean Hydrogen Energy Systems [ARCHES]; California), focuses on producing hydrogen exclusively from renewable energy and biomass to decarbonize public transport, heavy duty trucking, and port operations. (Award: Up to $1.2 billion)
Gulf Coast Hydrogen Hub (HyVelocity H2Hub; Texas), focuses on large-scale hydrogen production in the Houston region, "using both natural gas with carbon capture and renewables-powered electrolysis." (Award: Up to $1.2 billion)
Heartland Hydrogen Hub (Minnesota, North Dakota, South Dakota), focuses on decarbonizing the agricultural sector's production of fertilizer, decreasing the regional cost of clean hydrogen, and advancing the use of clean hydrogen in electric generation and for cold climate space heating. (Award: Up to $925 million)
Pacific Northwest Hydrogen Hub (PNW H2; Washington, Oregon, Montana), focuses on using renewable energy to produce clean hydrogen exclusively via electrolysis, driving down the cost of electrolyzers. (Award: Up to $1 billion)
Learn more about the seven H2Hubs selected for award negotiations here.