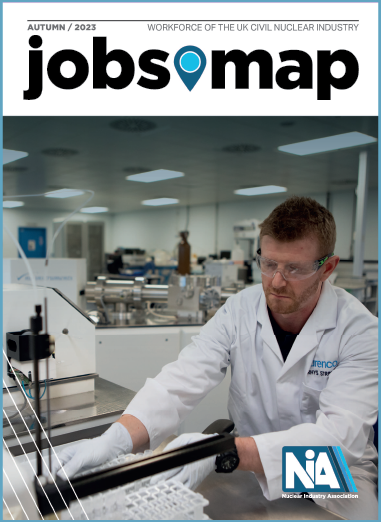 The present size of the civil nuclear workforce in the United Kingdom is the largest it has been in the past 20 years. So reports the Nuclear Industry Association (NIA), the main trade association for the U.K. civil nuclear industry, in its recently released Jobs Map 2023. The London-based organization has released this report annually for more than a decade with the objective of giving the government the most up-to-date, accurate statistics on which to base economic and energy decisions. The NIA reports that the latest job growth has been fueled partly by projects on advanced and emerging nuclear technologies.
Main findings: According to the 2023 Jobs Map, which is based on data supplied by the more than 250 NIA member companies across the nuclear supply chain, there are 77,413 people employed in the U.K. civil nuclear sector, representing a 20 percent increase, compared with 2022. The highest concentration of nuclear employment is in northwestern England, where 27,024 people—5 percent more than last year—work in decommissioning, fuel cycle research, and reactor design. The next highest concentration is in southwestern England, with 23,938 nuclear workers.
One of the largest sites of employment is Électricité de France's Hinkley Point C nuclear power station in Somerset, England, where the employee total now reaches about 9,500, compared with 8,000 last year. Another busy site is the group of fusion and advanced nuclear companies in the Culham area, near Abingdon, Oxfordshire, where more than 2,300 people are employed. Rolls Royce's small modular reactor project, headquartered in Derbyshire, is now employing about 530 people, up from about 330 last year.
Other info: The Jobs Map includes other nuclear-related information derived from certain sources to help paint the overall nuclear picture in the United Kingdom. For example, based on YouGov polls from April, public support in the United Kingdom for nuclear energy as part of a low-carbon energy mix is at its highest level in 10 years, at 81 percent. In addition, among all energy sources, nuclear power is rated highest in terms of job creation and worthwhile investment.
The NIA report notes that nuclear energy generates £6.1 billion (US$7.57 billion) worth of gross domestic product per year, with £102,300 (about US$127,000) gross value added per worker (a measurement of labor productivity). The report claims that these statistics indicate that civil nuclear workers are twice as productive as the average U.K. worker.
Government goals: Commenting on the report, U.K. minister for nuclear and networks Andrew Bowie said that the nation was "witnessing a nuclear revival . . . these [new and ongoing nuclear] projects will be at the heart of our efforts to deliver clean, reliable and secure homegrown energy sources, boosting our security and cutting our carbon emissions—and all while helping grow the economy and create jobs."
According to the NIA, the government will need to increase its investment in nuclear workforce training if the country is to have the estimated 200,000 workers that will be required to reach the national goal of 24 gigawatts of nuclear energy capacity by 2050. Furthermore, the United Kingdom will need to generate 10 times more clean energy from nuclear and other sources to meet its net zero carbon emission goals by 2050.