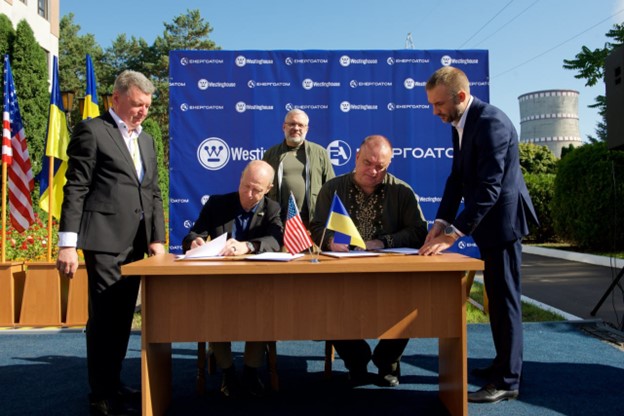 Westinghouse Electric Company and Ukraine's nuclear operator Energoatom have signed a memorandum of understanding on the development and deployment of the American firm's AP300 small modular reactor in the Eastern European state.
The companies in June of last year inked agreements for Westinghouse to supply all the nuclear fuel for Ukraine's operating reactor fleet out of its fabrication site in Västerås, Sweden, and to collaborate on the construction of nine AP1000 reactors in Ukraine.
The new MOU, signed by Westinghouse president and chief executive officer Patrick Fragman and Energoatom president Petro Kotin, establishes a joint working group to collaborate in such areas as contracting, licensing, and the local supply chain, according to Westinghouse's September 12 announcement.
Signers' language: "From nuclear fuel to plant services to electricity generation, Westinghouse is honored to be a trusted partner for Ukraine today and for decades to come," said Fragman. "The AP300 SMR is the only SMR being developed which fully leverages the design, licensing pedigree, supply chain, and exceptional record of the AP1000 design already in operation in five plants around the world and another seven units at different stages of construction and commission."
Kotin noted that his firm "keeps working on new projects of advanced nuclear technologies, on which the energy security of Ukraine depends in this challenging time" and that it "is doing its utmost to ensure that our country continues to move towards a carbon-free and clean future with nuclear energy as its integral part."
But wait, there's more: Westinghouse also announced on September 12 its delivery of the first reload batch of VVER-440 fuel assemblies to Energoatom. Fragman, Kotin, Ukrainian minister of energy German Galushchenko, Swedish ambassador to Ukraine Martin Åberg, and others witnessed the fuel load into the reactor core at the Rivne nuclear power plant in northwestern Ukraine on September 10.
"The greatness of this day is the end of the Russian monopoly in this segment of the nuclear fuel market," Galushchenko declared. "This will pave the way for not only Ukraine but the whole region to achieve true nuclear energy independence. The fact that we were able to do this so quickly is a great success and a significant basis for our continued cooperation with Westinghouse, which is just expanding. This is a big day for the Ukrainian energy industry, as well as for our cooperation with the U.S. and Sweden, where the production factory is located."