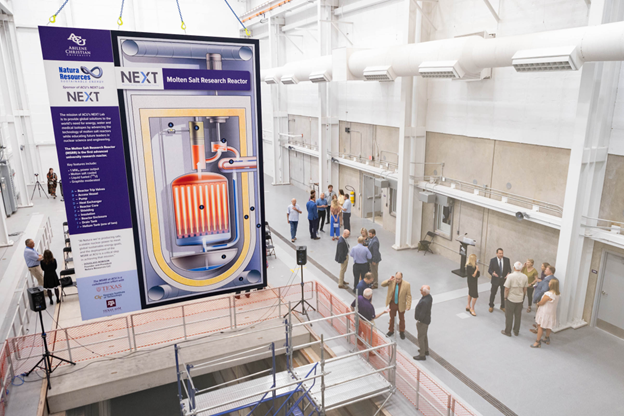 Abilene Christian University's Gayle and Max Dillard Science and Engineering Research Center (SERC) has opened. SERC contains the Nuclear Energy eXperimental Testing Laboratory (NEXT Lab) and is the future home of one of the first advanced reactors in the United States. More than 300 people were on hand to celebrate the opening and tour the facility, including donors, government officials, and scientists from ACU and other research institutions.
"The Dillard Science and Engineering Research Center is a building unlike any other at ACU or on the campus of most universities across the nation," said Phil Schubert, ACU president, at the September 1 opening of the facility. "This 28,000-square-foot facility will allow students, especially undergraduates, to contribute to world-class research and groundbreaking technology in ways not available at most other universities. It also will bring scientists from other organizations and universities to Abilene to collaborate with our scientists and students in this unique space."
The SERC: The $23 million, 28,000-square-foot facility features a 6,000-square-foot research bay with a 25-foot-deep by 80-foot-long shielded trench and a 40-ton crane, as well as a training control room, conference room, office spaces, machine shop, and a series of specialized labs for radiochemistry, molten salt systems and instrumentation. A public foyer highlights the research within the facility.
The lab: The SERC houses the NEXT Lab, which has joined with Abilene-based Natura Resources to design, license, and commission a molten salt–fueled research reactor. To support these efforts, Natura established the Natura Resources Research Alliance, which consists of ACU, Georgia Institute of Technology, Texas A&M University, and the University of Texas–Austin, supported by $30.5 million in sponsored research agreements. A construction permit application is under review with the Nuclear Regulatory Commission. Currently, NEXT Lab employs more than 75 people, including 45 undergraduate students.
"ACU has shown vision and is demonstrating leadership by pushing what has been a paper reactor class for more than 50 years back into reality," said David Holcomb, molten salt reactor technology leader at Idaho National Laboratory, in his remarks at the event. "The success of your reactor will spark the imagination and provide inspiration to the world. ACU has picked up the gauntlet in the creation of this science and engineering research center. Members of the Natura Resources Research Alliance have the responsibility and privilege of training the next generation of leaders, who I am confident will bring the great potential of this reactor class to fruition."