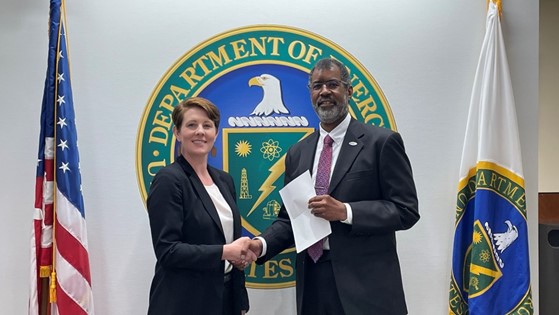 The United States has joined the OECD Nuclear Energy Agency (NEA) Data Bank, a decision that marks "a significant stride in international collaboration for nuclear energy research, safety, and knowledge exchange," according to the August 16 NEA announcement. "As a country renowned for its scientific and technological excellence, the United States will undoubtedly enrich the Data Bank's repository of data, software, and benchmarks and enhance its role in fostering responsible nuclear development."
Formed in 1977, the Data Bank currently has a total of 28 member countries listed on its website. The addition of the United States will bring the total to 29. One of those member countries—Russia—is listed as "suspended."
Words of welcome: NEA director general William D. Magwood IV was welcomed at the Department of Energy headquarters in Washington, D.C., where he joined Kathryn Huff, assistant secretary for nuclear energy, and offered his own words of welcome to mark the finalization of the agreement between the OECD NEA and the DOE's Office of Nuclear Energy.
"We warmly welcome the United States into this dynamic network of countries devoted to shaping the future of nuclear energy," Magwood said. "Together, we are better equipped to address the challenges of our time. As the NEA and its Data Bank continue to be a catalyst for global scientific and technological progress, the addition of the United States will reinforce the importance of collaborative approaches in addressing complex global issues."
Magwood continued, "The Nuclear Energy Agency welcomes with excitement the decision of the United States to join the NEA Data Bank, a critical resource for coordinating valuable information exchange to strengthen all areas of the nuclear energy sector. The NEA and the United States share a collaborative alliance which has enabled the foundations to create a safe and secure nuclear sector which supports energy security and environmental goals. This new partnership will bolster scientific research sharing and technical expertise within the international community, will strengthen the impact that we can achieve together."
Coordinated leadership: In an August 15 post on LinkedIn, Huff said, "I was thrilled to work alongside my friend Bill Magwood to finalize an agreement last week to support the OECD Nuclear Energy Agency Data Bank. This initiative enables software and data sharing and coordination across borders, underpinning nuclear energy cooperation among member countries around the world."
Magwood credited Huff with making the agreement possible, saying, "I thank Dr. Kathryn Huff, Assistant Secretary for Nuclear Energy at the U.S. Department of Energy, for her leadership and support for enabling this important step to be taken at such a critical time in the development of nuclear energy."
Data Bank services: According to the OECD NEA, the Data Bank includes three services:
Computer Program Services collect, test, and distribute computer programs, and also preserve and distribute integral experiment data, databases, processed libraries, benchmarks, and NEA safety joint projects. Over 2,000 documented packages are available.
Nuclear Data Services provide an international reference center for nuclear data compilation and dissemination and develop specialized tools for visualizing and analyzing differential, experimental, evaluated, and integral data.
The Thermochemical Database Project develops a reference database of chemical thermodynamic values for elements and compounds relevant to the safety of radioactive waste repositories and the geochemical modeling of such systems.