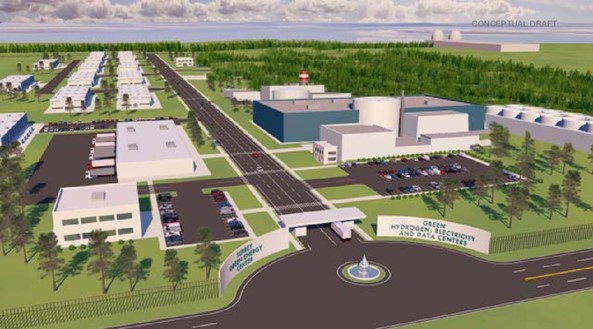 Energy and security company IP3 has announced an agreement with Green Energy Partners (GEP), a property and project development firm, to pursue clean energy projects by establishing the Surry Green Energy Center "to implement innovative commercial plans targeting baseload and industrial energy needs in Virginia."
GEP has secured 641 acres of property for the project adjacent to Virginia's Surry nuclear power plant. Project plans include a data center hub powered by green energy and small modular reactors on-site. Envisioned is a fleet of four to six SMRs that will power 20 to 30 data centers, generate hydrogen fuel, and provide backup power for Virginia's grid.
The companies expect the center to supply digital infrastructure and future power supply services to government agencies and military bases across region, including the Washington, D.C., and Norfolk, Va., metro areas. They estimate the project will create more than 3,000 jobs in the Surry area, boosting the local economy. IP3 is to provide project development, financial structuring, and funding solutions in a phased approach.
According to the August 14 announcement, Virginia's data centers process over 70 percent of the world's internet data and consume some 25 percent of the state's energy.
From the C-suite: "The Commonwealth of Virginia has developed a purposeful plan for their energy future," stated Michael Hewitt, IP3 cofounder and chief executive officer. "They are ready to harness the smart energy transition to create jobs for Americans and set an example for developing clean industrial zones. Infrastructure investment needs to be radically reoriented. The combined expertise of GEP and IP3 will access private capital markets to help Virginia's energy sector become a model for an era of American energy sovereignty."
Mark Andrews, CEO of GEP, noted, "For nearly 50 years, we have delivered positive growth for Virginia. Today, we see a clear path to clean power that reinforces America's national security and supports a carbon-free future. GEP and IP3 offer a powerful partnership to pioneer an America-first solution for low-carbon energy security."
In case you missed it: In March, Virginia Gov. Glenn Youngkin signed a number of bills to further his state's all-of-the-above energy plan, including the pronuclear measures H.B. 2386, which creates the Virginia Power Innovation Fund to jump-start the development of innovative energy technologies and begins the process of creating a Virginia nuclear innovation hub, and H.B. 1779, which creates the Nuclear Education Grant Fund to award competitive grants to Virginia colleges and schools for the creation of employment and training pathways in the nuclear power industry, including nuclear engineering and welding.