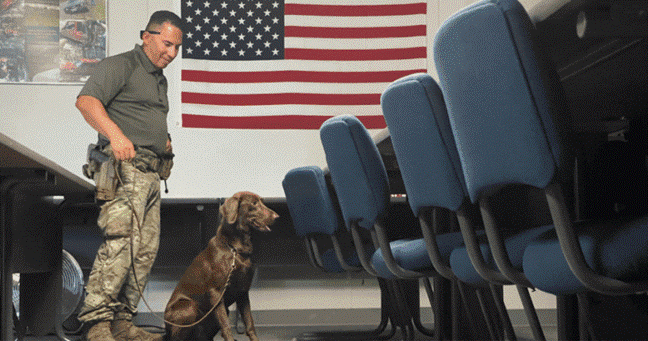 The Department of Energy's Hanford Site has introduced its newest team members, Dee and Freda, two highly skilled explosive-detecting K-9 officers. The police dogs will work with Richland Operations Office contractor Hanford Mission Integration Solutions to help ensure the safety and security of the legacy nuclear reservation near Richland, Wash.
Vetted by Hanford Patrol Chief Lorin Cyr and Capt. Robert Maier, Dee and Freda have impressive resumes that meet the requirements for health certification and training records, according to the DOE. They have also passed the Washington State Patrol Canine Association test for explosive-detecting dogs.
Big paws to fill: Dee and Freda will replace retiring K-9 officers Martha and Chance, who have served critical roles on the Hanford Site for the past nine years. Dee and Freda have been assigned to their own Hanford Patrol handlers, officers Manny Rodriguez and Dave Donovan, who have completed an extensive 400-hour training program in explosive detection.
To ensure the well-being of these K-9s, handlers are trained to provide the necessary care and attention. According to the DOE, handlers undergo a two-week training session with their new partners, followed by site certification, then Washington State Patrol Canine Association certification as a K-9 team.
Speak! "We are excited to welcome K-9s Dee and Freda to the One Hanford team," said Brian Vance, manager of the DOE Office of Environmental Management's Office of River Protection and Richland Operations Office. "Their expertise and dedication will be instrumental in our ongoing mission to provide the highest level of security and safety at Hanford."
"We consider Dee and Freda crucial members of the Hanford Patrol family," added Cyr.