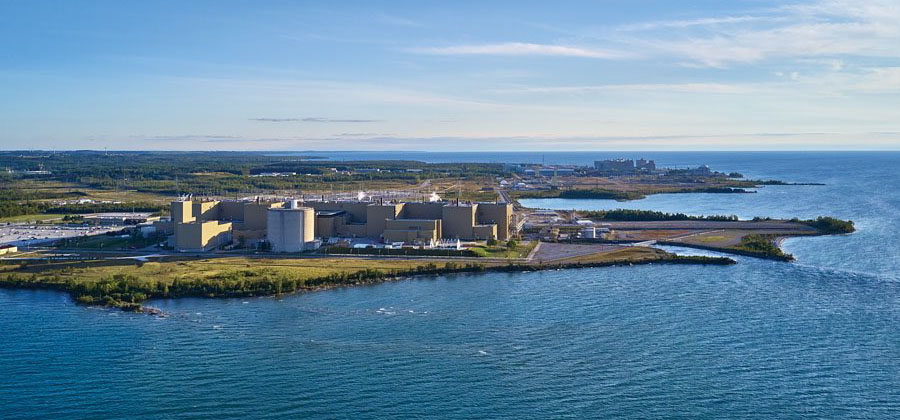 Unit 6 at the Bruce nuclear power plant in Kincardine, Ontario, achieved a sustained fission chain reaction over the weekend—a key step in returning the 817-MWe CANDU reactor to commercial operation, Bruce Power announced yesterday.
Bruce-6 has been off line since January 2020, when the company took the 40-year-old unit out of service to commence the plant's major component replacement (MCR) project. Both the construction phase of the reactor's MCR and its fuel load were completed in May.
40 more years, 40 more years! Scheduled for completion in 2033, the MCR project is focused on replacing key reactor components in Units 3–8, including steam generators, pressure tubes, calandria tubes, and feeder tubes. It is part of Bruce Power's larger life-extension program, which began in 2016 and involves the gradual replacement of older systems in all eight of the facility's units during regularly scheduled maintenance outages.
According to the announcement, the MCR project is a privately funded investment that will extend the operational life of the Bruce site "through 2064 and beyond." Work on the second unit to be refurbished, Bruce-3, began in March.
The official words: "This is great progress, made possible by years of planning, preparation, and execution by Bruce Power and our partners," said Mike Rencheck, the company's president and chief executive officer. "We are now in the final stages of returning Unit 6 to service, and we're applying all of our learnings, innovation, and experience from Unit 6 to future MCRs to ensure our strong performance continues and improves."
Todd Smith, Ontario's minister of energy, congratulated "Bruce Power's employees, trades partners, Ontario's diverse supply chain, and the nuclear sector as a whole," while terming the milestone "proof positive that the refurbishment of large-scale nuclear units can help power electrification and Ontario's growing economy.
In case you missed it: In May, Bruce Power awarded a 10-year, C$1.3 billion (about $970 million) fuel channel and feeder replacement (FCFR) contract to Shoreline Power Group for the remaining MCR projects for Bruce Units 4, 5, 7, and 8.
Shoreline Power—a joint venture between Aecon, SNC-Lavalin, and United Engineers and Constructors—performed the FCFR for Bruce-6 and was previously awarded the FCFR contract for the Bruce-3 project.