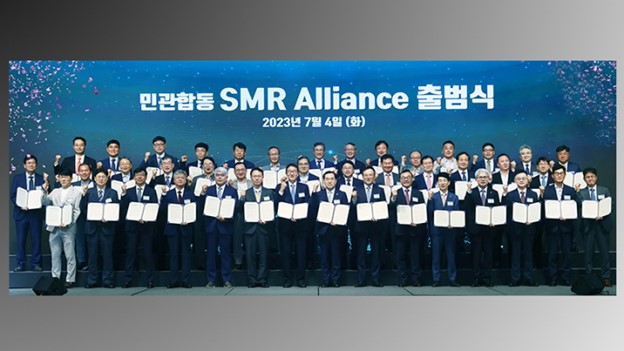 The government of the Republic of Korea and the country's industrial sector are teaming up to promote the development of small modular reactors. At a launch ceremony for the SMR Alliance, held July 4, the participants announced strategic plans and signed business agreements.
Participants: The alliance, chaired by SK Inc., is composed of 42 entities. Among the 11 state-run and government organizations involved are the Ministry of Trade, Industry, and Energy (MOTIE); Korea Hydro & Nuclear Power; Korea Energy Economics Institute; the Export–Import Bank of Korea; and Korea Trade Insurance Corporation. Also in the alliance are 31 companies, including SK Inc., GS Energy, Samsung C&T, Daewoo Engineering & Construction, GS E&C, and Doosan Enerbility.
The SMR Alliance aims to enhance national competitiveness in the SMR sector by bolstering the capabilities of public and private enterprise. It plans to establish two working groups—one to work on business development strategies for the use of SMRs and the second to create a basis for systemic development.
United front: In his opening message, MOTIE minister Chang-yang Lee stated, "The public and private sectors must work together in response to the changes brought about by SMRs. The private sector should come up with trusted business plans, and the government will give full measure to support the growth of the SMR industry."
Go time: Projects will start being launched in the second half of this year, while a committee will be formed early in 2024 to support an SMR ecosystem.