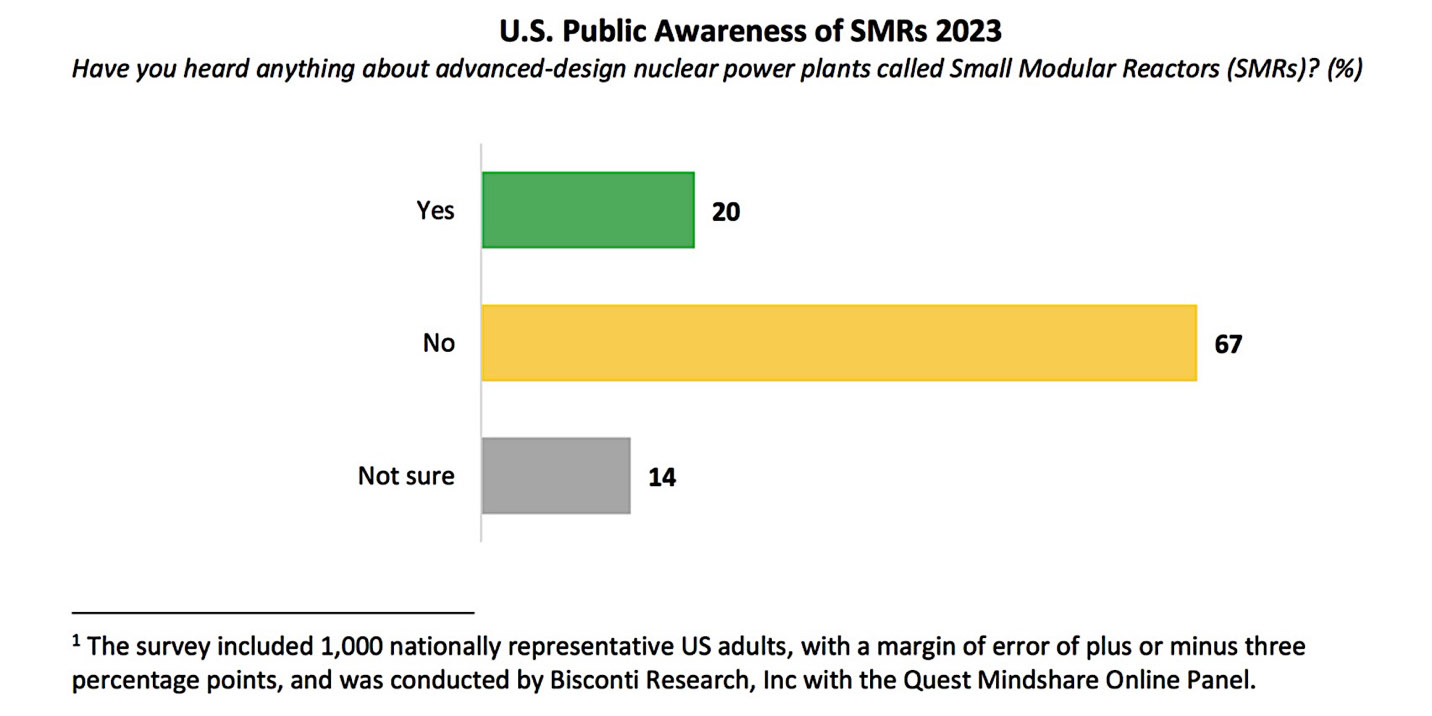 The latest National Nuclear Energy Public Opinion Survey by Bisconti Research, conducted from April 28 to May 5, indicated little awareness of small modular reactors (SMRs). Of 1,000 adults in the United States who were surveyed, only about 20 percent answered "yes" to the question "Have you heard anything about advanced-design nuclear power plants called Small Modular Reactors (SMRs)?" Sixty-seven percent answered "no," and 14 percent responded "not sure."
A separate Bisconti survey, the June 2022 National Survey of Nuclear Power Plant Neighbors, has suggested high acceptance of SMRs among people who lived near nuclear power plants.
Demographic differences: A demographic breakdown of the 2023 survey responses showed that men, college graduates, and millennials were among the groups who were most aware of SMRs. Forty-two percent of male college graduates said that they had heard of SMRs, while only 9 percent of women who were not college graduates had heard of the reactors.
Among all men in the survey, 30 percent expressed awareness, compared with 10 percent of all women. Among college graduates, 28 percent had heard of SMRs, compared with 14 percent of respondents who were not college graduates.
The age group with the greatest awareness of SMRs was Millennials (ages 26–41), 30 percent of whom expressed awareness. The awareness levels among other generations, from most to least aware, were Gen Z (ages 18–25; 19 percent), Gen X (42–57; 15 percent), Baby Boomers (58–76; 13 percent), and the Silent Generation (77 and up; 5 percent).
In terms of political affiliation, 24 percent of Democrats had heard of SMRs, compared with 19 percent of Republicans and 16 percent of Independents.
Rating the appeal: The survey delved deeper into the appeal of SMRs by asking participants to rate the "importance" of nine particular features and to select the three most important features. About two-thirds of respondents rated almost all of the nine listed features as extremely or very important. The extremely/very important ratings of the nine features were as follows:
Have advanced safety systems (84 percent).
Produce no greenhouse gases or other air pollution (77 percent).
Cost less to build than larger plants, so more affordable to consumers (74 percent).
Can convert seawater into safe drinking water (74 percent).
Some SMR technologies can minimize nuclear waste, and some can re-use nuclear waste to produce electricity (73 percent).
Can be co-located with renewable energy sources to ensure reliable electricity, when the sun doesn't shine and the wind doesn't blow (71 percent).
Take up little land (69 percent).
Can start with a small plant to meet near-term electricity needs and add new units quickly, if they are needed in the future (64 percent).
Designs are visually attractive (34 percent).
In terms of the three most important features, the highest-rated features were also the top three in the list above, relating to safety, climate, and cost.
Plant neighbors: Bisconti Research also reviewed the results of the ninth National Survey of Nuclear Power Plant Neighbors, which surveyed the opinions of "910 full-time residents within the 10-mile radius of nearly all nuclear power plants in the U.S." in June 2022. According to those results, 78 percent of nuclear power plant neighbors would find the addition of a new reactor at the site of the nearest plant acceptable. The acceptability rating of a new reactor jumped to 86 percent if such a reactor was described as "SMRs . . . a new advanced alternative for supplying electricity."
All demographic groups expressed openness to adding SMRs to neighboring plants at acceptability percentages of more than 80 percent, except Gen Z—78 percent of whom would find a nearby SMR acceptable. Ninety percent or more of three demographic groups—college graduates, conservatives, and Trump voters—said that they would find a nearby SMR acceptable.
Baseline: Ann S. Bisconti, president of Bisconti Research, said that the 20 percent of respondents who indicated awareness of SMRs in the 2023 survey will serve as "a baseline for measuring awareness over time [in subsequent surveys], as SMRs progress through developmental steps and begin to operate." She also observed that "gaining public buy-in for new reactors may not be as difficult as some commentators imagine. There are many existing nuclear power plant sites where new reactors could be considered, including SMRs."