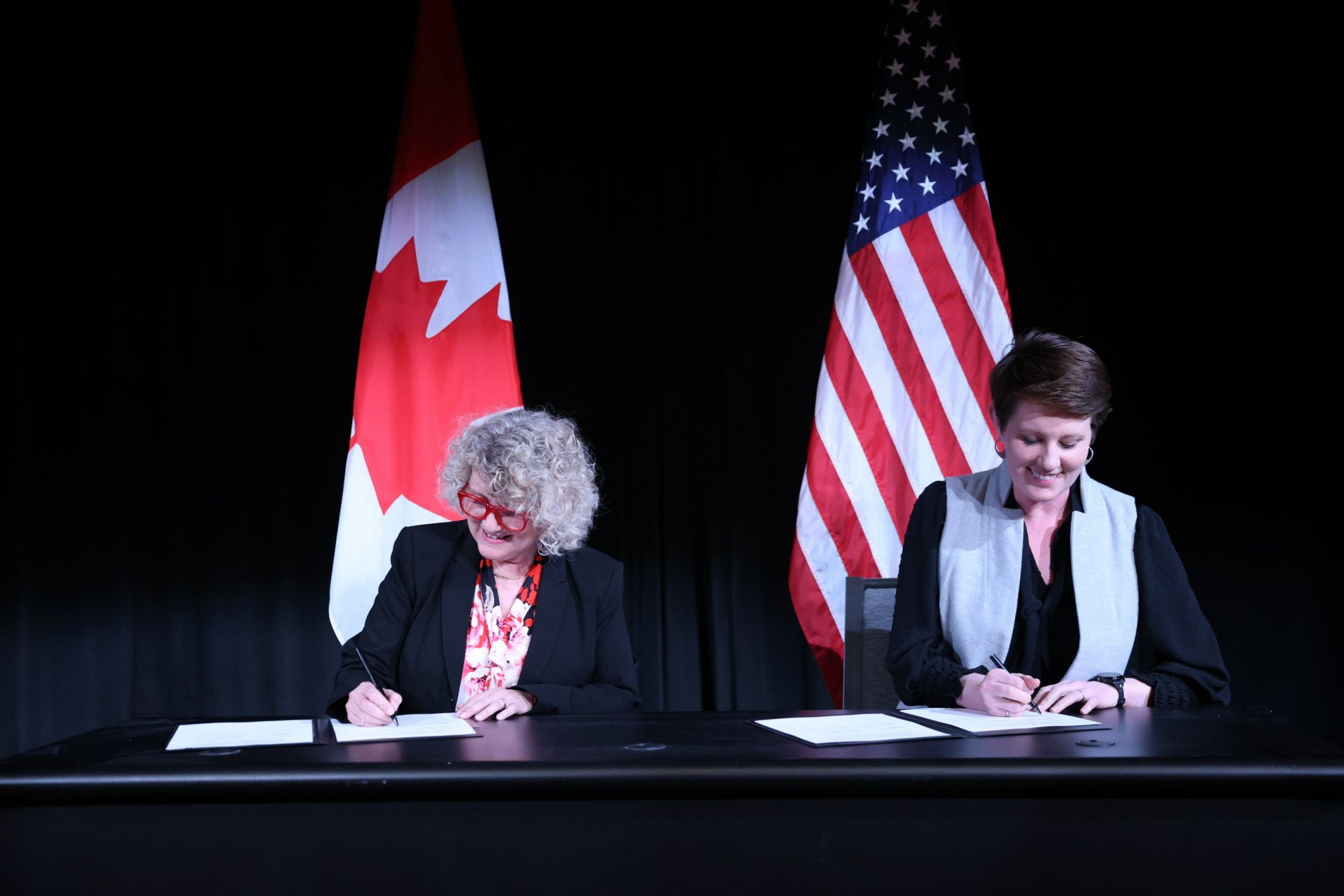 The United States and Canada will cooperate on spent nuclear fuel management under a statement of intent (SOI) signed between the U.S. Department of Energy and the Nuclear Waste Management Organization, the nonprofit responsible for the management of Canada's commercial spent fuel.
The agreement was signed by DOE assistant secretary for nuclear energy Kathryn Huff and Lauri Swami, NWMO president and chief executive officer, during a ceremony at the Embassy of Canada in Washington, D.C., on May 16.
The details: According to the NWMO, the agreement reflects the United States' and Canada's shared commitment to safely manage spent nuclear fuel, including that from small modular reactors. The SOI is intended to foster information sharing for consent-based siting, science and technology programs, engagement activities, and joint technical studies. It also lays the groundwork for a program of exchanges and visits by NWMO and DOE leaders.
Both organizations have committed to implementing the agreement and expanding cooperation through the specific, stand-alone agreements that the SOI permits, the NWMO said.
Background: Following a visit to Canada by President Joe Biden and U.S. secretary of energy Jennifer Granholm in March, Natural Resources Canada and the DOE issued a joint statement declaring both countries' commitment to cooperate on nuclear energy and reaching shared net-zero and energy transition goals.
The statement also affirmed consent-based siting of spent fuel as part of both nations' common vision. According to the NWMO, the new SOI strengthens bilateral efforts to realize that vision and reflects the United States' and Canada's commitment to environmental responsibility and clean energy.
The NWMO began a consent-based process for selecting a deep geological repository site in 2010. The organization has narrowed its search to two potential host areas in Ontario and plans to select a final site in 2024.
They said it: "Today's agreement strengthens the system of international partnerships that support[s] the development of consent-based siting strategies and ensures Canadians and Americans can work together on important shared priorities like protecting people and the environment," Swami said during the signing ceremony.
"As the U.S. develops our consent-based siting process, we need to hear from diverse perspectives to build a stronger approach—and that includes lessons learned from our colleagues in Canada," Huff said. "Sharing information and collaborating will bring a sustainable, clean energy future closer to reality."