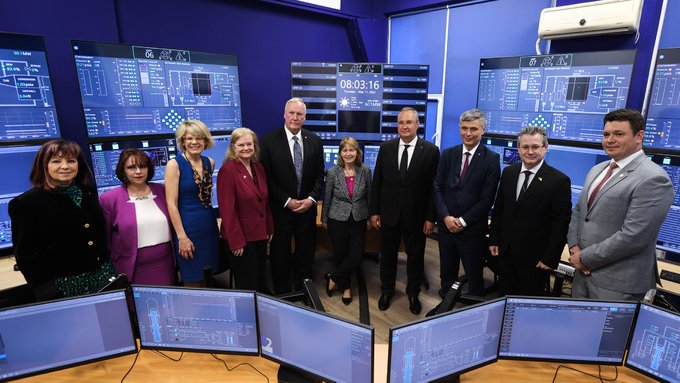 NuScale Power has announced the opening of its fifth Energy Exploration (E2) Center, at the University Politehnica of Bucharest, in support of the small modular reactor developer's ongoing collaboration with the U.S. and Romanian governments and Nuclearelectrica, operator of Romania's Cernavoda nuclear power plant.
The May 12 announcement builds on NuScale and Nuclearelectrica's teaming agreement, signed in 2021, to deploy a 462-MWe NuScale VOYGR-6 power plant in Romania by the end of the decade. Earlier this year, NuScale and RoPower Nuclear—a joint venture of Nuclearelectrica and Nova Power & Gas—commenced front-end engineering and design work for a site in Doicești, Romania, the preferred location for the VOYGR plant.
The new center—the first to be set up outside of the United States—was funded by the U.S. State Department under the Foundational Infrastructure for the Responsible Use of Small Modular Reactor Technology, or FIRST, program. (A multiagency government initiative, FIRST is specifically designed to provide capacity building support to partner countries considering SMRs to meet clean energy goals.)
In its announcement, NuScale described the E2 Center as "an innovative learning environment that offers users a hands-on opportunity to apply nuclear science and engineering principles through simulated real-world nuclear power plant operation scenarios."
By employing "state-of-the-art computer modeling" to simulate a VOYGR control room, the center allows users "the opportunity to take on the role of a control room operator at a VOYGR plant to learn about the advanced operational and safety features unique to NuScale's technology," the company said.
Previous NuScale E2 Centers have been established at Oregon State University (in November 2020), the University of Idaho's Center for Advanced Energy Studies (in August 2021), Texas A&M's Center for Advanced Modular and Micro Reactors (in November 2021), and Idaho State University (in October 2022).
Official words: "NuScale's SMR nuclear technology is the premier global clean energy solution and can help advance Romania's position as a leader in the secure and safe deployment of SMRs," declared John Hopkins, NuScale president and chief executive officer, at the opening for the new E2 Center. "With the support of the [State Department] under the FIRST program, we are thrilled to hit another milestone in this remarkable collaboration among our countries and organizations. We look forward to supporting the next generation of clean energy leaders across the region and around the globe."
Cosmin Ghita, Nuclearelectrica CEO, said, "Nuclearelectrica has outstanding specialists and operational performance and is internationally recognized, which not only places [the] Romanian nuclear industry as a top performer, but also as the foundation for Romania's leadership in nuclear energy. Nuclearelectrica has strong assets, which qualifies us to be the first country after the U.S. to deploy a NuScale SMR. The first E2 Center launched in Romania is only the beginning of this new era in technology . . . with multiple benefits for communities and industries, to which we are happy to contribute."
Key government officials also attended the opening, including Kathleen Kavalec, U.S. ambassador to Romania; Nicolae Ciucă, Romanian prime minister; and Virgil Popescu, the Romanian minister of energy. In his remarks, Popescu noted, "The energy transition is not possible without maintaining and expanding the role of nuclear power, and it requires strong international partnerships, like the one we are enhancing today. I thank our American partners for their continuous support, Nuclearelectrica for its leadership in the industry and capability to take on the journey to become a regional preferred operator, and University Politehnica for their dedication towards performance and workforce development. I want to give a clear message: The Romanian prime minister Nicolae Ciucă, our government, and Romanian president Klaus Iohannis strongly support the development of nuclear energy and the effort to form experts in this domain."