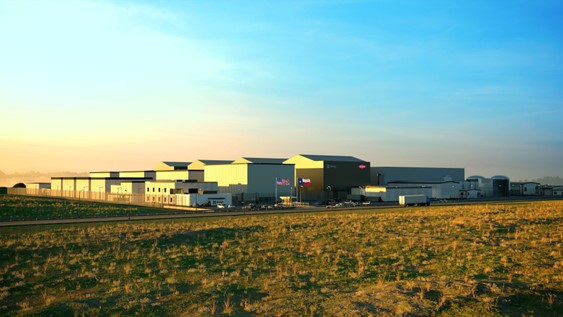 Dow and X-energy have announced the location of their Xe-100 small modular reactor deployment project: Dow's UCC Seadrift Operations manufacturing site in Texas. According to a May 11 joint news release, the SMR plant will provide the Seadrift site with power and heat as the site's existing energy and steam assets near the end of their operational lives.
Located on the Gulf Coast about 145 miles southeast of San Antonio, the Seadrift site covers 4,700 acres and manufactures more than 4 million pounds of materials per year used across a wide variety of applications, including food packaging and preservation, footwear, wire and cable insulation, solar cell membranes, and packaging for medical and pharmaceutical products.
The companies said they expect the project to reduce the Seadrift site's emissions by approximately 440,000 metric tons of CO2 equivalent per year. Construction on the four-unit project is expected to begin in 2026 and be completed by the end of this decade.
Words from the top: "Advanced nuclear has attractive advantages over other sources of clean power, including a compact footprint, competitive cost, and enhanced power and steam reliability," noted Jim Fitterling, Dow chairman and chief executive officer. "The Seadrift site plays an important role in further advancing Dow's sustainability goals, as evidenced by our increasing growth and investment at the site. We are excited to have the support of our local community, the DOE, and state of Texas as we progress on this important project."
X-energy CEO Clay Sell said his firm "will showcase the unique versatility and wide range of applications of the Xe-100 advanced small modular nuclear reactor for energy production and manufacturing." He added that the project "will serve as a model for how we can decarbonize processes to create the products relied upon by people all over the world."
Texas Gov. Greg Abbott weighed in on the news as well, commenting, "This SMR project further cements Texas's position as a global energy leader and will bring good-paying jobs and more economic opportunity to hardworking Texans in the Coastal Bend. I look forward to working with Dow and X-energy as we continue to unleash the full potential of our state's mighty energy industry."
The tech: The Xe-100 unit is an 80-MWe high-temperature, gas-cooled reactor that can be scaled into a four-pack 320-MWe power plant. As a pebble-bed HTGR, it would use TRISO particles encased in graphite pebbles as fuel and helium as coolant. Capable of providing high-temperature steam at 565°C as well as electricity, the Xe-100 could enable decarbonization of industrial end-use applications, including hydrogen generation, oil sands operations, mining applications, and other industrial processes.
According to X-energy, the modular reactor design is "road-shippable and intended to drive scalability, accelerate construction timelines, and create more predictable and manageable construction costs."
Background: Dow articulated an interest in advanced reactors for its U.S. production sites in April of last year, and in August signed a letter of intent with X-energy to deploy an Xe-100 at one of its Gulf Coast facilities, to be operable by about 2030. In March of this year, the companies signed a joint development agreement (JDA) for the project. As part of the agreement, Dow became a subawardee under X-energy's Advanced Reactor Demonstration Program Cooperative Agreement with the Department of Energy.
The JDA included up to $50 million in engineering work, up to half of which is eligible for ARDP funding, with the other half funded by Dow. The JDA work scope also included the preparation and submission of a construction permit application to the Nuclear Regulatory Commission, which the companies say they will now begin to prepare.