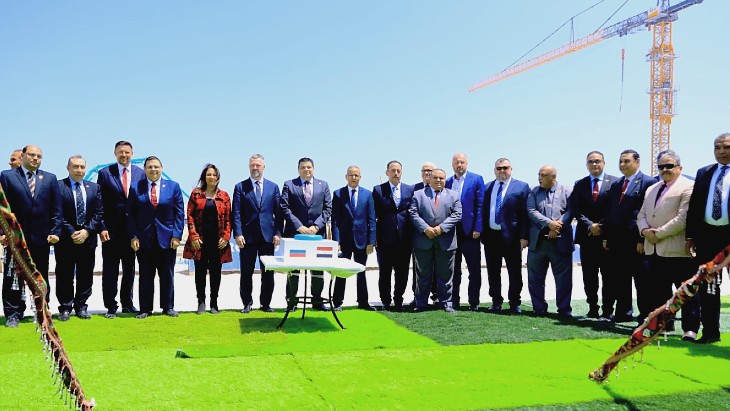 The main construction phase for Unit 3 at Egypt's El Dabaa nuclear power plant project has begun, Russia's state-owned nuclear energy corporation Rosatom announced last week.
A construction permit for the reactor had been issued by the Egyptian Nuclear and Radiological Regulatory Authority (ENRRA) on March 29.
"This past year has witnessed the achievement of many key project milestones, including the first concrete pouring for Units 1 and 2 and the delivery of the core catcher for Unit 1," noted Amged El-Wakeel, board chairman of Egypt's Nuclear Power Plants Authority (NPPA; the public entity charged with operating the plant), at a ceremony at the El Dabaa site. "The project is progressing in accordance with the agreed time schedules, and we are here to witness the first concrete pouring for Unit 3 and the dedication of the teams who worked towards this common goal. We are adamant that further outstanding achievements will take place with a view of successfully delivering Egypt's first nuclear power plant."
Past progress: Egypt signed an intergovernmental agreement with Russia in November 2015 to collaborate on the construction and operation of a nuclear power plant at El Dabaa, which is situated on the Mediterranean coast approximately 185 miles northwest of Cairo. The project's notice-to-proceed contracts were signed in December 2017 by Mohamed Shaker, Egypt's minister of electricity and renewable energy, and Alexei Likhachev, Rosatom's director general. Under the contracts, Rosatom would build four Generation III+ VVER-1200 units and supply nuclear fuel throughout the plant's operational lifetime, as well as assist its Egyptian partners in plant operation and maintenance for the first decade of operation. In March 2019, ENRRA issued a site approval permit for the project.
In June 2021, NPPA submitted a construction permit for the first El Dabaa unit. ENRRA issued the permit the following June, eliciting this response from El-Wakeel: "Today, we etched in gold Egypt joining the ranks of countries building nuclear power plants, after over 70 years waiting for this dream to come true." First concrete for El Dabaa-1 was poured in July of 2022.
ENRRA issued a permit for Unit 2 construction last October, greenlighting work that commenced in November.