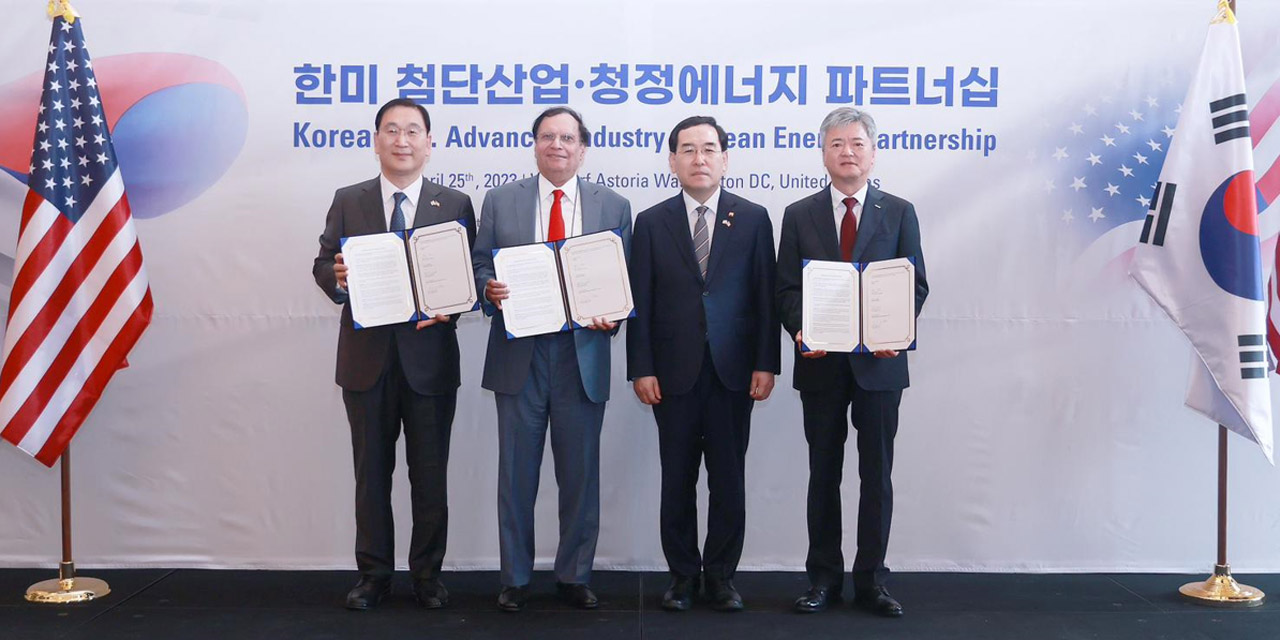 Two South Korean financial institutions—the Korea Trade Insurance Corporation (K-Sure) and the Export-Import Bank of Korea (KEXIM)—have signed pacts with Holtec International and Hyundai Engineering & Construction (a Hyundai Motor Group subsidiary) to provide support to Holtec's SMR-160 projects around the world, the American firm announced on May 2.
Holtec participated in the Korea-US Advanced Industry and Clean Energy Partnership event, hosted by South Korea's Ministry of Trade, Industry and Energy on April 25 in Washington, D.C., where the company signed a collaboration agreement with Hyundai E&C and K-Sure. The agreement, according to the announcement, "calls for expansion of nuclear power plant deployments to underpin the global rise of clean energy and decarbonization of the environment."
Immediately following the event, Holtec signed a financial support agreement with Hyundai E&C and KEXIM to facilitate the adoption of SMR-160 units.
Signer's language: "The impressive show of support to the global cause for expansion of clean energy generation to bend the curve of environmental pollution that has been exhibited today by South Korea's government and its dynamic industry bodes well for humankind's struggle against global warming and degradation of our fragile habitat," said Kris Singh, Holtec president and chief executive officer. "We hope that the vigor of the U.S.-ROK partnership on display today in Washington, D.C., will help energize support for nuclear energy in other industrial nations."
Context: Last October, Holtec and Hyundai E&C inked an accord to accelerate the completion of Holtec's SMR-160 small modular reactor development program, as well as to collaborate on diverse clean energy technologies. And earlier in 2022, in March, the companies signed an agreement to cooperate in the area of nuclear plant decontamination and decommissioning. Under that agreement, Hyundai E&C will participate in D&D activities at Holtec-owned decommissioning sites in the United States in order to build its capabilities and experience in preparation for decommissioning projects in South Korea, which are to be undertaken by both firms.