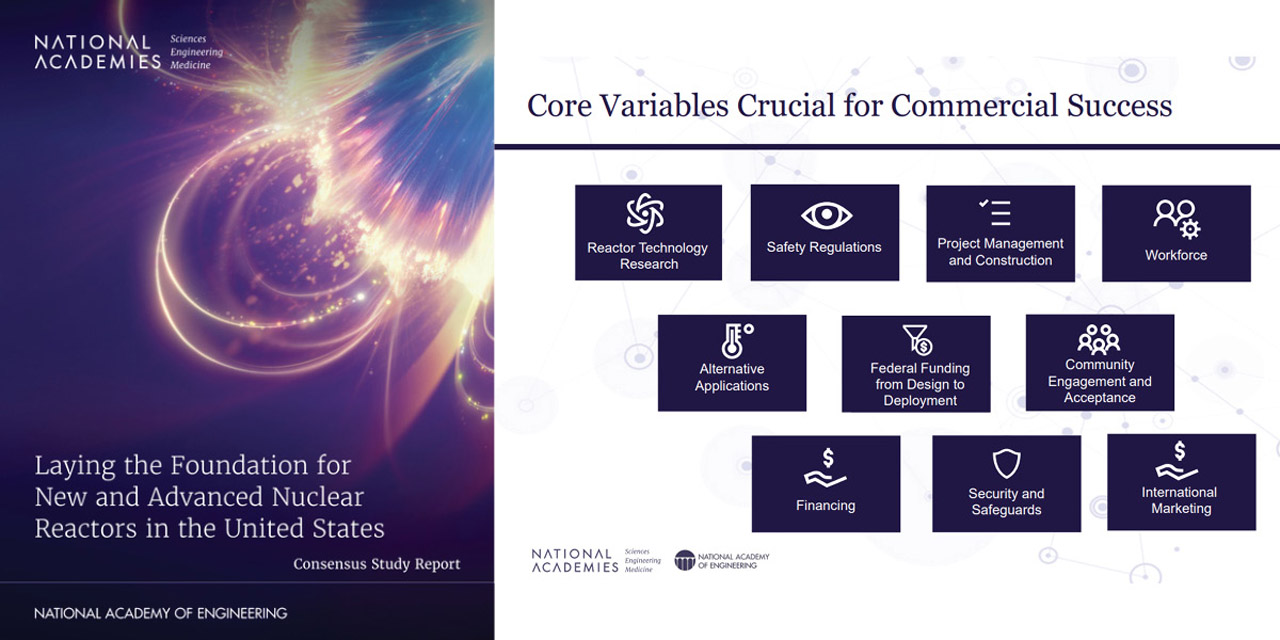 "I think the fundamental lesson . . . is there is a whole range of issues that need to be confronted if advanced reactors are to play a significant role in contributing to our response to the need for a low-carbon future," Meserve said. Issues that include research, regulation, project management, federal funding, community engagement, international marketing, and more. "We urge that these issues be addressed now in a timely way, so that we can provide the opportunity for advanced nuclear reactors to contribute in a major way."
Meserve, senior of counsel for Covington & Burling LLP and a former chair of the Nuclear Regulatory Commission, was joined by a panel of committee members for the livestreamed public briefing and Q&A session, moderated by NASEM program officer and study director Kasia Kornecki.
In scope: Meserve explained that the committee defined an advanced reactor as "everything other than the existing large reactors that are currently the backbone of our electricity system." He acknowledged that in recent years, "the unfortunate reality is we haven't built nuclear power plants in the United States beyond our efforts to construct the Vogtle and Summer sites, and the Summer plans were canceled because of the cost growth. . . . In fact, given that the Vogtle plants are going to cost about $31 billion, it's sort of a 'bet your company' proposition to imagine constructing a gigawatt-scale plant. . . . But there is interest among many of the generating companies in exploring the opportunities for reactors of different types, particularly small modular reactors."
The committee's full report discusses the full range of technical, regulatory, economic, and societal challenges confronting the nuclear community as it prepares for new reactor deployments and makes recommendations for the Department of Energy, the NRC, other federal and state agencies, and private industry. The same consensus committee released the proceedings of a workshop held as part of the study—Understanding the Societal Challenges Facing Nuclear Power—in 2022. Their work was supported by a donation from James J. Truchard, a National Academy of Engineering member, and by the DOE.
Not in scope were the front- and back-end fuel cycle issues already addressed in a companion NASEM study and report—Merits and Viability of Different Nuclear Fuel Cycles and Technology Options and the Waste Aspects of Advanced Nuclear Reactors—first released in November 2022 and published earlier this year in its final form.
On incentives and economics: The committee members concluded that nuclear energy's role in the future energy economy will depend on nuclear technologies being ready to deploy when the grid wants the power and heat they can offer—for electricity and also for industrial processes including hydrogen production, which the report concludes is "perhaps the most credible nonelectric revenue stream for nuclear reactors, because it is likely that hydrogen will have value across the industrial, power, and transportation sectors for deep decarbonization."
"Electrification owing to economy-wide decarbonization presents a significant market opportunity for advanced nuclear generation to serve the grid, particularly if its widespread commercial availability occurs when utilities are scaling up infrastructure to respond to this demand," the report says.
The committee recommends evaluating federal investments to ensure they can supply adequate support to help ensure that nuclear energy technologies are ready when needed. Meserve explained, "We recommend the evaluation of incentives that are available now through the Inflation Reduction Act to see if they are sufficient to allow the commercialization of these reactors to proceed. The hard fact is if we are going to change our whole energy economy, trillions of dollars will be necessary. That means we're going to have to tap into traditional debt and equity markets, and that means the [financial] risk has to be reduced."
Through incentives included in the Inflation Reduction Act, including various tax incentives or loan guarantee prospects from the DOE, "We are talking about a subsidization of these developments . . . like those that have been made available for renewables and which have been very effective in driving down the costs of making them more widely available," Meserve said. "So, we think the same sort of investment is necessary in order to allow advanced reactors to contribute meaningfully in the shorter term."
Consent-based siting: The committee also recommends that advanced nuclear investors and developers adopt consent-based approaches for new facilities that include "research-backed approaches to community engagement."
"Every technology that is a significant change can confront problems of societal acceptance. That's not a problem just for nuclear," Meserve said in response to a question about what might encourage the adoption of nuclear technologies by host communities. "Just siting transmission lines, for example, has been hugely problematic. I think that it's not likely to be some standardized set of rules of what exactly a local community is going to be interested in. . . . Advanced reactors might be attractive because of the fact that the vendors certainly are making claims about increased safety, they are smaller, so they may take up a less land area, for example, [and] they are likely to be less conspicuous in that they may be below grade."
Committee member Ahmed Abdulla agreed that all infrastructure faces siting problems, explaining that "in chapter 8 of the report, we take a considerable length of time to go through reasons that are inherent to nuclear, reasons that are broadly applicable to all technologies. I would say, regardless of your technology or type of reactor you are siting, the cost of engaging, of building an infrastructure for effective, honest, two-way communication might seem high at the front end of the project, but if the project ends up failing because of public opposition, it's going to be much more costly for developers in the long run to ignore that key element."
On project management: Meserve described the committee's recommendations for the Advanced Reactor Demonstration Program (ARDP), a DOE cost-shared program that is supporting full-scale demonstrations of TerraPower's Natrium sodium fast reactor and X-energy's Xe-100 high-temperature gas reactor. The ARDP also supports eight other designs at earlier stages of development that have been selected under other cost-shared research and development funding tiers.
"We see the need for the DOE to develop a more structured program . . . , and we suggest having staged milestone[s] so that each of the designs, as they develop, are measured against their technical advancement, cost issues, regulatory issues, [and] social acceptance issues," Meserve said. "And for plants that don't meet the milestones, they should be dropped from the program, and others could be added to the queue to proceed on to demonstrations. The reason we suggest this is that there isn't going to be enough money within DOE to pay for all of these reactors to proceed through the demonstration phase. And we need to have a thoughtful and structured and fair program that provides an opportunity for funding so that at the end of the day the reactors that are the most socially acceptable and economically acceptable are given the chance to proceed."
For any new reactor construction, the consensus committee report also recommends that "nuclear owner/operators pursuing new nuclear construction should consider the creation of a consortium or joint venture to pursue the construction on behalf of the group, thereby enabling the creation and maintenance of the necessary skilled technical engineering personnel to pursue projects successfully. Alternatively, advanced reactor developers operating within the traditional project delivery model should consider implementing a long-term business relationship, preferably an equity partnership such as a joint venture or a consortium with a qualified engineering, procurement, and construction firm experienced in the nuclear industry."
Select recommendations: Among numerous other recommendations for maximizing the long-term role for nuclear in a decarbonized economy are the following:
The DOE's Office of Nuclear Energy should initiate a research program that sets aggressive goals for improving performance of fuels and materials used to build or operate reactors.
The nuclear industry and the DOE should fully develop a structured, ongoing program to ensure the best-performing technologies move rapidly through demonstration.
The DOE should expand its efforts in advanced construction technology research and development and make advanced construction technologies broadly available to reduce costs.
Significant incentives, such as those that have nurtured solar and wind technologies, should be provided to enable the wide commercial deployment of advanced reactors.
Widespread deployment of advanced reactors will require more skilled workers; the DOE should initiate a whole-of-government partnership and work with labor organizations, industry, regulatory agencies, and other organizations to identify gaps in critical skills and fund training and development solutions.
Congress should provide the NRC with more resources to enhance its capability to create efficient, effective, and flexible regulatory processes.
International regulatory harmonization should be increased—in the short term through bilateral arrangements and in the long term through engagement with the International Atomic Energy Agency and the Nuclear Energy Agency.
Federal and state governments should take actions that enable the industry to be cost competitive with other low-carbon energy technologies, including through tailored financial incentives.
The American Nuclear Society "should be encouraged to provide development of a nuclear engineering, procurement, and construction learning and engagement track" and "the [ANS] Education, Training, and Workforce Development Division should engage with experts in the social sciences of design and siting to collaborate, develop, and implement a set of recommendations for updating curriculum, accreditation, scholarship and fellowship programs, as well as research programs."