April 26, 2023, 12:00PM
Edited

April 26, 2023, 12:00PM
Nuclear News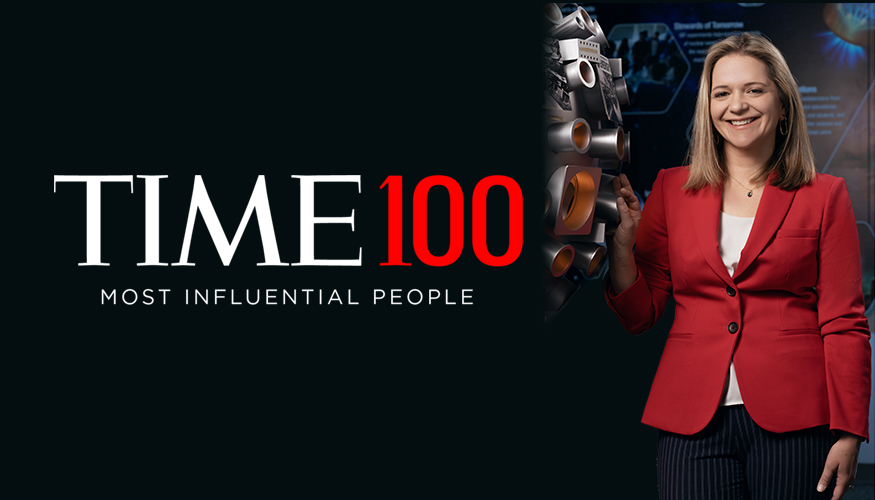 Physicist Andrea "Annie" Kritcher's dedication to fusion target design has earned her a spot on the TIME100 Most Influential People list for 2023. Today, Kritcher and 99 other individuals on that list—among them Elon Musk, King Charles, Judy Blume, Patrick Mahomes, Beyoncé, Lionel Messi, Janet Yellen, and MrBeast—are being honored at the TIME100 Summit and Gala at the Lincoln Center in New York City.
LLNL's fusion breakthrough: Kritcher was the principal designer for the December 2022 National Ignition Facility (NIF) experiment that produced fusion ignition in a laboratory for the first time. As the leader of the integrated modeling team within Lawrence Livermore National Laboratory's inertial confinement fusion (ICF) program, Kritcher oversees the integrated modeling of indirect-drive fusion designs fielded at NIF.
As explained in an April 13 LLNL announcement of Kritcher's recognition, achieving fusion ignition at NIF required years of building physics understanding, developing models with experimental data, and making design improvements to fusion experiments. Kritcher and LLNL are quick to recognize the work of many collaborators, including people working on laser development, target fabrication, diagnostics, design improvements, engineering developments and optimizations, and maintaining NIF.
"Reaching ignition was truly a large effort carried through many decades," Kritcher said. "I am extremely honored to be representing the laboratory and the many people who have worked on this grand scientific challenge to make this a reality, some of whom were working on this before I was born."
Time's pick: The TIME100, now in its 20th year, recognizes the "impact, innovation, and achievement of the world's most influential individuals." Time magazine says it chose the 2023 TIME100 with an emphasis on "the confluence of interconnected challenges, from climate and public health to democracy and equality." The most existential of those challenges, in the estimation of Time's editors, is climate change. Kritcher was counted among "a record 16 people defending the environment" to be included on the list this year, as a scientist "whose experiments brought controlled fusion power closer to reality than ever before."
Time's published tribute to Kritcher says: "Nuclear fusion could provide limitless clean energy—if scientists can master the tricky physics of smashing hydrogen atoms together. After an August 2021 experiment at the National Ignition Facility in Livermore, Calif., just barely failed to generate more energy than was put into it, the facility's lead laser engineer approached Andrea Kritcher, the principal experimental designer. The engineers had managed to squeeze a bit more energy out of the gigantic lasers that the facility uses to spark the reaction, and it was up to Kritcher to figure out how to use those improvements in service of a dream of generating unlimited, emission-free power. After more work, Kritcher's insights helped bring about the first-ever controlled fusion ignition in December 2022, a holy grail in physics research that had eluded scientists for decades, and another step on the road to fusion power. Her work is one more example in decades of passionate research from hundreds of scientists, engineers, and technicians that made the fusion breakthrough possible."
More design details: Kritcher was one of six LLNL researchers introduced as "rock stars from Livermore" in a December 2022 Department of Energy livestreamed panel discussion and Q&A moderated by Mark Herrmann, LLNL program director for weapons physics and design.
During that discussion, Kritcher explained that design changes made to take advantage of new laser capabilities included "making the capsule that holds the fusion fuel a little bit thicker. That does two things: that gives us more margin for achieving ignition when we have nonoptimal fielding conditions, as well as it lets us burn up more of the DT [deuterium-tritium] fusion fuel."
Kritcher explained that improving "intrinsic low-modes asymmetry" was also critical to the December 2022 success: "During the second half of the laser time history, we transferred more energy between laser beams to control the symmetry. That's actually quite a useful tool. . . . You can move energy between beams and control symmetry that way. In doing so, you have to go back and readjust the symmetry during the first half of the laser pulse, and we did that making an additional adjustment with improved models based on data that were collected just in the last few months. We really do rely on our models to benchmark against tuning data and then extrapolate out to the design space."
From summer intern to APS Fellow: Kritcher started at LLNL as a summer intern in 2004, then she completed her thesis work through the lab in 2009. She became a Lawrence postdoc in that year and transitioned to a member of the technical staff in 2012.
In 2022, she was selected as fellow of the American Physical Society for her "leadership in integrated hohlraum design physics leading to the creation of the first laboratory burning and igniting fusion plasma."