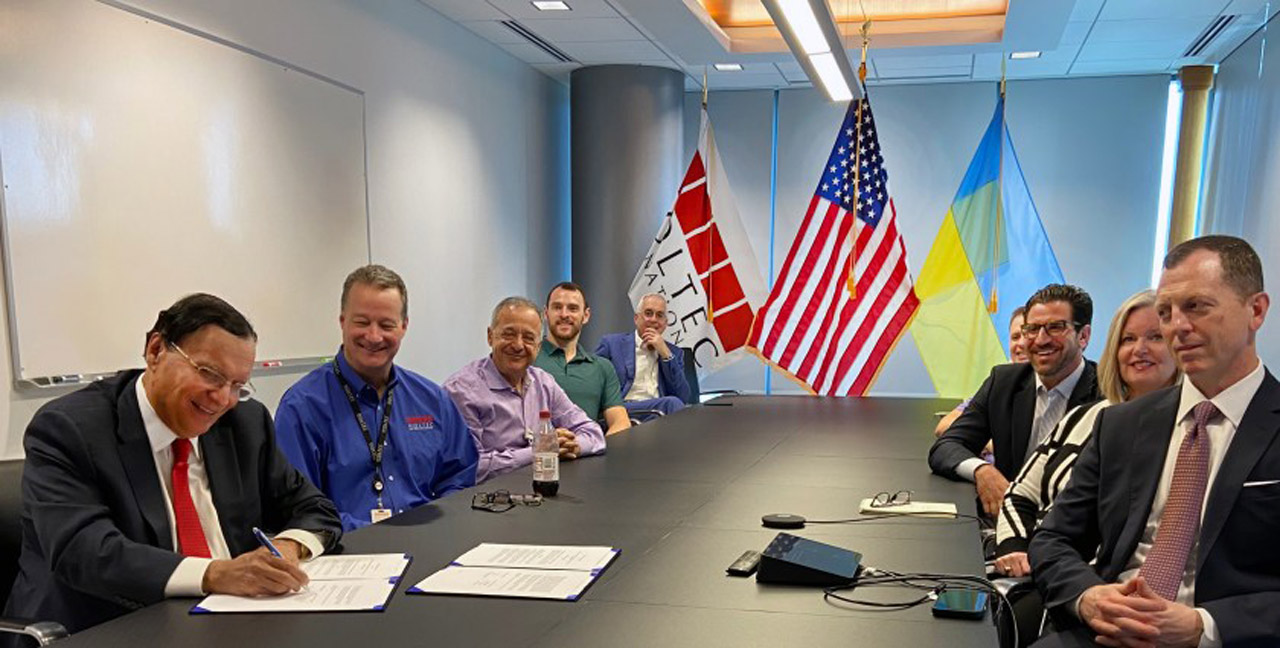 Small modular reactor developer Holtec International and Energoatom, Ukraine's nuclear plant operator, signed a cooperation agreement last Friday that envisions the construction of up to 20 of the American firm's SMR-160 units in Ukraine, with grid connection for the pilot project achieved by March 2029. In addition, the agreement calls for building a Ukrainian manufacturing facility to localize the production of equipment required for SMR-160 construction.
The ambitious pact was signed April 21 in Camden, N.J., by Holtec chief executive officer Kris Singh and in Kyiv by Energoatom president Petro Kotin. Dignitaries at the Kyiv signing ceremony included German Galushchenko, Ukraine's energy minister; Riaz Awan, vice president of Ukraine operations for Holtec; plus representatives from various Ukrainian organizations and local news media.
According to a Holtec announcement, the agreement aims to strengthen the company's decades-long relationship with Ukraine and to establish "a pathway for a green energy future . . . in the post–Russian aggression age." The parties also plan to establish a joint project office "to proceed with the work effort required for licensing and deployment" of Holtec technology, with a focus on former coal-fired power plants.
What they're saying: Following the signing in Kyiv, Galushchenko noted, "Construction of small modular reactors in Ukraine would not only contribute to the strengthening of the country's energy security but would also allow replacing thermal power plants destroyed by Russian attacks and achieving decarbonization goals. We plan a complete replacement of thermal generation. The best way to replace coal is with small modular reactors. SMRs are a powerful technology that would also allow us to decentralize the generation. Ukraine has significant human potential for the development of advanced nuclear technologies and will take maximum efforts, in particular in cooperation with American partners, to remove the Russian nuclear industry from the world market."
Kotin added that the agreement would spur "economic development, creation of jobs, establishment of modern manufacturing facilities [and] training facilities, R&D, and thus [help] Ukraine emerge as the regional hub for Holtec's nuclear reactor technology."
Meanwhile, at the Camden signing, Singh declared, "We will stand shoulder to shoulder with you to build and commission up to 20 SMR-160 reactors in record time. We are committed to helping the Ukrainian nation rebuild its energy infrastructure after the Russian aggressors have been driven out of the country."
Background: On February 28, 2018, Holtec and Energoatom signed a memorandum of understanding that envisaged Ukraine's adoption of Holtec's SMR-160 technology to meet the country's projected power demand in the latter half of the 2020s. Under the MOU, Ukraine would also become the home of a manufacturing hub for SMR-160 components and systems, mirroring the capabilities of Holtec's advanced manufacturing plant in Camden.
And in June of the following year, Holtec, Energoatom, and Ukraine's State Scientific and Technology Center ratified the creation of a consortium partnership that, according to a Holtec release at the time, "binds the three companies into a cooperative undertaking to chaperone the deployment of the SMR-160 . . . in the country."