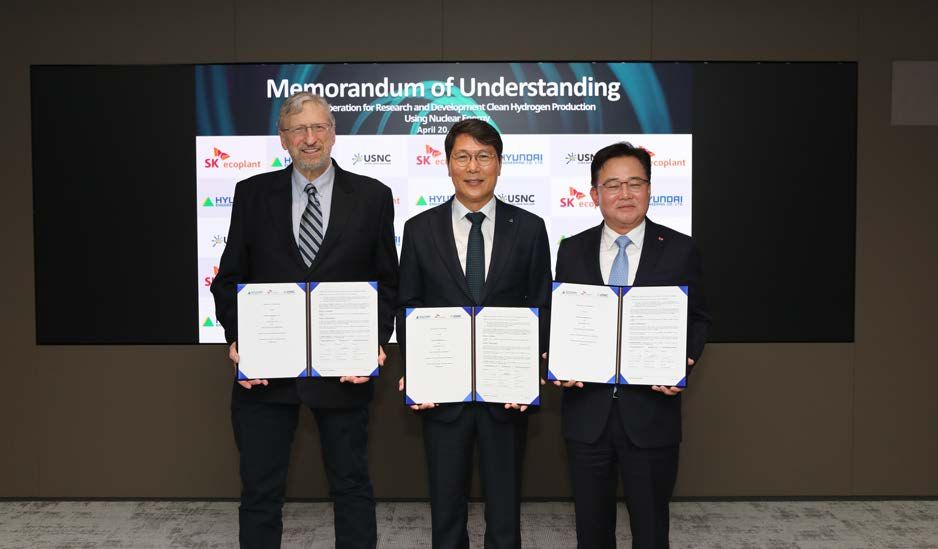 Seattle's Ultra Safe Nuclear (USNC) has announced a partnership with two South Korean firms—Hyundai Engineering and SK ecoplant—for research and development on carbon-free hydrogen production. The three companies signed a memorandum of understanding on April 20 regarding the construction of a "hydrogen micro hub" at SK ecoplant's headquarters in Seoul's Jongno-gu district.
The hydrogen micro hub is a facility that produces hydrogen by applying a high-temperature electrolysis process of solid oxide electrolysis cells (SOEC) to the electricity and high-temperature steam generated by USNC's Micro Modular Reactor (MMR).
Under the agreement, the three companies will jointly conduct R&D on the MMR-SOEC integrated plant for the next five years. Through this, they plan to examine the establishment of a competitive hydrogen production system and promote continuous R&D and verification for future hydrogen production and supply businesses.
Roles: Hyundai Engineering will oversee the MMR-related balance of plant and engineering, procurement, and construction tasks for the project, while USNC will be responsible for MMR design, manufacturing, and supply. SK ecoplant will establish a nuclear power–based hydrogen production system using Bloom Energy's SOEC and supply hydrogen production equipment.
Hyundai Engineering and USNC will utilize a micro modular nuclear power plant based on the high-temperature gas-cooled reactor being demonstrated at Chalk River in Canada. "Compared to commercial pressurized water reactor–based nuclear power plants," USNC said in its announcement, "this technology can generate relatively high-temperature steam, enabling the use of SOEC operating at high temperatures, which can maximize hydrogen production efficiency with less energy."
Meanwhile, SK ecoplant has successfully tested hydrogen production through electrolysis using a 130 kW–scale SOEC facility located at the Bloom SK Fuel Cell manufacturing plant in Gumi, Gyeongsangbuk-do, in cooperation with Bloom Energy and Bloom SK Fuel Cell.
From the C suite: "The hydrogen micro hub is an efficient and economical hydrogen production plant that can produce hydrogen on a scale required at the local site," said Francesco Venneri, USNC's chief executive officer. Hong Hyun-seong, CEO of Hyundai Engineering, noted that the three firms "have signed a three-party agreement to develop an environmentally friendly business that economically produces and supplies hydrogen by combining MMR and SOEC technologies." Park Kyung-il, SK ecoplant's CEO, added, "SOEC is a good partner that can take advantage of MMR's advantages by operating at high temperatures and producing high-efficiency hydrogen with minimal energy consumption."