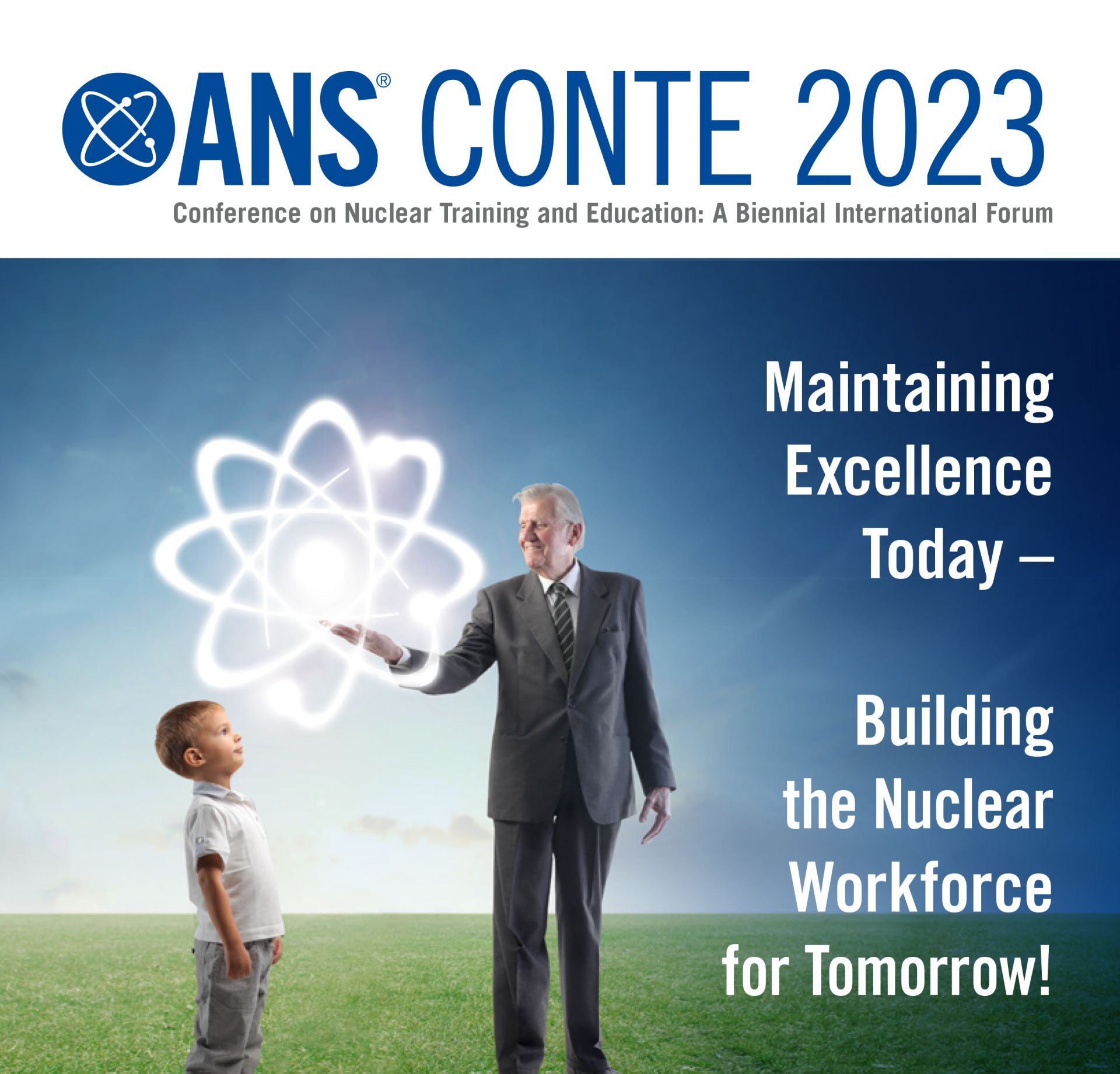 For those who missed the recent Conference on Nuclear Training and Education: A Biennial International Forum (CONTE 2023), which was held on February 6–9 in Amelia Island, Fla., ANS hosted on March 9 an online panel discussion recapping selected highlights. The conference had the theme of "Maintaining Excellence Today—Building the Nuclear Workforce for Tomorrow!"
Four panelists summarized their CONTE presentations in the online discussion: Annaliese Piraino, instructional technologist at Energy Harbor's Beaver Valley nuclear power plant; Sterling Parmenter, senior maintenance and technical instructor at Constellation Energy's Nine Mile Point nuclear power plant; Lori Brady, senior director of human resources and training and development at the Nuclear Energy Institute; and David Helling, senior training advisor at Westinghouse Electric Company. The online event was moderated by Billy Wilson, senior engineer in nuclear training at Ontario Power Generation.
For more info on the CONTE meeting, visit CONTE 2023. Also available online is the recap webinar.
The brain and education: Piraino discussed two topics: mind, brain, and education science (MBE) and student exam anxiety. In her description of MBE, she said the big takeaway is that "it's the blending of three fields—psychology, neuroscience, and education. But the key thing here is that it's about usable knowledge, so it's about taking what we know about the brain from brain research and using that to create and deliver effective instruction."
Piraino noted that it is well known that stress and anxiety can cause such negative effects as increased aggressiveness, social isolation, insomnia, and erratic breathing. "However, it [stress and anxiety] is also really, really impactful when it comes to learning and academic performance," she said. "So, students who suffer from . . . exam anxiety suffer from increased rumination, or negative thoughts and constant thought streams, decreased exam scores, and hindered problem solving." She displayed a graph showing a direct correlation between increased stress level and decreased academic achievement.
Piraino continued that at Beaver Valley, "We explain to students the physiological and psychological implications of stress and anxiety and how they can best manage them." She added that stress involves two main areas of the brain—the subcortical structures and the cortical structures.
Piraino described the subcortical structures, or the limbic system, as "the survival mechanisms of the brain" that "allow us to detect threats," our fight-or-flight center. She explained that because of this role, these structures are more readily activated by the brain than the cortical structures, the site of complex reasoning, emotion regulation, personality, decision-making, and problem-solving: "So, in a fight between the subcortical structures and the cortical structures, the subcortical will always win."
The cortical structures, or the prefrontal cortex, are "what makes us human [and] what we need our students to be able to activate to be successful in the classroom," she said.
During the fight-or-flight response, the working memory is wiped clean as a way of increasing survival chances during threatening situations. "So, the functions that we need the students to be able to access, they literally can't when they get to this extreme level of stress and anxiety. . . . So, what we need to do is activate the parasympathetic nervous system, or PNS. This is what is essential to mitigating test anxiety. It's the 'rest-and-digest' center." In other words, PNS activation helps the brain get back to its higher-level functions.
Piraino described Beaver Valley's two-part approach to help its instructional staff and students understand and deal with exam anxiety. The first part includes workshops for instructors on exam taking, stress reduction techniques, elimination of cognitive noise, and other issues. The second part involves instructors and supervisors working one-on-one with students as needed, focusing on three areas: encouragement of metacognition, to "help students think about their own thinking"; creation of cues, to "encourage focus and situational control"; and elimination of cognitive noise, to "manage anxiety through thought modification and control."
According to Piraino, the teaching approach used at Beaver Valley emphasizes strategies that the students can use before an exam, during an exam, and after an exam. Students are taught about the pre-exam importance of diet and sleep, as well as skills for accessing higher brain function, "tricking the brain" into "journalizing" anxieties, and developing a sense of control. Students are guided in the development of a plan for taking the exam.
The program also teaches students skills needed for during the exam, including plan implementation, managing cues and cognitive noise, controlling cognitive distortions, regulating breathing, and progressive relaxation and basic meditation abilities. For post-exam tasks, students are instructed to review and assess how their plans worked and to adjust their plans for the future.
Piraino concluded her remarks by showing data that indicate successful results from the Beaver Valley approach to education.
Effective training: Parmenter made remarks on the topic of excellence in workforce proficiency, noting that his power plant workplace had observed successful results from recently implemented new training strategies.
He explained that the plant's training began to change after "we looked at the challenges that we had—challenges that a lot of places in our industry find. We have an ever-aging workforce that is closer to retirement, so a lot of people are on their way out the door. So, how do you spread that knowledge to the people that we're hiring?
To get everybody on the same page, Parmenter's group started what they called "training-conscious meetings," and those meetings "basically allowed us to explain to the line [that] this is your training program, you own this, here is everything that training can do for you. What are your needs? That allowed us, as training [personnel], to find out from the line side what we need from training. So, it became a really good symbiotic relationship that we still keep up to this day."
Parmenter said that the training at Nine Mile Point is now more engaging and more interactive, with various hands-on activities. He described one of his favorites: "We included virtual reality into some of our human performance training . . . and they would sit down with this video game that we downloaded from the internet. And you would have one person looking at a bomb on the screen, the timer's ticking down, and that person has to disarm the bomb, but they do not have the instructions to disarm the bomb.
"The people with the instructions to disarm the bomb are looking the other way with the instruction manual. So, they have to use their proper human performance tools and three-way communication and talking back and forth in order to disarm this bomb appropriately. We found, believe it or not, that 75 to 85 percent of the time, they were able to disarm the bomb completely with no problem."
Parmenter said the feedback they received from the people doing the training was tremendous: "basically that we've never done anything like this before, and it allowed us to see how we're using our HU [human performance] tools in real time and be able to affect those and impact those."
Parmenter described other hands-on training activities used at his facility, such as setting up realistic scenarios in radiation areas, with certain incorrect technical features for workers to correct. These scenarios allowed instructors to observe in real time how the workers deal with problems, to get feedback, and to make necessary adjustments in training, which has led to improvements in the training.
"The hardest thing in the world to find out is how can you tell if training is effective," Parmenter said. "How do we know we're getting through to them?" Data collected on the results of Nine Mile Point's training program should help answer that question. "We have the lowest amount of rad [radiation] exposure on any of the outages we've had for the last two outages . . . and we've been able to maintain that level of sophistication, that level of excellence that we in training strive and try to [achieve]."
Strategic plan: Brady discussed her CONTE presentation on what the nuclear workforce of the future will look like and how the industry can adapt to workforce changes. She described the Strategic Workforce Plan that NEI has been developing to address several expected changes in the workforce over the next several years.
"Things are going to be changing drastically starting in the 2030s," Brady said. "We're hitting some major demographic inflection points [in the United States]." For instance, she noted, for the first time soon we expect there to be more people of retirement age or older in the U.S. economy than children. Also, net migration is expected to surpass the growth of the native-born population. There will be fewer workers, leading to increased competition in the labor market among different industries.
Brady also noted that recent legislation addressing U.S. decarbonization goals impacts the nuclear industry, because the industry could be a "big part of the decarbonization solution." She said it is important to ask, "What does that mean in terms of the workforce?" and, "What is going to happen with the existing operating fleet?" She observed that likely, most of the fleet will be going through license renewals during the next decade, which will impact much of the workforce, such as supplemental outage workers. "Right now, we have seen . . . that we've had a decrease in flow rates for outage workers, meaning that we've had more vacancies available during our outages among various types of positions. Is that going to stay the same? Is that going to get worse? How do we address that?"
The potential deployment of an advanced reactor fleet in the United States and the potential international expansion of nuclear energy will also affect the future nuclear workforce.
Brady explained that to develop its Strategic Workforce Plan, NEI has brought together executives from across the nuclear industry and from allied organizations, workforce organizations, and affinity groups over the past year to discuss "how we're going to have this qualified and diverse workforce in the future, how do we get there, and what do we need to do." She said that NEI is currently in the process of finalizing a draft of its workforce plan and provided some examples of proposed action items that are under consideration.
One action item calls for the development of specific data regarding the numbers and types of positions needed across all industry segments. Another item recommends encouragement and support for the revitalization of trade and vocational schools. A third item calls for consistent branding and messaging across the industry to attract new hires through collaboration on marketing strategies. Branding examples include emphasizing that the nuclear industry offers decarbonization solutions and high-paying jobs.
The NEI draft plan also calls for the use of innovative approaches for workforce-related issues and training techniques as well as updates to the Nuclear Uniform Curriculum Program to address stackable credentials, certificate programs, streamlining of programs, and other issues. NEI is working on these curriculum updates now.
Mind extension: Helling summarized his two CONTE presentations, focusing on the application of the "extended mind theory" to nuclear training. This thesis was initially developed in a paper by philosophers David Chalmers and Andy Clark that was published in 1998. In the paper, the philosophers asked, "Where does the mind stop and the rest of the world begin?"
Helling explained Chalmers and Clark's proposal: that the mind extends beyond the human cranium out into the external world. For example, cell phones could be thought of as an external extension of the mind. Helling said that the Chalmers and Clark paper led to the development of three research areas: embodied cognition, situated cognition, and distributed cognition.
An example of embodied cognition "would really be that we talk with gestures, and . . . the research says that gesturing really helps both the communication, as I'm speaking to you, and also the learning, when I'm receiving and gesturing in return." Helling added that through embodied cognition, "you learn to recognize and trust what your body is telling you to do."
With situated cognition, according to Helling, "the environment in which you're in makes a tremendous impact on your learning. A short 10- or 15-minute walk out in nature may be a lot more valuable to us than that extra hour we might spend sitting staring at a book. The research says we might be better off if we had our students get up and just walk for a few minutes outside."
Distributed cognition, Helling explained, "is how we interact with our tools and with other people and other groups." The example of cell phones represents a form of this cognition.
According to Helling, research on the extended mind theory has been consolidated and presented in a way that is operational and accessible to instructors and learners in a 2021 book titled The Extended Mind: The Power of Thinking Outside the Brain, by science writer Annie Murphy Paul. He recommended this book as "a great place to start" to understand the concepts of the extended mind.
Paul "really talks a lot about how to include these concepts," Helling said. "One of her theses is that our brains evolved to make us survive. They didn't evolve to teach us how to run nuclear power plants or do calculus. And her contention is that our biological brain, in and of itself, may not be up to the tasks we ask of it today, and by using the extended mind concepts, we can help our cognitive processes deal with the challenges we face today."
Helling noted that he has been teaching and learning in the nuclear industry for more than 50 years, and he shared some reflections on his long career, including the thought that it is just as important to be a student of teaching and learning as to be technically competent. He said, "That's a lesson I wish I had learned earlier in my teaching career. The idea is to really make sure that the things we're doing in the classroom have a sound basis in research, and if we do that, we can eliminate some of the neuromyths, some of which are fairly benign, but some can be downright dangerous and destructive to the way we teach."