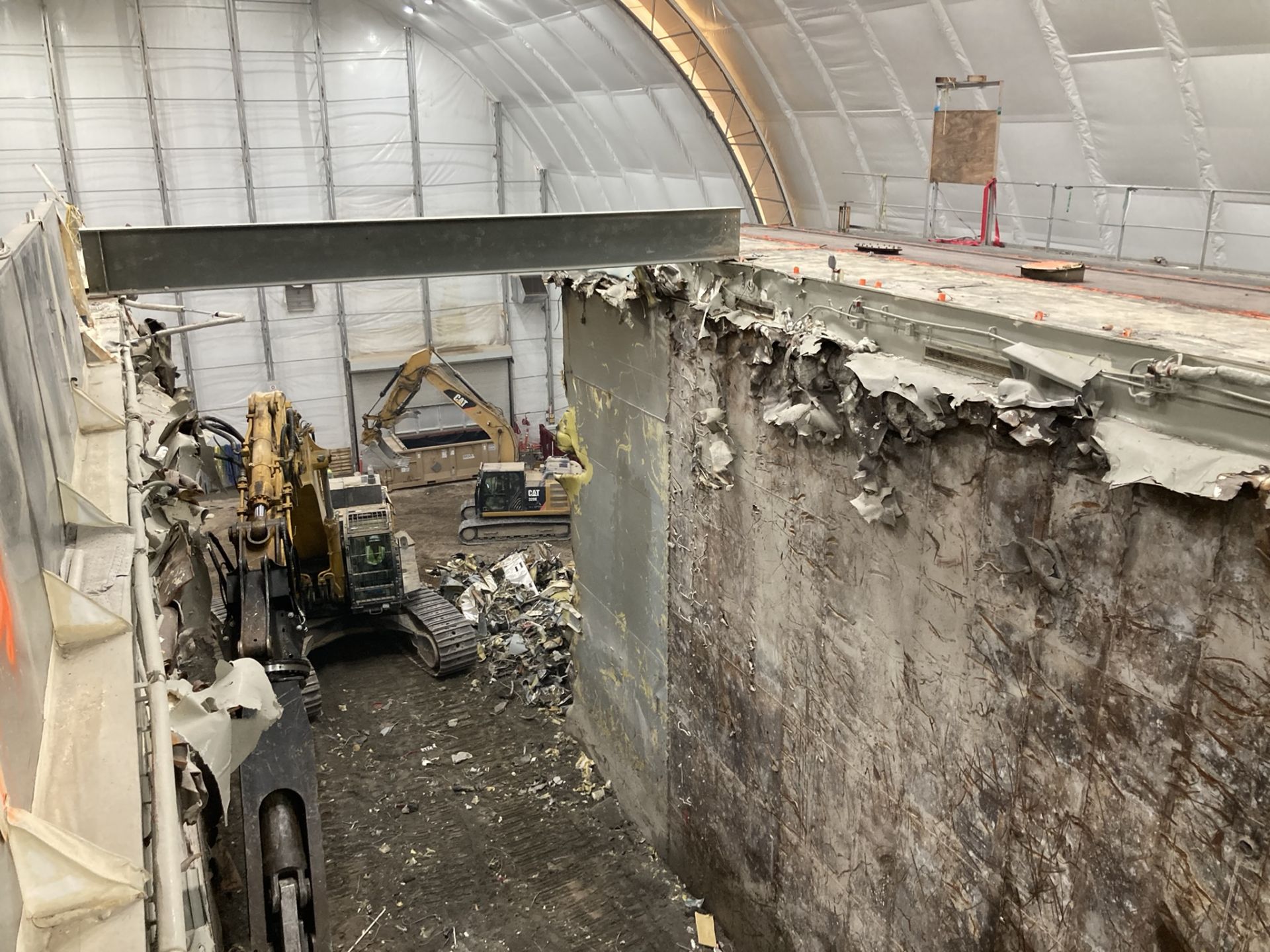 Nuclear dismantling and decommissioning company APTIM said it is on schedule to wrap up field activities decommissioning the U.S. Navy's Surface Ship Support Barge (SSSB) by April, with project closure slated for June. The company announced yesterday that its team has completed the demolition of the barge's former spent fuel water pool, also referred to as the "wet pit," or the heart of the vessel.
The 268-foot-long SSSB operated from 1964 to 2016, supporting naval nuclear vessel refueling and functioning like a spent fuel pool at a commercial nuclear power plant. In 2020, APTIM won a three-year, $129 million contract to dismantle the barge at the Alabama Shipyard in Mobile, Ala. APTIM said the barge worksite is planned to be returned to the shipyard after being fully released for unrestricted use.
History: The radiologically controlled SSSB was constructed from a converted World War II Navy T2 tanker built by Alabama Drydock and Shipbuilding Company, now the Alabama Shipyard.
According to Nuclear Regulatory Commission records, during its working life, the SSSB operated exclusively at Newport News Shipbuilding in Virginia, supporting defueling operations of the Navy's nuclear-powered aircraft carriers and cruisers. Spent naval nuclear fuel modules from these ships were placed in the barge's wet pit and subsequently packaged into shipping containers for shipment to the Idaho National Laboratory site.
The last of the naval spent fuel was removed from the SSSB in 2016, and in 2021 the barge was moved to the Alabama Shipyard for dismantlement.
The work: According to APTIM, the removal of the wet pit entailed size reduction of the approximately 2,500 tons of high-density concrete, reinforced by steel, that served as radiation shielding. APTIM said it also safely removed and shipped off-site the major sources of radioactivity from the lower pump room.
Radiologically contaminated waste from the project has been sent to Waste Control Specialists' federal low-level waste facility in Texas for disposal.
The company said that all work was conducted within a fabricated structure to ensure the safety of the workers, the public, and the environment. Environmental monitoring was also performed to verify that work had no impact on personnel, the public, or the environment.
APTIM added that the completion of the SSSB project, under a first-of-its-kind interagency agreement between Naval Sea Systems Command and the NRC, will provide a model for potential future defueled nuclear-powered vessel decommissioning and disposal.
Team performance: Dave Lowe, APTIM's senior vice president of nuclear decommissioning, noted that work crews worked more than 204,000 safe work hours without sustaining a single Occupational Safety and Health Administration recordable or lost-time incident during the demolition project.
"The removal of the SSSB's wet pit is a major milestone in its dismantlement and disposal, but an even greater accomplishment is the safety performance executed by our program manager Bruce Fox and his team," Lowe said. "We look forward to completing this one-of-a-kind project and performing future work of this nature with the U.S. Navy."