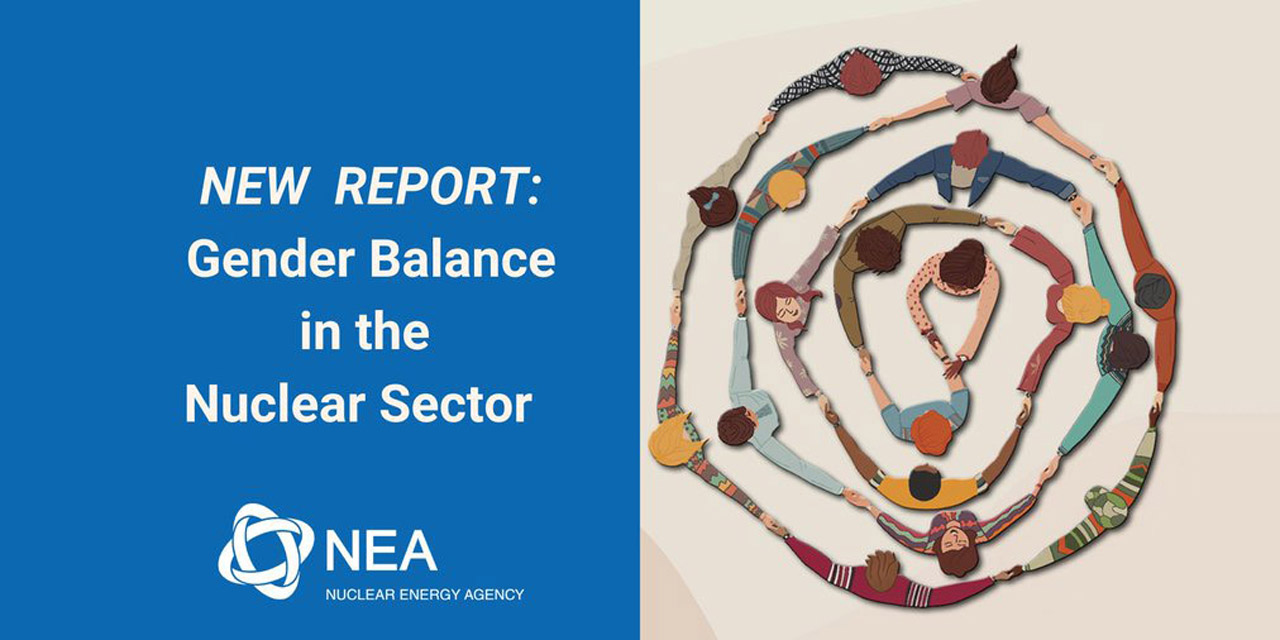 Women including Marie Skłodowska-Curie, Lise Meitner, Chien-Shiung Wu, and Katharine Way were key pioneers in nuclear science and technology, but today the visibility of women in the nuclear sector remains low. Women make up just one-quarter of people employed in the nuclear sector, and for STEM positions in that field specifically, they also make up just one-quarter of the workforce. About 8,000 of those women responded to an a survey from the OECD Nuclear Energy Agency, and their responses have been captured in Gender Balance in the Nuclear Sector, a new report from the OECD NEA.
March 8, International Women's Day, is the date the NEA chose to release the first publicly available international data on gender balance in the nuclear sector. William D. Magwood IV, director general of the NEA, kicked off an NEA webinar to introduce the report—the result of three years of effort by an NEA task group. "When the group met for the first time before the pandemic," he said, "they realized that there was insufficient data to understand the problem. . . . So the group set out to do a survey—two surveys, in fact: a human resources survey and a public opinion survey—and the results of those two surveys are what we have in the report that we're launching today."
Magwood said he learned a lot in the process. "To me the biggest education wasn't really from the data. . . . It was what I learned along the way as we went through this exercise and talked to women from around the world and heard stories about women in the nuclear sector who had to put up with really unconscionable remarks being made about them by male colleagues in the workplace, which wasn't something I heard once but many, many times throughout this process. I saw from one of our member countries in Europe that the pay differential for the exact same work was 40 percent between men and women. How does that happen in the modern world? I heard things that quite frankly I found shocking and embarrassing and would not have known if we had not gone through this exercise."
The NEA Gender Balance Task Group concluded that women employed in the nuclear sector want to advance their careers but face challenges such as a lack of flexible work practices for those with family responsibilities as well as gender stereotyping. Despite those challenges, the majority of women surveyed said that they would encourage other women to pursue a career in the nuclear sector. Those women are needed, as nuclear energy is poised for expansion around the world.
Fiona Rayment, chief science and technology officer of the United Kingdom National Nuclear Laboratory, chaired the task group that conducted the study. "With the ever-increasing importance of energy security while minimizing carbon emissions, a solution including nuclear energy is receiving greater focus," she said. "Meeting these challenges requires a broad range of skills that can be delivered through a neurodiverse workforce, and creating gender balance across the international nuclear sector is a key element in achieving this. My hope is that this report enables the sector to have a springboard to move to greater gender balance in the years ahead, driving the neurodiversity the sector is craving."
Key findings: Gender Balance in the Nuclear Sector is based on data collected from over 8,000 women in 32 countries in the nuclear workforce, as well as human resources data from 96 nuclear organizations in 17 countries. The survey respondents were women already working in the sector, with an average age of about 40 years. The number of individual respondents by country varied greatly, with the top five countries by number of individual responses being France, Russia, Canada, Japan, and the United States. Most respondents reported working at nuclear power plants; second was research and development (R&D), and third, fuel cycle.
While these women make up, on average, 24.9 percent of nuclear sector employment. They hold less than 20 percent of upper management and executive positions, and about 20 percent of STEM positions. Nearly half of women surveyed had experienced or heard of a female colleague experiencing hostility in their nuclear workplace, including sexual harassment. Women ranked improving the visibility of women in the sector, including in STEM and leadership roles, as a solution for enhancing the attractiveness of the sector for women.
The 112-page report goes beyond listing those numbers to identify recruitment, attrition, and promotion trends, and concludes that recruitment rates are insufficient to significantly improve gender balance in the sector. That, the report's architects believe, could put the achievement of nuclear energy capacity goals at risk, and along with it, goals to achieve net-zero emissions.
At the current recruitment rate of 28.8 percent women, and the current attrition rate of 8.1 percent, women's share of the nuclear workforce would effectively reach a ceiling of 28.8 percent over time. If recruitment increases to 50 percent women, however, and the attrition rate remains the same, women could reach 45 percent of nuclear sector employment by 2045.
Collective wisdom: During the report launch webinar, Rayment, described the task group's plans to create a policy framework that will use the report's data to track progress with a "strategic framework of attract, retain, and advance."
There is an opportunity, she said, "to leverage government influence on the nuclear sector, aligning priorities and mobilizing the resources accordingly. In terms of who we're going to target, we're targeting government agencies, contractors, and funding recipients within the nuclear sector. A broad range of organizations are being invited to engage with us and implement this framework going forward."
Rayment moderated a panel discussion including Melina Belinco, Women in Nuclear (WiN) global vice president and deputy manager of international organizations for the Canadian National Energy Alliance; Yeonhee Hah, vice president for global activities at the Korea Institute of Nuclear Safety; Lisa McBride, vice president and country leader at GE Hitachi SMR Canada and president, WiN Canada; Aditi Verma, assistant professor in the Department of Nuclear Engineering and Radiological Sciences at the University of Michigan; and Neil Wilmshurst, senior vice president of energy system resources at EPRI. The panelists agreed that achieving gender balance within the nuclear sector will be difficult—but achievable.
McBride, whose company recently secured a contract for a small modular reactor new build at the Darlington site in Ontario, said, "I think we need to not overlook the fact that women already do make valuable contributions to this industry. It's important and incumbent upon organizations to profile the critical role that women play, which helps advance and retain. If you can see it, you can be it. . . . We do really complex things in this industry, far more complex than getting an equal seat at the table for women. So to me this is really about being committed to change and understanding what the change journey looks like. Yes, it is hard, but we do harder things than this literally every day in this industry."
Verma echoed that sentiment when she said that the nuclear sector has had "great success . . . in implementing safety culture. As we try to change our work culture and make it more inclusive, I think perhaps there are some lessons to be learned in terms of how successful we were in developing and implementing a safety culture. . . . By making the field more inclusive and more welcoming for women, we're not just helping women, but we're actually helping everyone by making them feel more welcoming."
Wilmshurst reflected on beginning his career as a nuclear submariner in the Royal Navy, and said, "If anyone had asked me 30–40 years ago if I would ever see women in nuclear submarines, it would have been beyond my conception. And they're there now. It brought home a little bit to me that 'yeah, I've been the lucky one in my career' . . . but I've also had a chance to see some of that change, the pendulum slowly swinging."
Wilmshurst volunteered that at EPRI, "one key thing that we do which might be a takeaway: you're never going to have diverse hiring if you don't have diverse interview panels. You know, old white guys will hire old white guys." He later added that the nuclear sector has in the past valued conservatism and "changing slowly. We value the old technology we've worked with. Going forward, we're going to be leaning forward, we're going to be innovative, we're going to be embracing new technology."
Family responsibilities—the data: The report opens with a quote from pioneering Chinese American nuclear physicist Chien-Shiung Wu: "There is only one thing worse than coming home from the lab to a sink full of dirty dishes, and that is not going to the lab at all!"
The majority of survey respondents could likely relate to that comment from Wu, a mother of two. Almost 55 percent of respondents reported that they have had a child or children living with them while they are working in the nuclear sector.
On average, 70.7 percent of women agreed that pregnancy and maternity leave was likely to negatively impact a woman's career trajectory, and 73.5 percent agreed that family/caregiving would do the same, but younger women were more likely than women over age 65 to agree with those statements. While just about 15 percent of women aged 18 to 24 disagreed with a statement that family and caregiving would negatively impact a woman's career, over 30 percent of women over age 65 disagreed with the same statement.
Barriers in the workplace—the data: When asked if policies to improve gender balance in their organizations made them optimistic about their future prospects, only 43 percent of women agreed, with agreement highest in Northern Europe and North America, and worst in Latin America and Southern Europe. Women in regulatory agencies, other government entities, and fuel cycle organizations were most likely to agree, while women at decommissioned or decommissioning sites and those at original equipment manufacturers or nuclear supply chain organizations ranked their employers lowest.
Survey respondents were polled on perceived barriers to retention and promotion specific to the nuclear sector, and the response most frequently selected (by over 45 percent of women) was "lack of women/women leaders." The second most popular response was "social-cultural perceptions roles are male."
More respondents were inclined to encourage female friends and relatives to join the nuclear sector than were actively opposed, but "a sizeable number were neutral. This ambivalence may be related to limited expectations for positive change, as evidenced from survey respondents' low endorsement of management commitment and policies related to improving gender balance."