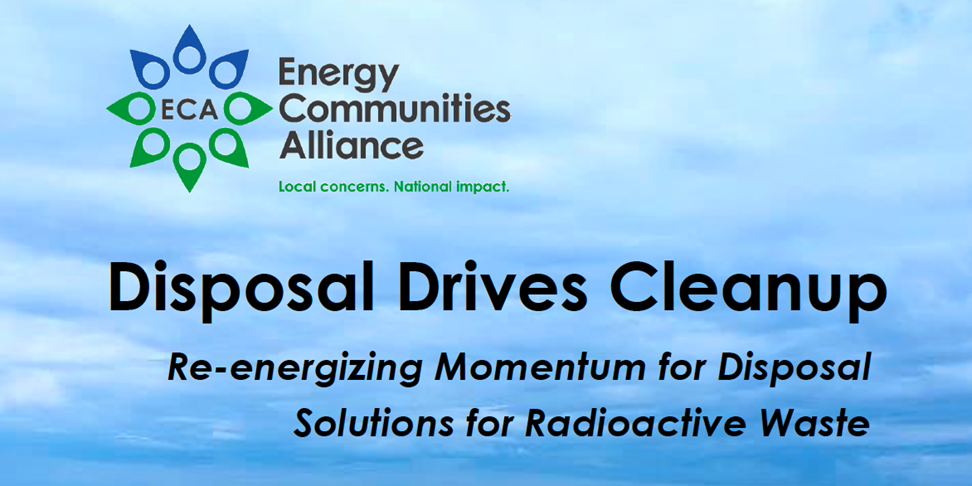 The Energy Communities Alliance (ECA), an organization of local communities near Department of Energy national defense sites, has released a new report urging the DOE to prioritize finding disposal pathways for the radioactive waste it is obligated to clean up.
According to the ECA, the DOE could potentially save hundreds of billions of dollars in cleanup costs by using its available tools and implementing the recommendations contained in the report, Disposal Drives Cleanup: Re-Energizing Momentum for Disposal Solutions for Radioactive Waste.
"While DOE has made substantial progress across the cleanup complex in creating waste repositories for specific types of waste, they appear to have stalled in developing, implementing, and finalizing disposal locations and plans for all waste, especially for some of the most challenging materials that pose the largest hazards and costs," the report states.
Finding solutions: The ECA is calling for renewed focus and action by the DOE to develop disposal solutions for some of its most pressing waste types, including waste resulting from former spent nuclear fuel reprocessing activities, high-level waste and spent nuclear fuel, and greater-than-Class-C (GTCC) low-level waste. The alliance is also asking that the DOE take action to ensure sustained engagement and support for communities that could host disposal options.
The recommendations: The report provides the following recommendations to the DOE for developing more efficient and equitable approaches to addressing today's waste management challenges:
Prioritize the use of the high-level waste interpretation.
Support and complete the consent-based siting process.
Select a disposal site for GTCC waste.
Support the Waste Isolation Pilot Plant in New Mexico and develop and issue long-term, integrated plans for operations.
Continue to emphasize regular, meaningful engagement with communities.
Provide technical assistance to communities to address waste issues.
Reevaluate the practice of incentivizing contractors to open a waste site in the contracting process prior to obtaining community support and regulatory approval.
Maximize the use of public and private disposal site options.
Create tools to show communities the impacts of waste decisions.
The full report can be found on the ECA's Publications page of the alliance's website.