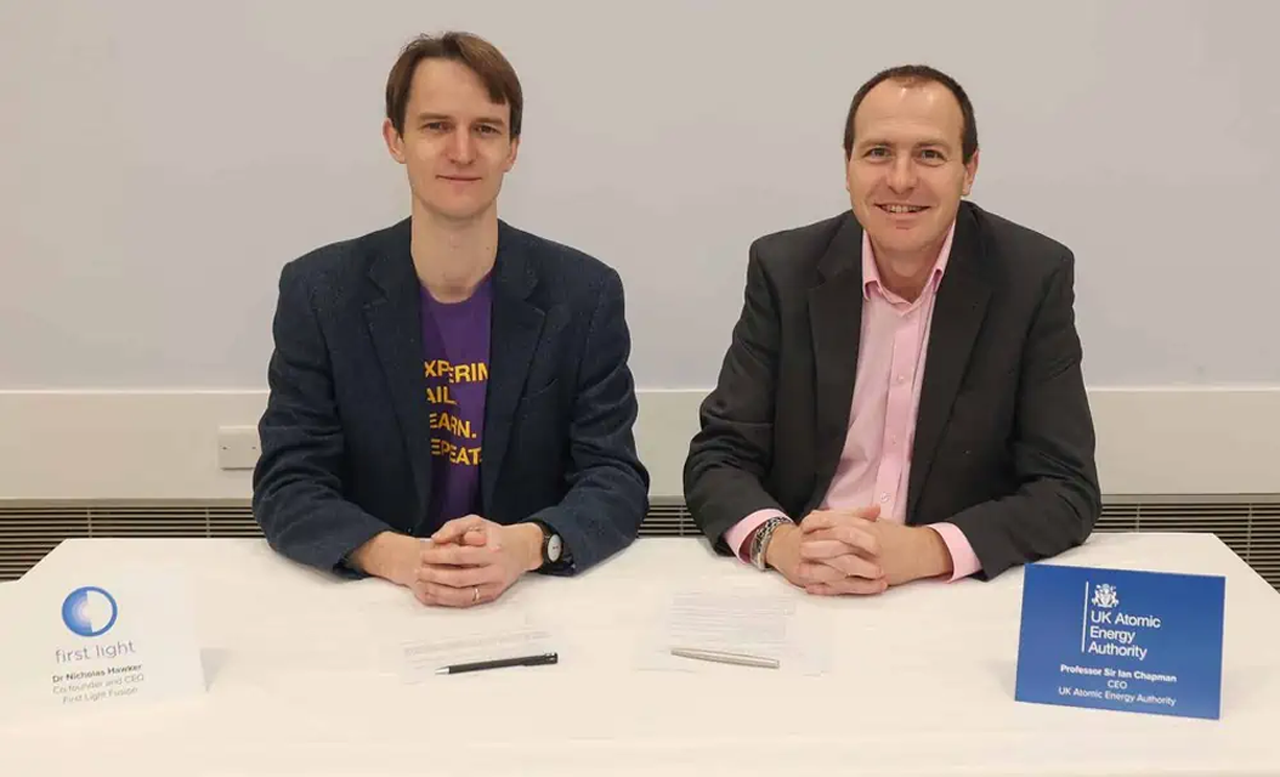 Ignition and net gain at Lawrence Livermore National Laboratory's National Ignition Facility (NIF) in December 2022 focused global attention on the prospects of inertial fusion energy (IFE). First Light Fusion and the U.K. Atomic Energy Authority (UKAEA) acknowledged the achievement as they announced plans on January 25 to design and build a demonstration facility known as Machine 4 at UKAEA's Culham Campus in Oxford, U.K., using First Light's "projectile approach" to IFE. Construction is expected to begin in 2024, and operations are "likely to commence" in 2027.
First Light Fusion has been working on an inertial confinement approach to fusion power for over a decade—the company was founded at the University of Oxford and spun out from the university in 2011. NIF's announcement "proved what we always knew," said First Light cofounder and chief executive officer Nick Hawker, "that inertial confinement fusion works and offers the potential for a faster route to commercial fusion. It also had considerable positive repercussions for us at First Light."
"Our approach leverages the same physics now proven by NIF but combines it with a unique approach that gets to a competitive cost point in a truly scalable manner," Hawker added. "We've already proven fusion. Gain is our next milestone. We are very confident Machine 4 will allow us to achieve this while we continue to develop plans for a pilot commercial fusion power plant."
The fusion approach: First Light Fusion calls its approach "projectile fusion." Pulsed power machines provide electromagnetic launch to send a projectile toward a target consisting of a fuel capsule inside an amplifier, delivering extremely high pressure to the fuel pellet to force it to fuse and produce energy. "The targets are the key technology in First Light's approach to fusion and they are nearly all trade secrets," according to First Light's website.
As envisioned for a power plant, "the target will simply be dropped into the reaction chamber from above, falling under gravity. The projectile is launched downwards on top of the target and catches it up in the center of the chamber." A video illustrates the concept.
The demo plan: First Light Fusion expects UKAEA's expertise and supply chain infrastructure will expedite the development of Machine 4 at the Culham Campus, according to the organizations.
"We are delighted that this First Light Fusion demonstration facility will be at Culham," said Ian Chapman, CEO of UKAEA. "We have enjoyed a long relationship with First Light Fusion as it has progressed its unique projectile fusion method, and worked with them to validate their maiden fusion result in 2022. First Light joins other fusion pioneers in working at Culham as we continue to drive U.K. economic growth and a thriving fusion industry."
Although the machine itself will not generate power, it will be used to develop technology needed for future inertial fusion energy power plants. According to First Light, the company is "aiming for a power plant producing ~150 MW of electricity, firing once every 30 seconds, and costing less than $1 [billion]."
Other work: First Light is currently using its Machine 3 to test its fusion targets. In May 2021 First Light announced it had installed a 22-meter gas gun it calls the Big Friendly Gun, or BFG (a likely nod to Roald Dahl), to use with Machine 3.
First Light Fusion has also formed a technical partnership with Canadian Nuclear Laboratories to collaborate on a 60-MW pilot fusion power plant designed to produce excess tritium.
Culham is also planning to host a fusion demonstration plant featuring General Fusion's hybrid magneto-inertial fusion approach.