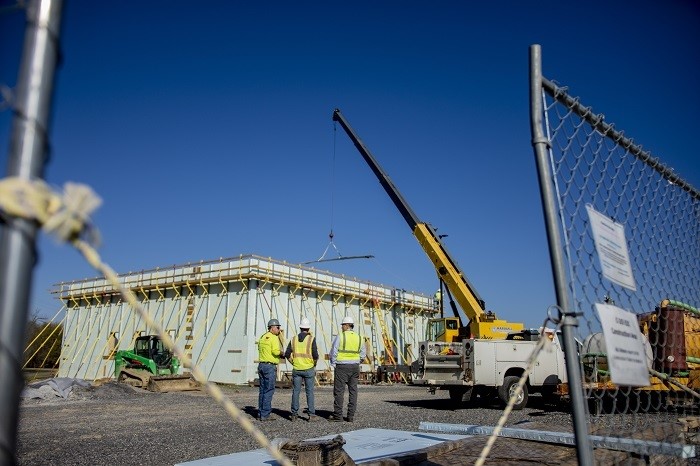 Construction crews at the Department of Energy's Paducah Site in Kentucky have broken ground on a new Emergency Operations Center (EOC) to improve coordination and response to emergencies across the site.
The 3,500-square-foot facility will replace the existing EOC, which was established in the site's C-300 Control Building around 1990. The C-300 Control Building was built during the 1950s. The new modern facility will be used to monitor environmental conditions and house emergency management personnel.
The new EOC is scheduled for completion in this year.
A video is available on the construction of the new EOC.
The site: The EOC supports the entire 3,556-acre site, including the Paducah Gaseous Diffusion Plant and the Depleted Uranium Hexafluoride (DUF6) Conversion Plant. Deactivation and remediation contractor Four Rivers Nuclear Partnership (FRNP) is responsible for operating the EOC and providing emergency response, including fire, security, medical and other important functions to support emergency response for the site.
The new EOC will include upgrades to technologies and software that enhance communication capabilities and help improve response time to emergent events. These tools are crucial in protecting site personnel, the community, and the environment, according to the DOE.
Quotes: "While our employees take proactive steps to avoid site emergencies, our emergency management team must collaborate with all onsite organizations to plan effective responses to potential hazards," said Myrna Redfield, FRNP program manager. "This requires our team to excel in contingency planning and participate in immersive training scenarios that allow our response organizations to be prepared in the event of a real emergency."
"Safety is a priority at DOE's cleanup sites," said Joel Bradburne, Portsmouth/Paducah Project Office Program Manager. "As we continue deactivation and demolition of older plant and support structures, a modern emergency response facility designed for today's needs is critical to supporting our emergency response team."
History: The Paducah Gaseous Diffusion Plant was constructed in 1952 to produce enriched uranium, initially for the nation's nuclear weapons program and later for nuclear fuel for commercial power plants. The plant is owned by the DOE, which oversees environmental cleanup activities at the site, including environmental remediation, waste management, depleted uranium conversion, and decontamination and decommissioning. Commercial enrichment was conducted under lease from 1993 until 2013 when operations ceased and the gaseous diffusion facilities were returned to the DOE's Environmental Management (EM) program. Extensive cleanup activities at the site have taken place since the late 1980s. The remediation program is being managed by the DOE's Portsmouth/Paducah Project Office.